Free HD Video Converter Factory
If you haven't find an appropriate method to solve your windows media player won't play MP4 files, you can seek help from this free yet powerful program. Besides, you can edit your videos with it, such as, clipping funny parts of a movie, making ringtones and adding special effects, etc. Learn more >
These days, I heard this complaint all the time from most of my good friends: why can't I play MP4 videos on my windows media palyer now? Last Sunday, I also suffered from this troublesome thing with one of my friends. After a delicious lunch, we tried to find a way to fulfill the rest of that leisure afternoon. At first, we were planned to go out but the rain came in no sign. Therefore, we have to stay at home and be bored. Then, my friend said how about watching some movies? When I added movies which are stored in MP4 format into my windows media player but nothing seeing words as following: "windows media player cannot play the file. The player might not support the file type or might not support the codec that was used to compress the file". Then we spent the whole afternoon to find out the cause and find the solution. But sill got nothing useful, does someone know the real reason and best solution?
The moment I noticed this thread, that I knew this problem must had bothered many people for a quite long time, hence, I write this article so as to share a good method to solve windows media player MP4 playback issue.

Can't Play MP4 in WMP
1. Why Can't We Play MP4 in Windows Media Player?
To begin with, I would like to share with you some possible reasons why our windows media player won't play MP4 like it used to, which I collected from some major forums and famous science websites. To put it in a simple way, that is to say, our windows media player 11 only supports formats like WMV, WAV, and ASF. However, windows media player 12, as the most recent version of this program, is still unavailable for us to play MP4 format. All in all, this windows media player not playing MP4 problem mainly result from windows media player' s default file formats not containing MP4.
And there are two means for users to opt. First, you can play any MP4 video in windows media player only if you install some suitable codec, but this way also has some limitations due to MP4 videos always been encoded in several ways. It is hard to find the right encoder for each MP4 video. However, there is another more convenient and fast way to help you with can't play MP4 in windows media player playback trouble. You just need to simply convert MP4 to windows media player's feasible formats, like ASF, WMV, and WAV, etc. If you are still searching for a MPEG4 windows media player, and this Free HD Video Converter Factory is here ready for you to choose since it is free yet powerful in formats conversion tasks.
2. Complete Tutorial to Resolve Windows Media Player MP4 Playback Issue
Preparation: Download this free program and install it into your computer.

Free HD Video Converter Factory
If you haven't find an appropriate method to solve your windows media player won't play MP4 files, you can seek help from this free yet powerful program. Besides, you can edit your videos with it, such as, clipping funny parts of a movie, making ringtones and adding special effects, etc. Learn more >
Step 1: Launch it and add MP4 files
Firstly, you need open this program, go to "Converter" and then add your MP4 files by clicking "Add Files" button or drag them into the operating interface.
Step 2: Set output format as WMV, ASF or WAV
In this step, you can choose one of video formats that is compatible with windows media player, like WMV, AVI, ASF, and so on. Then, choose a output folder which will easy for you to check the converted MP4 files.
Step 3: Now, click "Run"
Once you finished all of these settings, you can start to convert MP4 to a suitable format for playing in windows media player.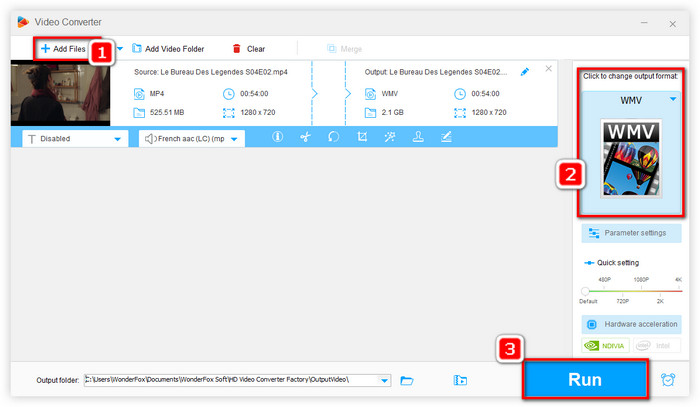 Convert MP4 to WMV
Next time, if someone ask you can windows media player play MP4, you can share this good program with him or her, too. Besides, you can change aspect ratio, adjust video or audio volume, set resolution with its help.
3. Extra Useful Functions Meet Your Other Demands
Do you know it is not only a MPEG4 windows media player, you can convert many other formats, such as SWF to MP4, M4B to MP3, WMV to MP4, etc. In addition, it allows you to download Christian music from YouTube, and other movies, songs, funny videos you like. Also, you can count on it to achieve some editing tasks, like merge MP3, clip video, split video, and so on. Furthermore, you can extract audio from music videos or films to make your personalized ringtones out of them.
Still got question? Submit it to us and get answer within 24 hours.