Below are the media file formats supported by Windows Media Player 12:
Windows Media formats (.asf, .wma, .wmv, .wm)
Windows Media Metafiles (.asx, .wax, .wvx, .wmx, wpl)
Microsoft Digital Video Recording (.dvr-ms)
Windows Media Download Package (.wmd)
Audio Visual Interleave (.avi)
Moving Pictures Experts Group (.mpg, .mpeg, .m1v, .mp2, .mp3, .mpa, .mpe, .m3u)
Musical Instrument Digital Interface (.mid, .midi, .rmi)
Audio Interchange File Format (.aif, .aifc, .aiff)
Sun Microsystems and NeXT (.au, .snd)
Audio for Windows (.wav)
CD Audio Track (.cda)
Indeo Video Technology (.ivf)
Windows Media Player Skins (.wmz, .wms)
QuickTime Movie file (.mov)
MP4 Audio file (.m4a)
MP4 Video file (.mp4, .m4v, .mp4v, .3g2, .3gp2, .3gp, .3gpp)
Windows audio file (.aac, .adt, .adts)
MPEG-2 TS Video file (.m2ts)
Free Lossless Audio Codec (.flac)
(Source from Microsoft Official Support)
As you can see, AIFF is on the list and should open with Windows Media Player. But error messages "A codec is required to play this file" or "Windows Media Player encountered a problem while playing the file" keeps popping up when playing AIFF files on Windows 10/11 using Windows Media Player. Why?

Causes of the Windows Media Player (WMP) error might be corrupted files, virus infection, outdated graphics, fault in the system, or missing codecs.
Given that the AIFF file is just a wrapper used for storing uncompressed PCM format audio. There is a high chance that WMP prevents you from playing the AIFF audio files owing to incompatible codecs inside.
It is frustrating to encounter the Windows Media Player AIFF codec issue. However, you do not have to worry as there are several solutions to fix this issue. Let's have a look!
One of the easiest and quickest ways is simply to install a robust converter that can convert AIFF to MP3, WMA, or another format more friendly with Windows Media Player and fix any issues caused by codec/format incompatibility once and for all.
WonderFox HD Video Converter Factory Pro is a powerful video converter integrated with more than 500+ output profiles, including MP3, WMA, AAC, WAV, MP4, WMV, ASF, etc. No extra codecs are required. This converter also comes with a built-in player capable of playing virtually all types of audio and video files.
Don't want to change the AIFF format container but only the audio codec? With this robust program, you can easily switch the codecs in Parameter settings. Here you can also adjust parameters like sample rate, bitrate, channels, and volume.
Next, let's walk through how to fix the Windows Media Player AIFF codec error by transcoding with HD Video Converter Factory Pro.
Step 1. Click the Download button below to install this reliable AIFF converter on your Windows-based devices.
Then launch the program and enter the Converter module. Simply execute a drag-and-drop action to import the source AIFF files into the app. Batch conversion is supported. Also, you can hit the Add Files or Add Video Folder button to load files.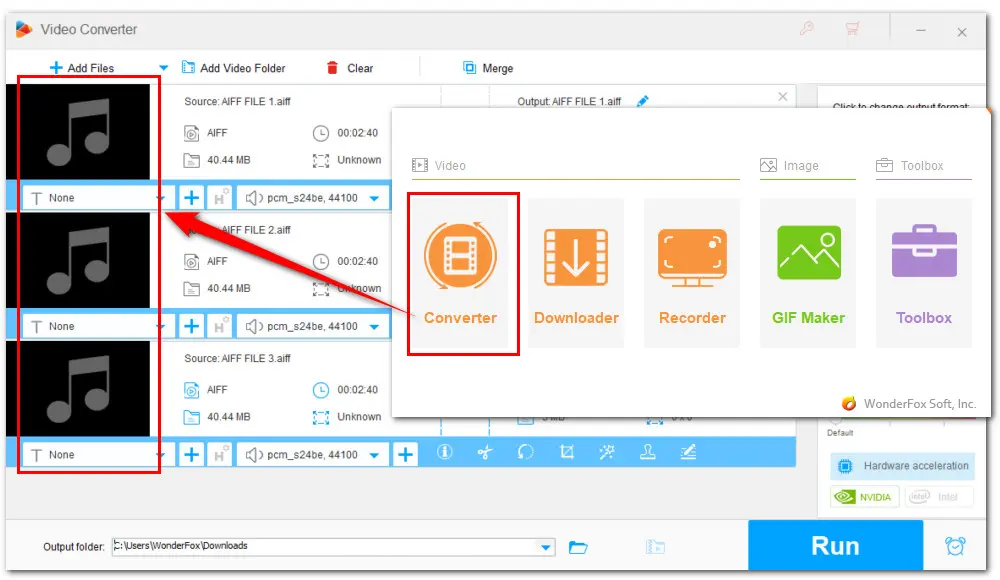 Step 2. On the right side of the Converter window, hit the output format image to enter the full list of 500+ output profiles. Navigate to the Audio category and select MP3 or WMA for easier playback in Windows Media Player.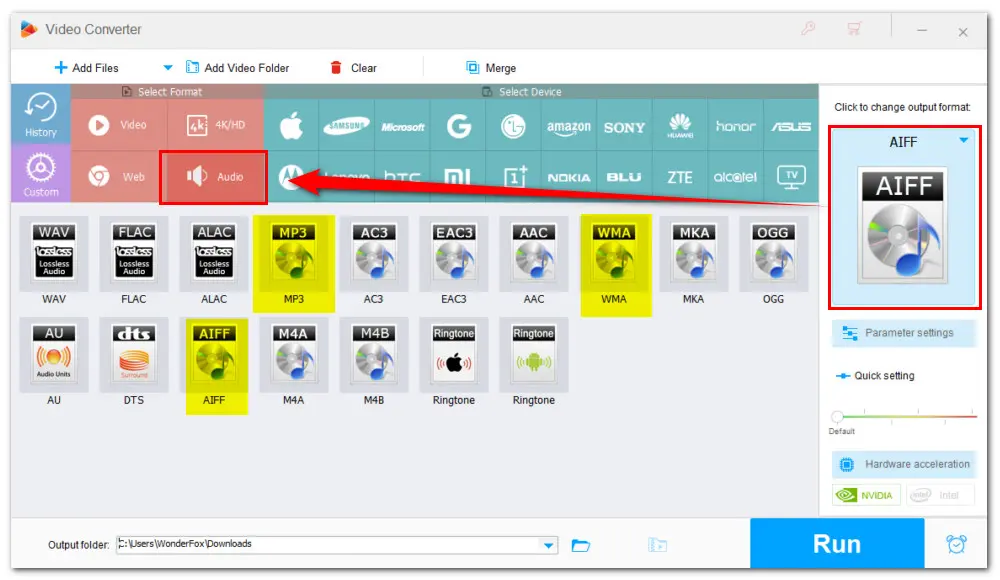 Step 3. If you'd like to stick with the AIFF container but hope to try a new PCM codec, go to Audio > AIFF. Then hit the Parameter settings tab under the format image icon and select a new codec from Encoder drop-down options. Remember to hit OK to save the changes.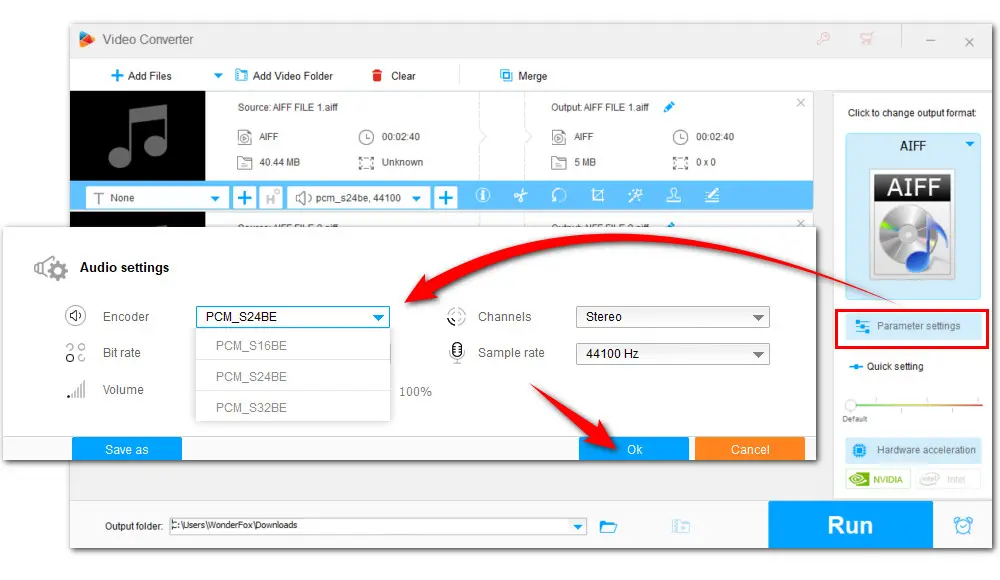 Step 4. Once all settings are done, set an output folder for the converted AIFF files and click the big Run button to start the conversion.
Tips: Before the conversion, you can merge and cut the imported AIFF music files.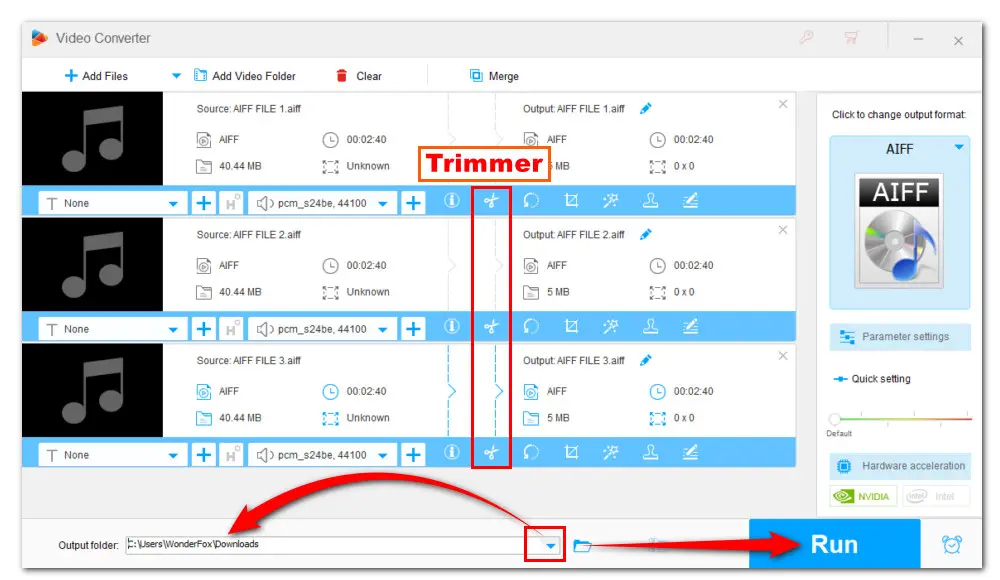 Installing a codec pack can not only help tackle the Windows Media Player AIFF codec issue but also help play a wider variety of media files. Out the market, there are many codec packs. K-Lite Codec Pack is one of the best options for Windows.
Follow the instructions below to install this popular codec pack for Windows Media Player and then enjoy AIFF files easily.
Step 1. Download the K-Lite codec pack via the link: https://codecguide.com/download_kl.htm
Step 2. There are 4 types for your choice, including K-Lite Codec Pack Basic, K-Lite Codec Pack Standard, K-Lite Codec Pack Full, and K-Lite Codec Pack Mega. You can choose the Basic version or the Full version.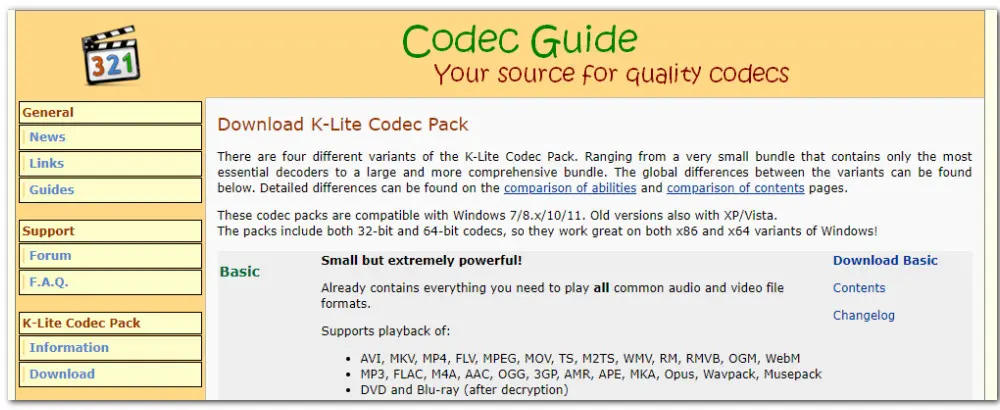 Step 3. Run the downloaded .exe file to start the installation. You can choose the Advanced mode which provides you with more preference options. But Normal mode is easier to walk through.
Step 4. Choose Windows Media Player as the default player for your audio and video files. The rest of the options can be left to their default settings. Simply click the Next button to proceed
Step 5. When all settings are finished, click Install to start the installation process.
Step 6. Now, you have completed all the steps and should play the AIFF files in Windows Media Player without any difficulty.

Tips: In case the downloaded codec pack interferes with other applications on your computer due to the bundled malware, adware, or virus, you'd better make sure to get the program from an authorized site or reliable source.
Besides, to get the right codecs for your unrecognized files, you need to first know exactly what the missing codecs are and then check whether the codec pack contains the required codecs.
If you don't want to waste time checking the codecs, try HD Video Converter Factory Pro, a decent AIFF to Windows Media Player converter. Or, you can jump to Method 3 for another easy solution.
In this tutorial, we have discussed several ways to deal with the Windows Media Player AIFF codec issue. You can convert AIFF files to other formats compatible with WMP, install an extra codec pack, or try a new player.
Personally speaking, Method 1 would be my top choice. With this powerful video converter and decoder at my disposal, I can play and enjoy audio and video files in any possible format and in whatever resolution or codec on Windows.