Before we dive into the detailed guide on how to convert WAV to PCM and vice versa, we'd better learn what PCM is on earth.
PCM (Pulse Code Modulation) is a method for digitally encoding audio. And popular audio container formats, such as WAV and AIFF, employ PCM bitstream encoding. Besides, AU, a container format formerly used by Audacity, can also store PCM audio data. PCM converts analog audio to digital audio without any form of compression. So, it can produce audio of high fidelity but the file size is large. Moreover, in PCM encoding, bit depth makes a fundamental property of digital audio implementations. Depending on application requirements and equipment capabilities, different bit depths are used for different applications. Therefore, when dealing with the compatibility issues of PCM-encoded files, you have two options to make the conversion, either change the format container or convert the bit depth.
Next, we'll share with you a reliable video converter and show you how to convert WAV to PCM in two ways. Without further ado, let's get started!
WonderFox HD Video Converter Factory Pro is a powerful a/v converter in Windows. With it, you can not only bulk convert WAV files containing PCM data to other PCM formats, such as WAV to AIFF or WAV to AU, but also change the WAV bits from 32bit to 24bit, 16bit, and vice versa. Thanks to its intuitive interface, everyone can convert WAV to PCM without hassle.
Now Free downloadFree download this efficient converter and take the steps below to start WAV PCM format conversion immediately.
Steps to Convert WAV to PCM AIFF, PCM AU, etc.
Step 1. Add WAV(WAVE) PCM Files to the Program
Launch this WAV to PCM converter and enter the Converter module on the startup interface. Next, hit the + Add Files button or perform a drag-and-drop operation to add the target WAV files.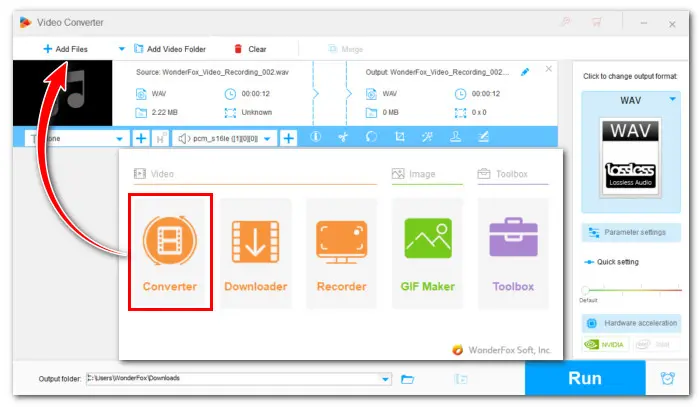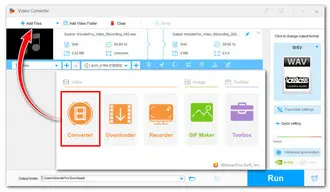 Step 2. Select A Needed Output Format
Click the format icon on the right side of the window to open the output format list. Then go to the Audio category and hit the AIFF or AU profile. Also, you can choose to convert PCM WAV to MP3, FLAC, OGG, and so on.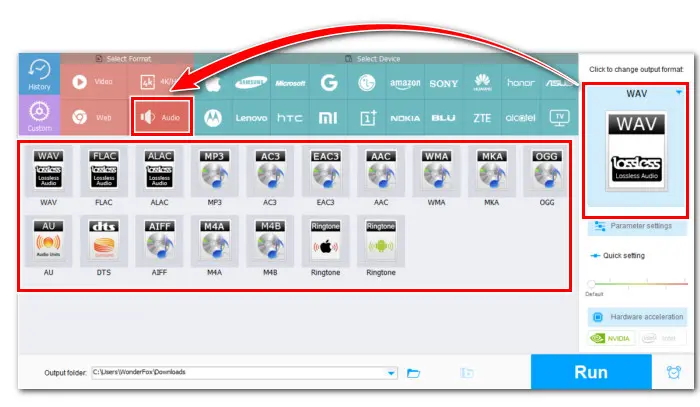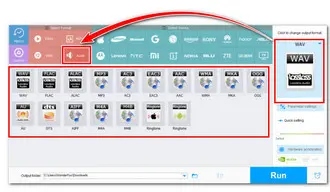 Step 3. Hit Run to Start WAV to Other PCM Format
Finally, set an output folder by clicking the bottom downward button. Then hit Run to activate the conversion.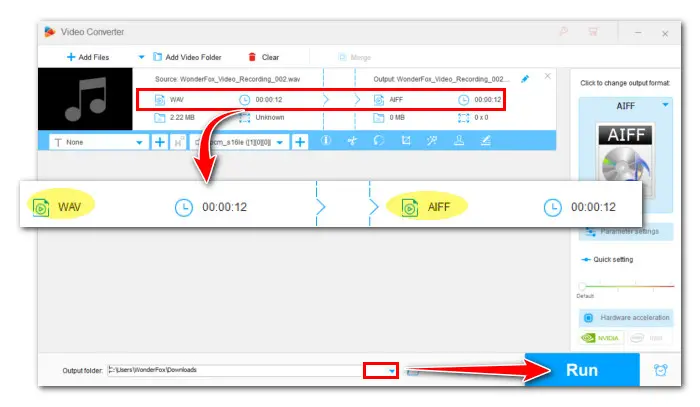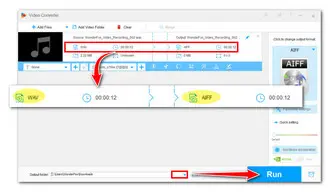 Convert PCM WAV Bits to/from 16bit/24bit/32bit
Step 1. Load WAV(WAVE) PCM Files to the Converter
Open the software and go to Converter. Drag the source WAV files to the workplace.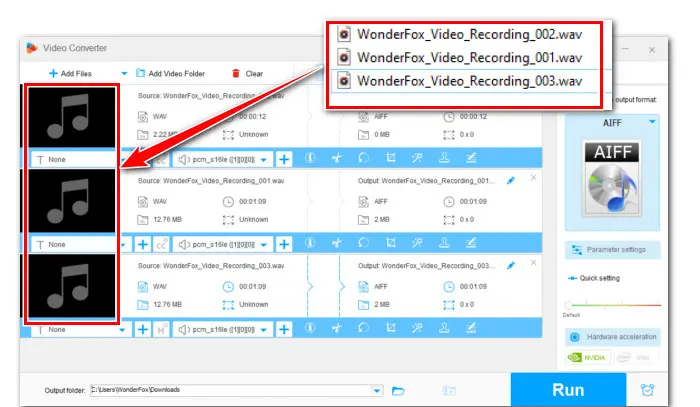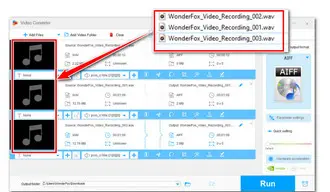 Step 2. Set Desired Parameters
Enter the output format library and navigate to Audio > WAV. Below the output format image icon, hit the Parameters setting. In the Audio settings section, click to expand the Encoder drop-down list.
As you can see, there are four options for the WAV encoder: PCM_S16E, PCM_S24E, PCM_S32E, and ADPCM_IMA_WAV. Choose one based on your actual needs. Besides, you can change the audio sample rate, modify the bitrate, switch from stereo to mono, or amplify the PCM WAV audio volume.
Tips: Both PCM and ADPCM (Adaptive Delta Pulse Code Modulation) are techniques for storing analog audio data in .wav files. ADPCM offers a more efficient way to store waveforms than 16-bit or 8-bit PCM. It only uses 4 bits per sample and takes up a quarter of the disk space of 16-bit PCM. However, the sound quality is inferior.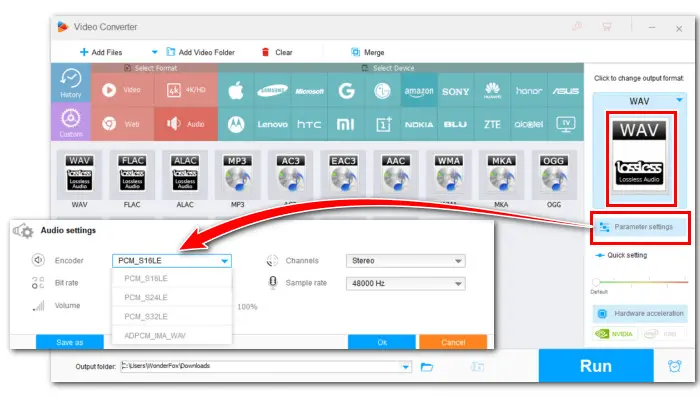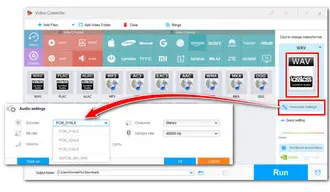 Step 3. Hit Run to Start Conversion
At last, hit the triangle button to set a new output folder or leave it as default. Then hit Run to start the conversion.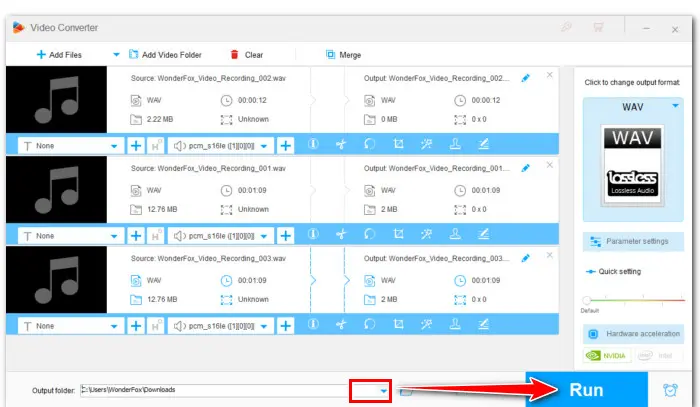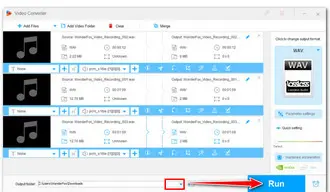 In Conclusion
That's all about how to convert WAV to PCM in two ways offered by WonderFox HD Video Converter Factory Pro. Note that this video converter doesn't support the raw PCM data file. If you wish to output raw PCM data to a valid WAV file, then try FFmepg.
Thanks for reading till the end. Have a nice day!