Disclaimer
The information provided below is for general informational purposes only. WonderFox is in no way collaborated or affiliated with those websites, and will never advocate any copyright infringement action. The use or reliance of any information contained on third-party platforms is solely at your own risk.
Although when it comes to the Taiwanese drama, people may consider it as a mixture of classic Korean drama and Japanese drama, Taiwanese drama also attracts quite a lot of adherents with its unique charm as a small niche group of Asian dramas. Compared with the most sought-after Korean dramas, Japanese dramas and Chinese dramas, it seems a bit difficult to find a good place to watch Eng-subbed TW dramas online, most of Asian drama streaming sites only offer RAW TW dramas. So I have gathered a website list for you to binge-watch your favorite Taiwanese dramas with English subtitles.
Also Read: Watch TV Shows Online | Raw Korean Drama | Download Viki Video | Watch Chinese Movies
6 Best Websites to Watch TW Dramas with Eng Subs
1. KissAsian
Website: https://kissasian.li/Country/Taiwan
KissAsian definitely earns very high praise as being an online platform for watching a humongous list of Asian drama TV series and movies with English subtitles, including Taiwan dramas. Click on the link above to head over to all Eng-subbed dramas filtered by Taiwan. Multiple servers are offered to switch back and forth for keeping a smooth playback. The chief drawback is that you have to suffer from various malicious ADs, pop-ups and redirects, it even requires you to disable AD blocker to make it work unless you upgrade to Premium by earning KPoint. In this case, you can give another shot on KissAsian mirrors or imitators like kissasians.org, kissasian.la, kissasian.ac, etc.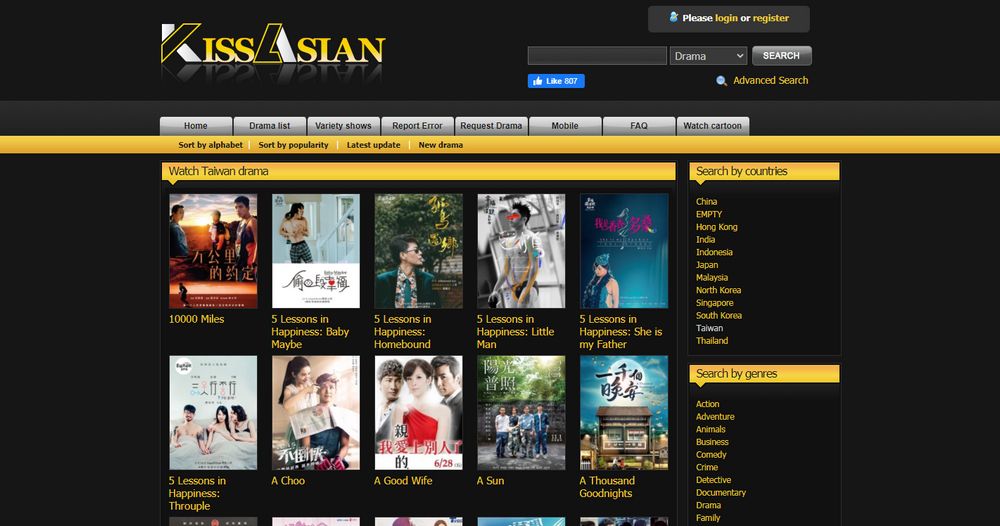 2. DramaCool
Website: https://www.dramacool9.pw/category/drama/?country=taiwanese
DramaCool is another decent hub that provides a huge selection of Asian dramas with English subtitles like HK drama, etc. The website interface looks quite elegant and friendly, hover your mouse over the "Drama" tab on the top navigation bar, you'll find all Eng-subbed Taiwanese dramas right there. Good news is they keep updating the episodes and normally get subs up pretty fast. Compared with KissAsian, the ADs have significantly reduced, and you can obtain a better playback experience with an AD blocker enabled. Likewise, other DramaCool branches like dramacool.so, dramanice.so, watchasian.cc, etc. are also worth a try.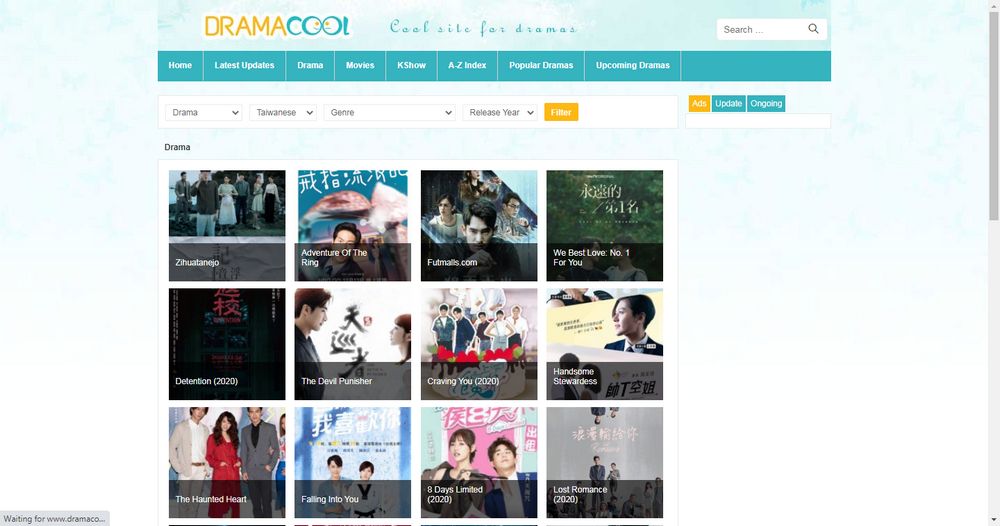 3. FastDrama (SHUTDOWN)
Website: http://fastdrama.org/browse/taiwanese/dramas/all/all/all/0
FastDrama is a new website I recently discovered. It's also a good option to watch Taiwanese drama with Eng subs for free. When you access the website, all recently-updated dramas are well organized on the homepage. In pursuit of ultimate simplicity and user-friendliness, it only offers three filter features on the top navigation bar: "Menu", "Recently" and "Search". I don't think there's any need for explanation. Hover your mouse over "Menu" to expand the drama list by countries, which includes K-drama, Korean variety shows and movies, Chinese dramas/movies, Japanese dramas/movies, Thai dramas/movies, and Taiwanese dramas/movies. It will place a "Sub" label on each episode if it has been subbed by volunteers or fan-subbers.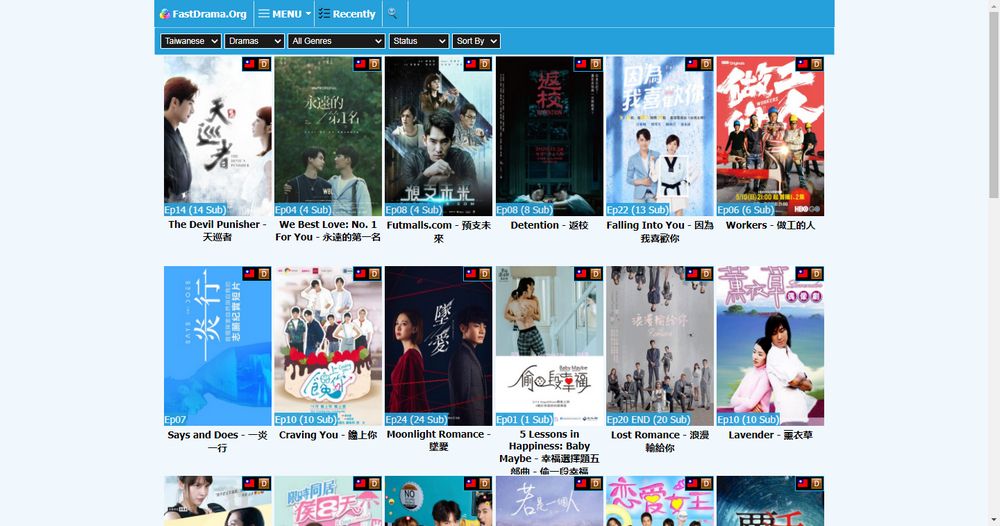 4.ViewAsian
Website: https://viewasian.co/country/taiwanese/
To be honest, I'm more into the appealing layout of ViewAsian. It is a fantastic portal that gives you access to superabundant free Asian dramas in HD quality. It features more than 180 genres for you to screen out interested dramas. To watch Taiwanese drama with EngSub, hover your mouse over "Country" tab on the top bar, and head over to "Taiwanese" category. All TW dramas, movies and variety shows are sorted by updated time on a new page. To make the results more accurate, you're also allowed to click "Filter" button at the top-right corner to do further screening. Registration is not necessary for normal streaming unless you want to favorite, comment or request some movies or dramas.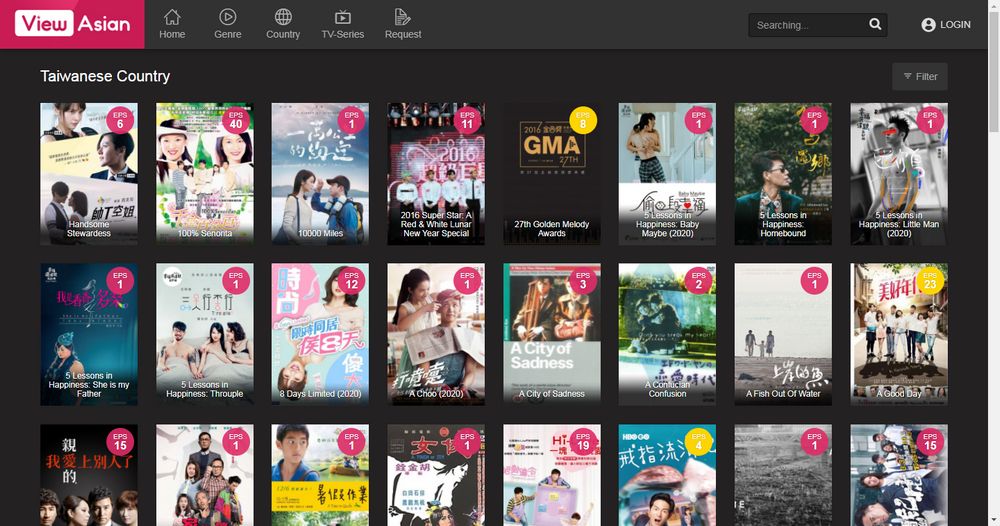 5. Rakuten Viki
Website: https://www.viki.com/categories/country/taiwan/genre/all
Rakuten Viki is a famous and legal OTT video streaming website that allows you to watch all your favorite subtitled Asian dramas, movies, and TV shows from Korea, Mainland China, Taiwan, Japan, and Thailand anytime, anywhere at a fast speed. You're given access to most of content with ADs and SD quality for free streaming since Viki runs in both premium subscription and ad-supported freemium models. That is, to watch exclusive content, free of ads, and in HD, you have to pay for a subscription service called Viki Pass. With a 7-day free trial, you're able to evaluate the performance and experience to see if it feeds your needs. The subscription can be canceled at any point during your free trial without losing anything.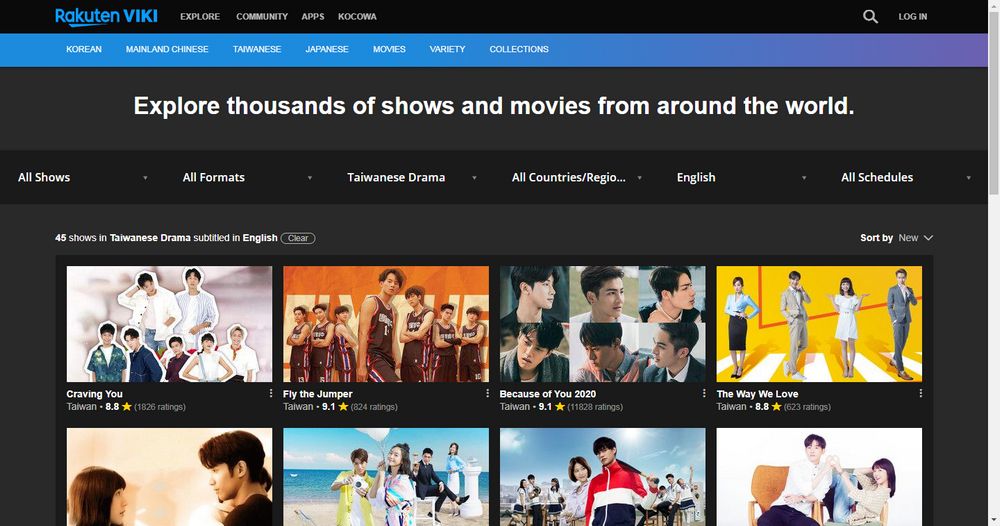 6. YouTube
Website: https://www.youtube.com/
Without going into detail, I bet everyone is fully acquainted with old pal - YouTube. To your surprise, quite a few people or fan-subbers have uploaded the Eng-subbed TW dramas to YouTube. If you're lucky enough, there is a good chance to find the new updated episodes of Taiwanese drama by submitting related search queries. But obviously, those videos have violated the Community Guidelines, YouTube will remove the content involved in copyright infringement sooner or later. Therefore, it's a smart choice to timely download those Taiwanese dramas with EngSub for offline watching. No worries, given the circumstance, I've also prepared a solution below.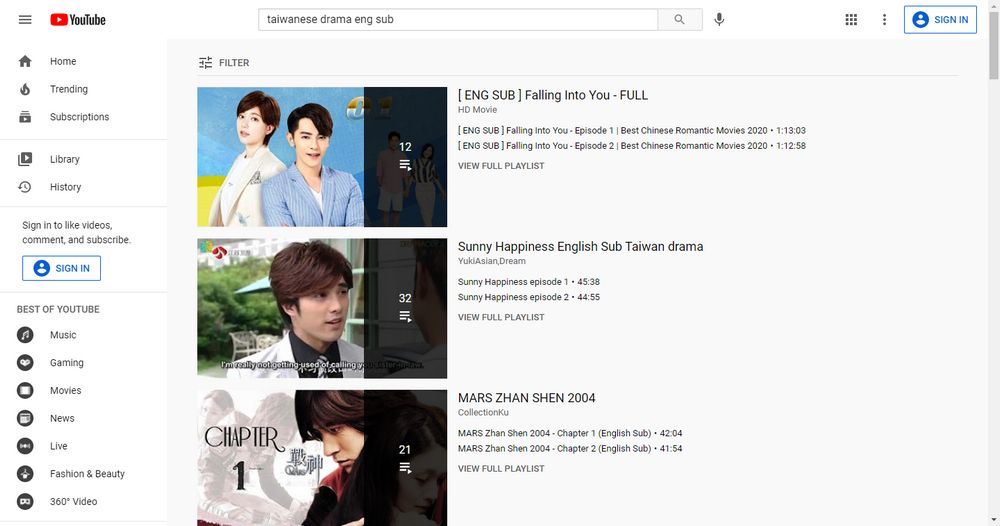 Download Eng-Subbed TW Drama from YouTube, Viki, Dailymotion, etc.
Free HD Video Converter Factory offers a one-stop solution to Taiwanese drama Eng subs download from YouTube, Vimeo, Dailymotion, Viki, Viu and other popular UGC websites.
Quick installQuick install this free program and follow the simple steps below.
Step 1. Copy YouTube video URL from your browser. YouTube playlist and channel links are supported as well.
Step 2. Run Free HD Video Converter Factory and open "Downloader".
Step 3. Click "New Download" button and press "Paste and Analyze" on a new window.
Step 4. Select a desired resolution and format, click OK to add to download list. Creating YouTube multiple downloads is also allowed.
Step 5. Set a directory on the bottom, click "Download All" for downloading in bulk.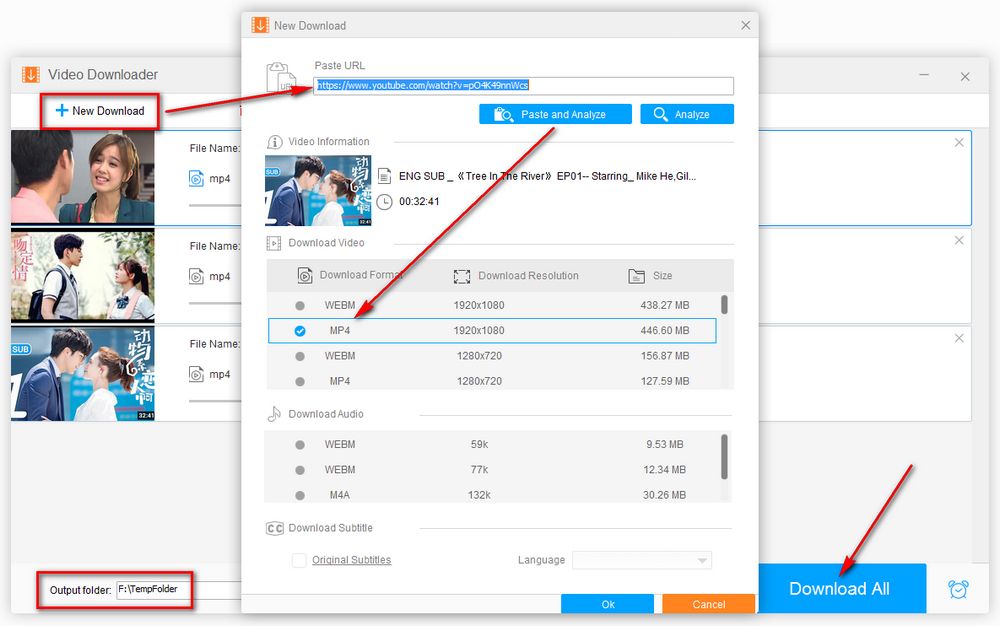 Final Words...
From my perspective, the highlights of TW dramas boil down to the following words: romance, youth, campus, idol, bitter play, prince and ugly duckling, incurable disease, memory loss, Cinderella story, dilatory plot, misunderstanding, etc. As the proverb goes, beauty is in the eye of the beholder, I hope the 6 websites are helpful to you for watching Taiwanese drama Engsub. Thanks for your reading.