Disclaimer: The information provided below is for general informational purposes only. WonderFox is in no way collaborated or affiliated with the referenced applications, and will never advocate any copyright infringement action. The use or reliance of any information contained on third-party platforms is solely at your own risk.

Watching raw Japanese dramas is a good chance to get rid of the distraction of subtitles and also a way to learn Japanese well. Yet today's most Jdoramas are either subbed or dubbed. There is little resource to find Jdoramas raw. Only some torrent sites and DDL sites (Direct Download Sites) offer raw or soft-subbed (the subtitles can be turned off) Jdoramas for free downloading. And I've listed them all below. Check them out for yourself!
Hot Search: Download Raw K-Dramas l Download Raw Anime
Tips: Besides the torrent sites and DDL sites, YouTube is actually a good source for Japanese drama raw. YouTube users from all over the world have contributed a lot to the Jdorama library on this platform. And now you can find here a huge variety of closed-captioned and raw Japanese dramas from the last several decades. Just search your wanted J-drama by name and there you go. Moreover, with a decent YouTube downloader, you can download your favorite J-dramas for offline playback as well. If you don't know such a downloader yet, I would suggest this safe freeware WonderFox Free HD Video Converter Factory. It can help you download any YouTube video and YouTube playlist through only a URL. Free install it here here.
WonderFox Free HD Video Converter Factory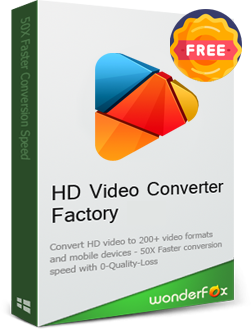 The #1 freeware to expand your media library, enhance your audiovisual experience, and enrich your digital life. See what it can do for you:
Download videos and songs from YouTube and 500+ more sites;
Save movies, dramas, shows, etc. in original quality, up to 4K;
Output media into MP4, MKV, and other 500+ formats and devices;
Remove subtitles from soft-subbed/hard-subbed videos;
Process in a fast and stable manner;

Free Download

Free Download

Learn More
Compatible with

Windows, 100% Clean!
Best Places to Download Raw Japanese Dramas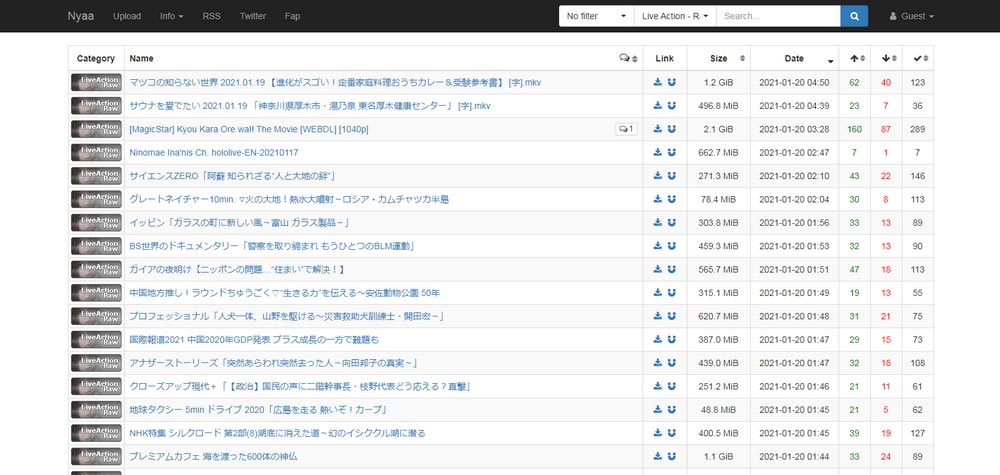 Nyaa is primarily a torrent site for anime, but it also provides an eclectic collection of raw doramas in the LiveAction Raw section. However, only the recently aired doramas, occasionally the remux of some old doramas, have good seeders and can be downloaded smoothly. Given that, Nyaa is an ideal place for you to download up-to-date raw doramas.
Note: If you don't quite understand the concept of torrent, please check Everything You Need to Know about Torrent and How to Download Torrents.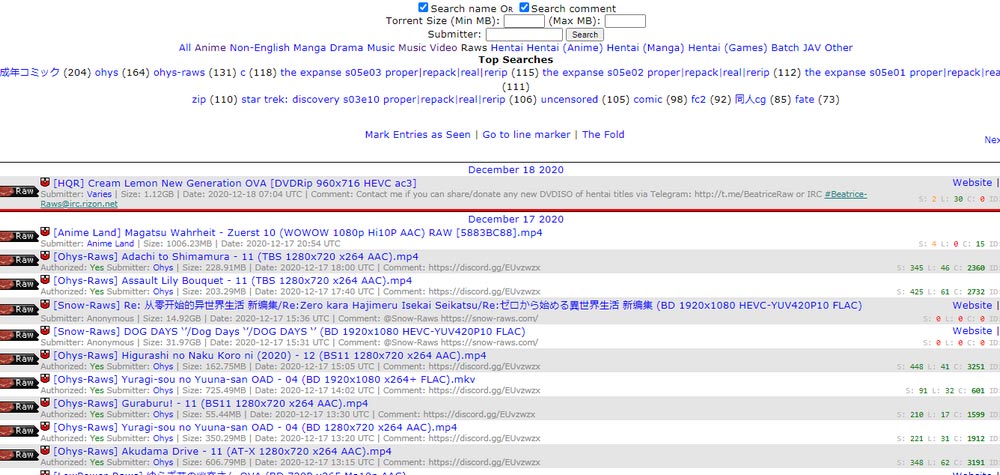 Like Nyaa, Tokyo Toshokan offers also a wide selection of raw doramas torrents, and you can find here several other items that are not offered on Nyaa. However, a great proportion of the torrents have no seeds, which means you can't download some of the files at all. Anyhow, you can take Tokyo Toshokan as a backup site to Nyaa.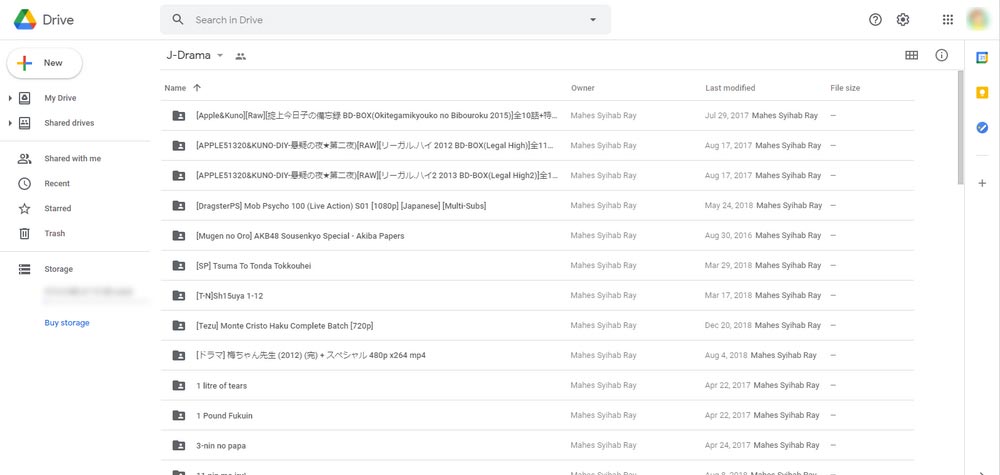 This is a Google Drive folder I discovered lately. And now I just regret why I didn't found this treasure trove earlier. It's got a huge collection of raw J-dramas that were before 2018, including all the popular and little-known ones. And they are all in high resolution. Besides the doramas, there are also bonuses like the drama OST included in some of the sub-folders. You can watch whatever you like and download your favorite raw Japanese dramas in batch as you wish.
Note: The RAR files in this GD folder are encrypted. The password is bagikuy.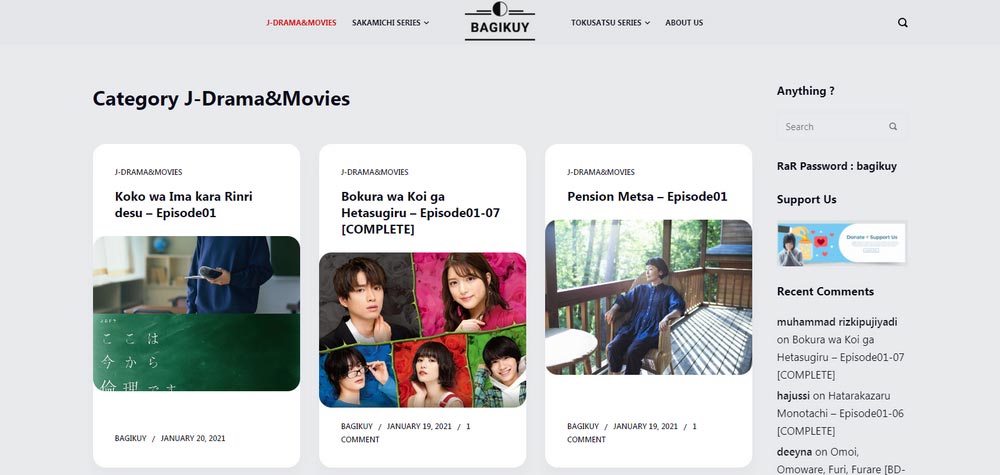 So you might've noticed the name is the same with the password above. That's right. Because the resources collected in the above folder are originated (might be partly) from this site here. But unlike the GD folder mixing the raw Japanese dramas all in one place, BagiKuy presents you the raw J-dramas in a more organized way with a search engine, which makes it much easier to target what you want. BagiKuy also beats the GD folder in providing an up-to-the-mark database that all the latest aired J-dramas can be found here in raw. And there are multiple resolutions to choose from. A perfect place to get high-quality and recent-released raw J-dramas for free.
Note: Some dramas have soft-subs. You can easily hide them using VLC.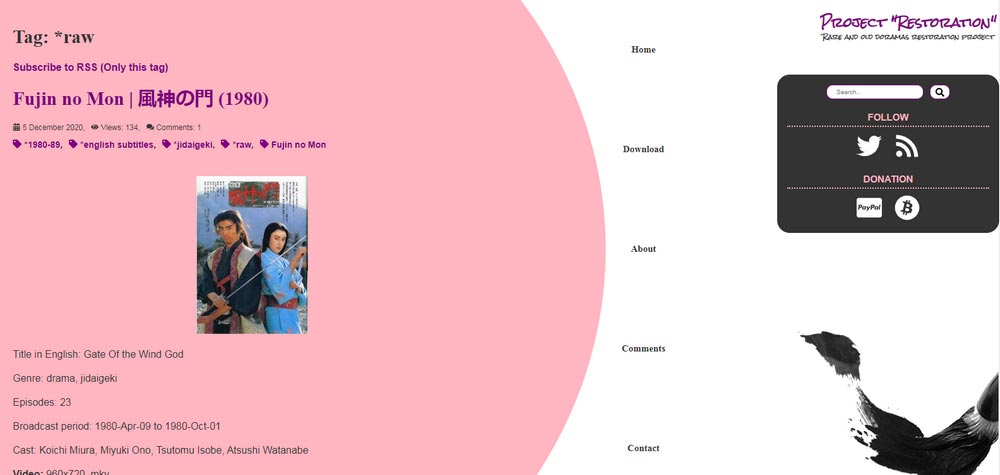 This heaven-sent site is the holy grail for old dorama lovers. With its aims to popularize all the rare and lesser-known doramas, it unearths a lot of hidden gems from the 1950s through today. But not all of the doramas on this site are raw. You have to use the *raw tag to filter the raw doramas out. And when you find your interested dramas, just click the Download button at the lower right of the info page to get the MEGA download links.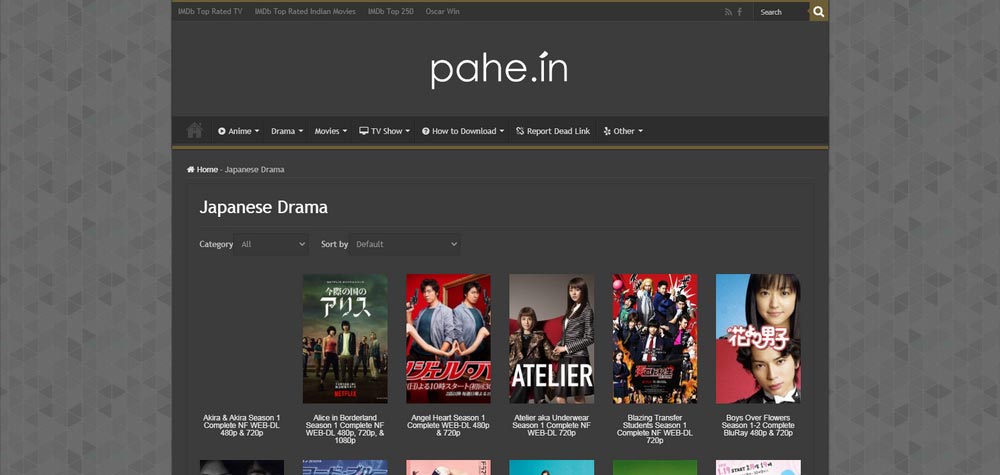 Pahe.in is another DDL site that offers a good selection of Japanese dramas. These dramas are all small-sized MKV files with soft-coded subtitles. You can download them by single episode or in batch. And there are multiple resolutions to choose from as well. The download links provided are from GD link, MEGA link, and others, which are easy to handle.
Apart from the sites mentioned above, there is also this D-Addicts forum where you can dig up a massive resource of Japanese drama raw. And several other DDL sites like Dramahd.me, Mini Drama, and Mkvdrama.com, though not odrama-centered, provides also a limited collection of soft-subbed doramas. And they are all reliable sources with up-to-date dramas.
That's all for the raw Japanese dramas now. Hope you'll find this article helpful .Thanks for reading!