As a fabulous video reducer online service, clipchamp.com can help you decrease video file size online freely. Besides reducing videos, this service will convert, edit, and record videos. After compression, you can save the video to your local disk or directly upload it to YouTube, Vimeo, Facebook, Google Drive. This is quite convenient.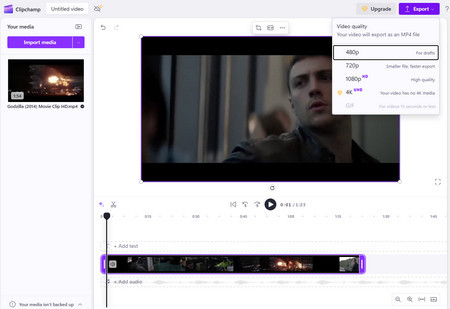 Compress Video Online Free via Clipchamp
Pro:
No artificial limits on input file size, format, and resolution.
Add batch videos for compression on Chrome exclusively.
Con:
Registration needed.
Only allow you to shrink 5 videos per month with a free account.
Must install Clipchamp extension to save the reduced videos to your chosen storage location.
How to compress video online free via clipchamp.com:
1. Visit [https://clipchamp.com/en/video-compressor].
2. Register an account. And you can choose the free version to have a trial on video compression.
3. Click the "Convert my video" big button to upload the target video and then set the final video storage location.
4. Then optimize the video for web, mobile, etc. and customize video resolution, format, quality.
5. Hit the Start button to minimize video size online.