Why Do We Compress Video for Email
Nowadays, many of us are inclined to using Email in our daily life. At working hours, we often use email to communicate with colleague; in leisure time, we also record the happy moments in our life and share them with absent family members and friends by email. However, there is a size limit of video when attaching it to email. For example, the maximum video size for emailing via Gmail is 25MB; Outlook is 20MB (10MB for business account); Yahoo is 25 MB. If we want to successfully send the video via email, we need to compress it as the following cases shown:
Hot search: Video Size Compressor | Pop GoPro Compression Software | Compress Fraps Videos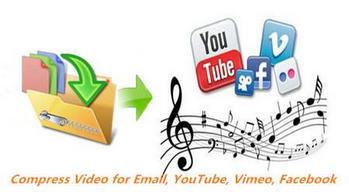 Compress a Video to Send in Email
1. I took some video this past weekend with my GoPro. It saves the video as MP4. I have 2 questions: How to make a video small enough to email? My email only lets me upload 25 MB so the files are too large and is there a way to make the video save as a different format other than MP4 so I can upload to YouTube.
2. I have sent a video via Email to my boss. I used a compressor to reduce the video size. But my boss replied to me that: the video quality is too poor to watch and asked me to send the original video. However, the original video is bigger than the email limits. How to compress a video to email losslessly? Is there any good compressor?
You may have the similar demands and are looking for the best way of how to email videos with small size but good quality. However, many of the video compressors would damage the video quality at the same time to reduce video size. How to compress a video for email attachment without quality loss? Fortunately, you can use WonderFox Video Converter Factory Pro which is also as a great compressor. Its compression ability is better than most similar products and can compress video/audio in a short time to smaller size for emailing and keep the most optimum quality. Take all into consideration, it's the best program to fix how to compress videos for email.
Let's free download the all-in-one software to compress video files for email step by step.
Compress Video for Email in 3 Steps
As an excellent video compressor, WonderFox Video Converter Factory Pro can compress a 4K video , compress AVI video, compress MKV files, compress MOV files and more. This software is not only a video compressor, it also an audio compressor to compress WAV file and other audio files. What is more, it offers other attractive functions: video/audio format conversion; video/audio downloader, video/audio editing and DIY ringtone. Namely, you can use this tool to convert MP4 to Xvid, to download Thanksgiving movies, to make ringtone without iTunes and to edit your video simply.
Well, after the brief introduction to this powerful video compressor for email, let's compress videos for email now.
Step 1 Add Files
Launch this video compressor for email and add files. Pick Converter on the main interface. There are 3 ways to add files: click the button "Add Files" and "Add Video Folder" or drag files directly to the main interface.
Tips: Except for emailing videos, you can also use this software to convert video formats. It supports 300+ hot devices and provides most hot devices friendly formats.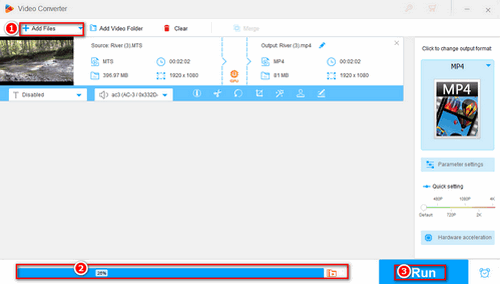 How to Email a Video with Small Size
Step 2 Select Compression Rate
This is the simplest way to know how to compress video for email attachment. Check the "Compression Setting" button and then drag the control-item to compress video for email to your wanted file size. This compressor supports batch compression, which means it can deal with compressing video for email in batches.
Step 3 Start Compressing
Congratulations! You come to the final step of compressing videos for email. Click on "Run" button to compress a video to email now.
Now, please download the HD Video Converter Factory Pro to complete your jobs.
How to Compress a Video for Emailing
The All-In-One compressor allows you to compress video files for email and converts the videos to 500+ formats and hot devices. It solves you all problems on video incompatibility and large size. More other functions are worth a try.
Other Two Methods to Compress Video to Email.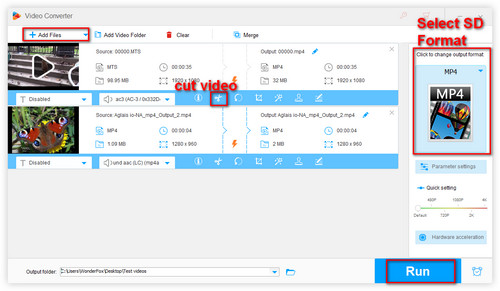 How to Compress Video for Email Freely as You Wish
1. If our video includes many unnecessary parts, how to compress a video for email? We should cut video off in advance and then compress video for mail. Please do the following steps.
Add files by clicking "Add Files"→ Click the scissor shaped symbol and choose the part you want→ select "OK" and "Run".
2. Sometimes, we want to send the recorded video with an HD camcorder. Because the video is in high definition, it may take 30 MB even though the video is only 2 minutes. Therefore, if the video is in high definition, please convert it to standard definition format in advance, such as convert M2TS to MP4 and H264 to AVI.
Add files by clicking "Add Files"→ select SD format, such as MP4, AVI, MPG, MOV etc.→ Click "Run" button for compressing video files for email.
These two methods: cutting video and convert video to SD can also be finished with this functional compressor. So you don't need another program. With the three methods on how to compress a video file for emailing, you can share your videos with your family and friends handily and it becomes more efficient to do the job.
That's all for how to make video smaller for email. Thanks for reading!
More Special Features of HD Video Converter Factory Pro
Batch compress video files with smaller output size to free up storage space on device
Offer a built-in video editor to crop, split, merge and retouch video and boost volume
Support 500+ formats and devices, including iPhone, Android, H265, VP9, 4K, DTS...
Can convert between standard and high-definition video (8K/4K/1080P/720P/480P) with high quality
Download video of different resolutions from YouTube
Batch convert video files to save a lot of time