Sony PlayStation 4 (abbreviated to PS4) is a home video game console announced as the successor to the PlayStation 3. Except for playing video games, it still supports Blu-ray disc playback, including 3D functionality, and DVD playback on PS4. And video and music files can be streamed from USB storage devices and media servers using the Media Player app. However, have you ever come across the PS4 MP4 playback issue below?
Typical PS4 MP4 Playback Issues
1. PS4 Can't Read My NTFS USB Drive
I have bought the Sony PS4 video game console in the few days ago. Why my PS4 can't browse large USB drives formatted in NTFS? While the Samsung, LG and Sony devices can do it with no problem. How can I play MP4 on PS4 from my NTFS USB Drive? Please help!
2. PS4 Media Player Not Reading any Files on USB
I copy some videos and music (.mkv, .mp4 and .mp3) into my USB drive and plug in PS4. However, despite the files all being in supported formats, and all encoded correctly, the PS4 doesn't seem to read any files. Why? The stick is formatted to ExFAT (tried it with FAT-32 earlier, same problem).
3. Can't Play MP4 on PS4
Can PS4 play MP4? I read the manual and learned PS4 supports most file types including MP4. I just confused why my PS4 could play some of my MP4 files, while refuse to play other MP4 files. That's weird.
Related Topics: Samsung TV Won't Play MKV | Play MKV on LG TV | Video Won't Play in PowerPoint | Stream MKV to Apple TV

How to Fix PS4 MP4 Playback Issue Effectively
HD Video Converter Factory Pro helps to fix PS4 MP4 error by making the MP4 files compatible with PS4. It's easy to handle, supports over 300 conversions and can reduce video size easily. Learn more >
The Root Causes of PS4 MP4 Playback Issue
1. Make sure your USB storage devices are in FAT and exFAT formats. PS4 doesn't recognize NTFS which means you can't play videos larger than 4GB. So reduce video size or split videos if need be, meanwhile, you have to convert NTFS to FAT32 or exFAT.
2. Create a folder and place all your videos into it when using a USB storage device so that your PS4 system can recognize and read them, otherwise you won't see anything. No specific folder name required for videos, but audio needs to be in a folder named "Music".
3. Does PS4 play MP4? Definitely, but MP4 is just a container format which can be encoded with dozens of different video and audio codecs. Your MP4 can play smoothly if it's the right codec compatible with PS4. If not, you need to transcode to a supported one with PS4 video converter. Music files can be in MP3 or AAC (M4A) formats, video files must be in one of the following formats and codecs:
MKV
 - Video: H.264/MPEG-4 AVC High Profile Level4.2
 - Audio: MP3, AAC LC, AC-3 (Dolby Digital)
AVI
 - Video: MPEG4 ASP, H.264/MPEG-4 AVC High Profile Level4.2
 - Audio: MP3, AAC LC, AC-3 (Dolby Digital)
MP4
 - Video: H.264/MPEG-4 AVC High Profile Level4.2
 - Audio: AAC LC, AC-3 (Dolby Digital)
MPEG-2 TS
 - Video: H.264/MPEG-4 AVC High Profile Level4.2, MPEG2 Visual
 - Audio: MP2 (MPEG2 Audio Layer 2), AAC LC, AC-3 (Dolby Digital)
AVCHD (.m2ts, .mts)
Best PS4 Video Converter: Transcode Any Video to PS4 Supported Format
To help fix PS4 MP4 playback issue and watch MP4 on PS4, WonderFox HD Video Converter Factory Pro, the best PS4 video converter, is highly recommended to convert any video to the format accepted by PS4, such as convert MP4 to PS4, AVI to PS4, MKV to PS4, WMV to PS4, MOV to PS4, etc. Free download this MP4 to PS4 converter here, install and run it on your PC. It has a perfect compatibility with Windows 10/8/7/Vista/XP.

HD Video Converter Factory Pro
The best solution not only to fix PS4 mp4 playback issue, but also to convert any video and audio to a wide range of formats and portable devices. Learn more >
1. Import all MP4 files you need to transcode into this software by clicking "Add Files" or a simple drag-and-drop. You are allowed to convert all video files in a batch mode.
Note: If needed, click "Download Video" button to download hot video even 4K video from YouTube. You can also merge several videos into one, rotate video or add subtitles.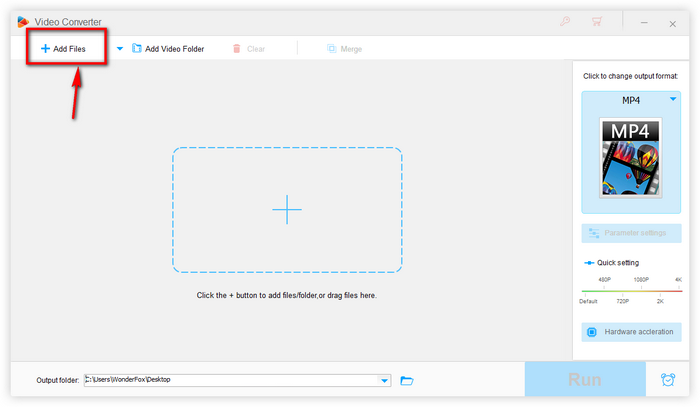 Import Videos into Software
2. Open the output drop-down list on the right, 200+ video audio formats and portable devices are here for your choice. Select "PS4" under "Sony" tab which has already been optimized to support PS4 well.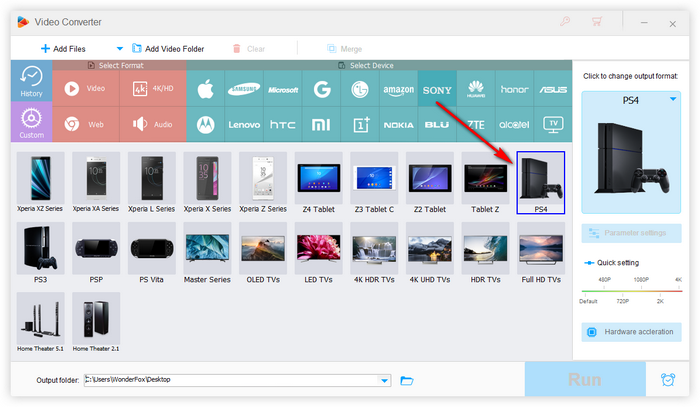 Select PS4 Video Format
Note: This MP4 to PS4 converter empowers experienced user to adjust video parameters like resolution, encoder, bitrate, aspect ratio, frame rate and so forth by clicking Settings button.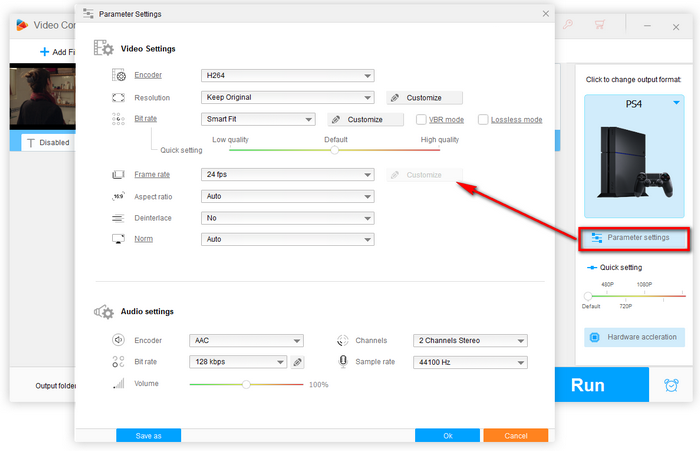 Adjust Video Parameters
3. Locate your destination folder and click Run button to start MP4 to PS4 conversion.
After all things are done, you have resolved PS4 MP4 playback issue and your video and music files are supposed to be streamed from USB storage devices or other media servers. Besides, PS4 also offers apps for streaming from Netflix, Hulu, YouTube, Amazon, and other services. Just use your home network or USB drive to access to your PS4 entertainment.

Play MP4 and Videos in Other Formats at Ease
Now Download HD Video Converter Factory Pro to fix video playback on PS4 issue. It works like a charm. Learn more >
Still got question? Submit it to us and get answer within 24 hours.