MP4 is a video container format used to store video, audio, codecs, and other metadata. HEVC (H265/x265), on the other hand, is a video codec to encode and decode digital video.
When we talk about converting MP4 video to HEVC, we usually mean re-encoding the MP4 video with the HEVC codec. Since HEVC is an advanced video codec, an MP4 video encoded with HEVC can provide up to 50% better data compression at the same level of video quality compared to MP4 encoded with H264 or MPEG4. In other words, converting MP4 video to HEVC will help you cut the file size in half without ruining the video quality.
So if you want to save device space and not compromise your viewing pleasure, converting video to HEVC is a good choice. For this kind of conversion, all you need is a reliable desktop video converter like WonderFox HD Video Converter Factory Pro. It is a simple yet powerful HEVC converter that can help you easily transcode MP4 as well as other videos to HEVC at a blazing fast speed (hardware acceleration supported). The following tutorial will show you how to convert MP4 to H265 in detail. Read on.
Step 1. Import MP4 File(s)
Launch HD Video Converter Factory Pro. You should see five modules on the main interface, Converter, Downloader, Recorder, GIF Maker, and Toolbox. Select Converter. Next, click + Add Files to import your MP4 file(s) into the converter. Or you can drag the video(s) into the program directly.
Tips: You can add multiple video files into the converter for batch conversion at once.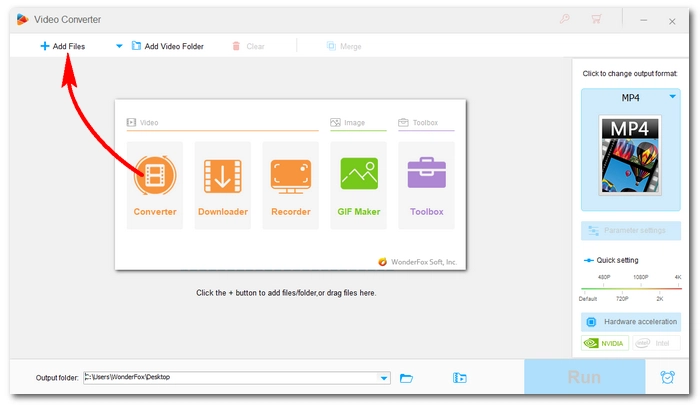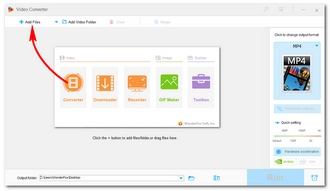 Step 2. Choose Output Format
On the right side of the converter, click the format image to open the output format library. Then go to the Video category and select H265 for MP4 as the output format.
Tips: You can also pick MP4 or MKV as the output format and then change the encoder to H265 in the Parameter settings.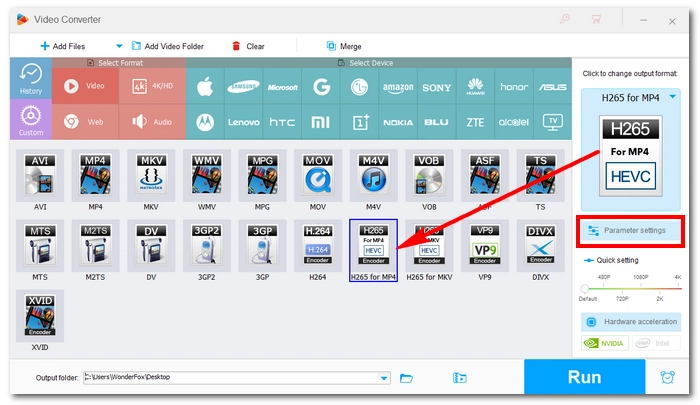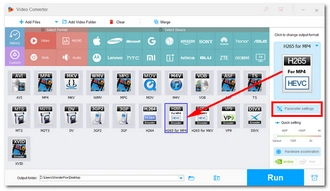 Step 3. Convert Video to HEVC
Click the ▼ button to specify an output path or leave it as default. Finally, hit Run to start converting MP4 file to HEVC.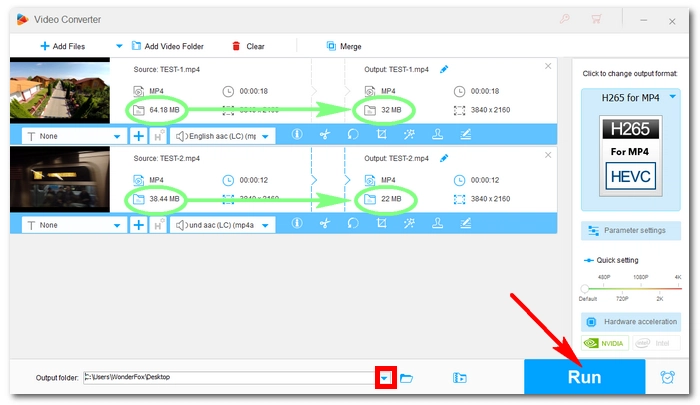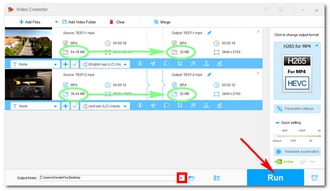 Fun Fact:
All video transcoding leads to video quality loss to some degree. The difference is that some conversions won't cause a visible quality drop, such as using the H265 codec. The only lossless video conversion is changing the video container, which is also called remux.
Wrap-up
Some online video converters can convert MP4 to x265, too. Yet, we don't suggest them, for they usually process slower (considering the upload time and your network condition) and are covered with ads. The desktop software, however, is free of those limitations.
That's all for how to convert MP4 file to HEVC with the recommended MP4 to HEVC converter. If you have any questions during the conversion process, you can contact me on Twitter. I'll be glad to help. Thanks for reading.