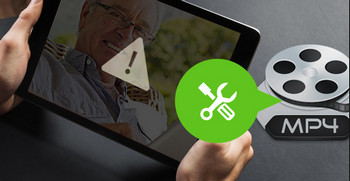 Fix corrupted mp4 video
MP4 is a very good and practical media format which contains both video and audio data with high compression ratio and output quality compared to its counterparts. However, your precious memorable MP4 video files may get damaged due to improper operation or other causers. In this case, you don't necessarily have to get rid of them because there are still some possible effective ways to restore a slightly damaged MP4 video file. In the following paragraphs, I will explain the causes of MP4 corruption and introduce 3 practical ways for MP4 video repair.
Common Causes of MP4 Damage
1. MP4 video header is broken.
2. Infected with computer virus or Trojan.
3.Network interruption when downloading videos.
4. Power is cut off when playing videos.
5. Contents get lost and damaged in the course of compression.
6. Mandatorily changing video extension name.
7. Using unreliable third-party software to edit your video files.
8. Removing USB before transmission is completely finished.
You must firstly check how severe your MP4 file is damaged before using any recovery tools. There are various solutions to different issues like a failed playback, a blurred screen, video fragmentation, audio and video out of sync and so on... However, if your MP4 video gets damaged during downloading, it can never be fixed. For example, the MP4 file cannot be recognized at all.
Three Most Effective Methods for Corrupted MP4 File Repair
Method 1
The best method should certainly be HD Video Converter Factory Pro. The software itself is a video converter that supports over 500 formats and codecs for video conversion. But meanwhile, it is an expert in repairing damaged MP4 video and fixing YouTube video errors as well. For those slightly damaged videos, in most cases, they can be easily fixed by changing video formats or video transcoding. In this way, you can also stream MP4 file to iPad or other devices for smooth playback. What's more, you can remove damaged part by clipping without worrying about issues like HandBrake audio sync problems.
Free download the best MP4 video repair tool to efficiently fix slightly damaged MP4 videos.
3 Steps to Fix a Damaged MP4 File with the Best MP4 file Repair Software
Step 1. Add MP4 Files
Launch HD Video Converter Factory Pro. Go to the Converter section, click on "Add Files", and select the damaged MP4 video by double clicking. Or in a more direct way, you can drag the video from your folder or desktop where you store the video to the interface. Lastly, preset an output folder at the bottom.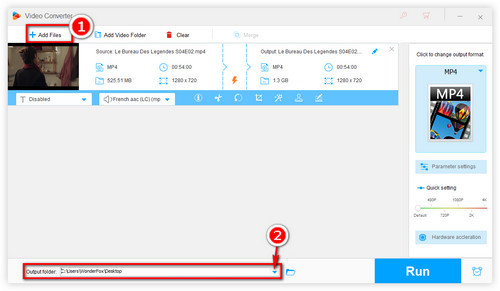 Add the damaged MP4 video to the interface
Step 2. Choose an Output Format
On the right side, click below "Output Format", choose AVI under the video tag.
Then, go back to the previous page. Hit "Settings" and choose Xvid or DivX as the output. If you have some basic knowledge about video terminologies, you can preset video output parameters. by freely adjusting resolution, bit rate or frame rate on your own.
Tip: You can choose to deinterlace your video if bothered by annoying horizontal lines when playing an MP4 video.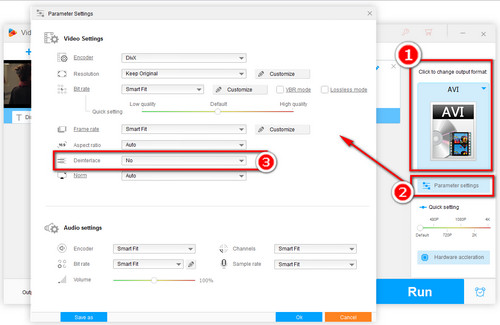 Preset video parameters
Step 3. Repair MP4 File
Click on "Run" to launch conversion process. In a short while, you can find the output AVI video in the folder you preset at the beginning. Finally, don't forget to test it with some main-stream video players like VLC or Windows Media Player.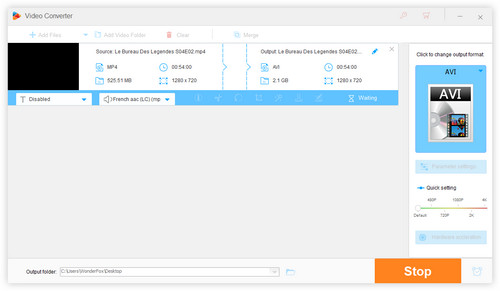 Start conversion with the best MP4 repair tool
Method 2
Use Stellar Phoenix Video Repair & HD Video Repair Utility to Repair MP4 File
If the method above does not work, you can try out some more professional MP4 repairing software - Stellar Phoenix Video Repair & HD Video Repair Utility. The reliable software perfectly resolves HD video compression issues, changes made-in file formats, read/write errors, Trojan and virus attacks, to name a few. The step is also pretty simple - Install, import the damaged MP4 file, begin restoring - save or preview the file when finished.
Method 3
Corrupted Video File Repair Online
Some websites provide online video repair service as well, for example, mp4repair.org. You just need to upload the video you want to fix, and when it's finished, download and preview it. However, some of those websites may accordingly charge you a bit and limitations also exist.
1. A successful MP4 video repair mostly depends on whether you have a good or a bad network condition on which conversion speed rely. You must make sure the net will not be cut off when your video is under repairing.
2. There is a very high memory usage when fixing the video which may dramatically slow down your system speed. Meanwhile, you can't close your browser.
In all, if your MP4 video is just slightly damaged, it is most likely that you can fix it only when taking a proper method.
Now, please download the HD Video Converter Factory Pro to complete your jobs.