Import MKV Movies with PGS Subtitles
Step 1. Download Subtitle Edit from https://www.nikse.dk/subtitleedit. Install and launch it.
Step 2. Click the "File" tab > Import subtitle from Matroska (.mkv) file. (Or drag and drop the video file in other formats into the program).
Step 3. Select the video file with PGS subtitles and click "Open". Subtitle Edit will automatically import and read the video file, and the OCR window pops up.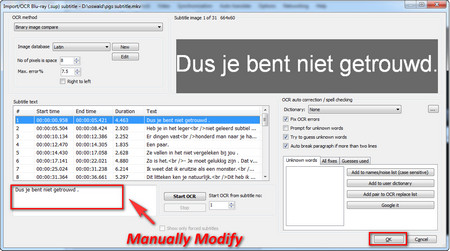 OCR PGS Subtitles to SRT
Step 4. Click "Start OCR" on the OCR window, and Subtitle Edit will start transcribing.
It's inevitable that the transcription is not accurate at times, manually modify the incorrect ones at the box on the left side of the "OCR" button.
If needed, double-click on each transcription to inspect compare matches and modify text associated with each image.
Click "OK" to get back to the main workplace when it's done.

Convert HDMV PGS to SRT
Step 5. Click on the "Format" option above > Select "SubRip (.srt)", set "Encoding" as "Unicode (UTF-8)". Then click the "File" tab > "Save as" > Customize filename for your subtitle > Save
Finally, we have managed to convert PGS subtitles to SRT.
Related Articles: Convert VobSub to SRT | Sync Subtitles with Movie