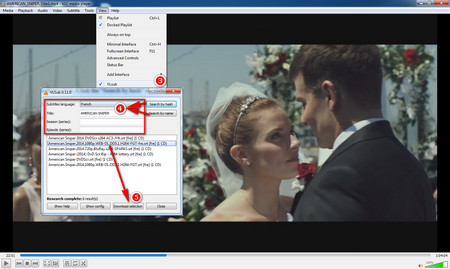 how to add subtitles in vlc
Step3: Run VLC Subtitle Downloader
Launch VLC media player, import your favorite movie or TV episode by clicking "Media" > "Open file" as well as pressing shortcut key "Ctrl + O", or directly drag the file to VLC media player. Then, click "VLsub" under the drop-down list of "View".
Step4: Search the Matched Subtitle
After clicking "VLsub", VLC will pop up a dialogue box. Choose the target subtitles language, input the specific information of movie/TV series title, season, episode(series) on the dialog box. Click the "Search by hash" or "Search by name" option to search and fetch all the related subtitles from OpenSubtitles.org for VLC media player subtitles download.
Step5: VLC Subtitle File Download
Select the suitable and matched subtitles file, click the "Download Section" button for VLC subtitles download.
Step6: Watch Movies/TV Episode with the Downloaded Subtitles
The subtitle file will be downloaded to the default location of the video and added to your currently playing video automatically! Amazing, right?
Hot search: Download YouTube Subtitles | Remove Subtitles from Video | Add Subtitles with Handbrake