On many occasions, we would find ourselves more relieved when watching a video that is embedded with subtitles. Say I'm in a quiet place and have to mute the sound, then a subtitle is a saver to my comprehension of the video. The same goes for people with hearing loss. Also, subtitles are good for people who don't speak your language. All of these are reasons why we should make subtitles. It will not only benefit those people in need but also boost the quality and traffic of your video. However, it is not an easy job to make subtitles, on the contrary, it's effort-taking and patience-challenging unless you've found a piece of suitable subtitle software to ease your "pain". But if you haven't found one, don't worry, this article has figured it all out, the following are 11 awesome subtitle makers, try some out!
Also Read: Add Subtitles to AVI | Hardcode Subtitles to Video | Extract Subtitles from MP4 | Subtitles Free Download | SUP to SRT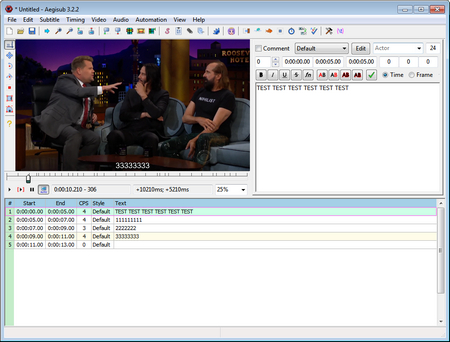 1.Aegisub
Download: http://www.aegisub.org/
Aegisub has established itself as a professional subtitle creator for quite some time and it is mainly used for creating ASS subtitles. It is a free and cross-platform open source application, available on Windows, Mac, and Linux systems. Note that this tool has different language versions, suitable for people from other countries. Its simple and intuitive interface allows you to preview the line on the playing-video the same time you type it. It has a rich-featured editing function, probably one of the most flexible ones, enabling you to change font, colors, margins, and even to outline and rotate the lines. What's more, you could even decide the position to show your subtitle in the video by double-clicking any area on the player. In addition, it gets a spell-checker, a translation assistant and many other mini-features to help perfect your subtitles. Yet the audio waveform is presented only for replaying, which means you cannot correct your lines directly through a specific timestamp in the waveform.
Pros:
Totally free
Real-time video preview
Styling subtitles in various ways
Small but useful features to assist your subtitle-making
Cons:
Timing is not that easy to control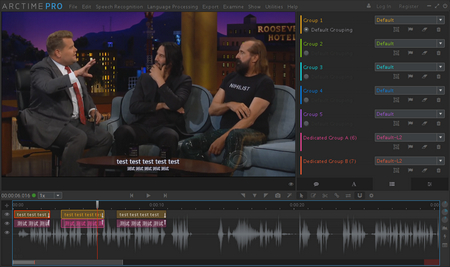 2.Arctime
Download: https://arctime.org/
Arctime is a new-born video subtitle maker but that doesn't conflict with its potential to be one of the best subtitle software, especially in the field to make bilingual subtitles. It is used on Windows, Mac, and Linux systems. And it guarantees you the most powerful and efficient subtitle production and its subtitle-making is unique in its own way - by dragging and dropping (or tapping) to create subtitles in the audio-wave track. It also provides you a real-time preview to see the effect of the caption in the player. The subtitles can be adjusted through a wide range of parameters, like font, color, outline, shadow, and so on. Like Aegisub, you can place the line in any position you want. What makes it more competing is that it is equipped with many rare but practical functions, each is with a detailed video tutorial. The recent version also supports watermark-adding.
Pros:
Efficient and powerful in subtitle-making, especially two or more subtitles
Unique and time-saving way to place subtitles
Real-time preview
Lots of flexibility to adjust the parameters of subtitles
Useful features with thoughtful tutorials
Cons:
Not user-friendly to new users
Not yet full-fledged, bugs occur frequently
Advanced settings are available only after acquirement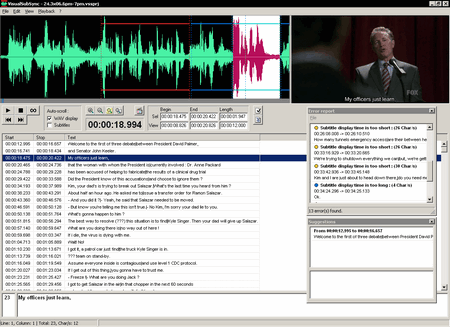 3.VisualSubSync
Download: https://sourceforge.net/projects/visualsubsync/
VisualSubSync is another free subtitle creator supporting SRT and SSA/ASS subtitle formats. The audio waveform representation, which enables you to target the exact sound sequence and add a line directly to the selected timestamp, is the biggest highlight of VisualSubSync. Being its cornerstone, the visual audio waveform saves you a lot of time compared to Aegisub. And the zoom in/out function could better the accuracy in selecting the timestamp, making it more convenient for subtitle-correcting. Useful functions like error checking, network suggestions, and speed indicators are also provided to help to improve the quality of your subtitle.
Pros:
Totally free
Simple and intuitive interface
Visual audio waveform allows you to add subtitles directly and accurately
Cons:
Not much functions compared to the above subtitle programs
Only supported on Windows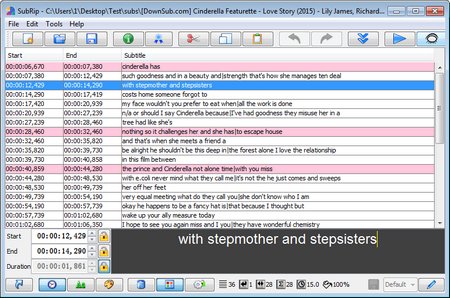 4.Jubler
Download: https://www.jubler.org/
Jubler is yet another free and open source software written in Java 5.0, which means it is available on Windows, Mac, and Linux systems. It is mainly used to edit text-based subtitles, but also supports SRT, SUB, ASS, etc. Its main features include style editing, such as font, size, outline, shadow. The current frame, waveform preview, and waveform listening are supported, which promises you to type lines simultaneously into the chosen timestamp exactly. Furthermore, you can preview the subtitles either in real-time or in design time. Jubler is also featured with spell-checking and translation mode as well.
Pros:
Totally free
Very flexible in font formatting
Visible audio waveform to assure accuracy
Real-time and design time preview
Spell-checking and translation mode
Cons:
Needs additional MPlayer to play video and view subtitles
Needs additional ASpell to spell-check the subtitles
Unstable when importing some video files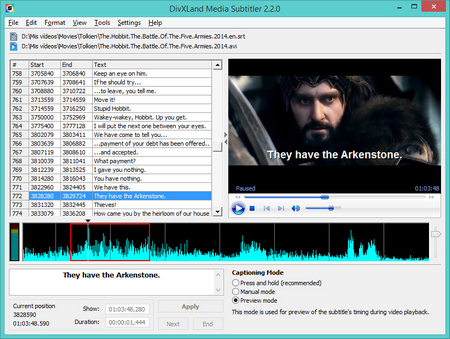 5.DivXLand
Download: https://divxland-media-subtitler.en.uptodown.com/windows
DivXLand is a free and multilanguage subtitle editor designed to create, edit, and fix external subtitles files for all video types, including AVI, MPG, WMV, and so forth, fast and easily. It allows you to make subtitles from plain text files or clipboard by simply clicking on the "Apply" button, then the player on the right side will give you an instant preview of the subtitled video. There are other subtitling modes, namely, Manuel mode and Preview mode, in addition to the recommended Press and hold. You can choose either way to add your subtitles. Automatic caption timing and correction are set to improve your subtitle creation too. One thing that's not that satisfying is that it does not have much text styling, only that of bold, italic, and underlining.
Pros:
Totally free
Very efficient in inserting subtitles while preview the effect at the display
Automatic caption timing and correction
Cons:
Requires Windows Media Player to play video and preview subtitles
Only supported on Windows
Lack of styles, and hard to change position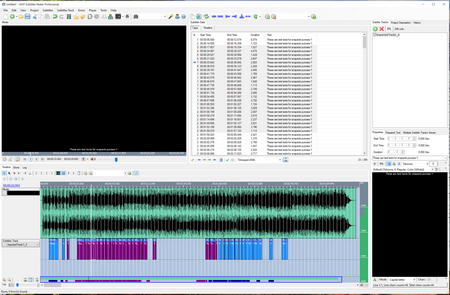 6.AHD Subtitles Maker
Download: https://ahd-subtitles-maker-pro.en.lo4d.com/windows
AHD Subtitles Maker is a free comprehensive subtitle program that needs no scripts to create subtitles. It is supplied with an extensive range of editing options and supports a large list of subtitle formats. It also has the visualized audio waveform to line subtitles perfectly. And the time format which accurate to millisecond just adds to the accuracy. What makes it even outstanding is that it has an outer link to OpenSubtitles.org, letting you download and edit the already existed subtitles instead of making your own from scratch, hence saving tons of effort. Just like other good subtitle makers, it has a multilingual interface, a spell-checker, and a translation service to maintain the subtitles' quality.
Pros:
Totally free
Flexible in style editing
Audio waveform to help line subtitles
Link to OpenSubtitles.org to offload
Other common and practical functions
Cons:
Only available on Windows
The comprehensive features might be a hindrance to raw hand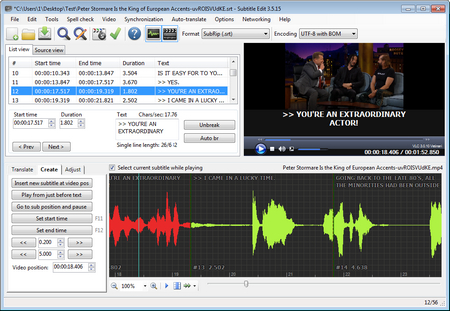 7.Subtitle Edit
Download: https://github.com/SubtitleEdit/subtitleedit/releases
As another well-known free and open source tool under GPL license, Subtitle Edit(SE) is an impressive and efficient video subtitle maker capable of creating, editing, adjusting, or synchronizing subtitles for videos. SE supports 250+ subtitle formats and is available in 34 languages. It also has an auto-translation mode, spell-checker, correction, adjustment and audio-to-text (speech recognition). The intuitive audio waveform that is to display time-line and spectrograms is presented here also for a direct and precise type-in. One more advanced feature of SE is that it can read, write, and batch-convert between different subtitle formats. An unpleasing part of this software is that it requires you to use only DirectShow, VLC media player, or MPlayer to preview the subtitled video.
Pros:
Totally free and easy to use
Support 250+ subtitle formats
Create/adjust/sync/translate subtitle lines
Cons:
Not supported on Mac
Lack of styles and couldn't place subtitles in anywhere you want
Sometimes it needs extra move to see alignment in the video preview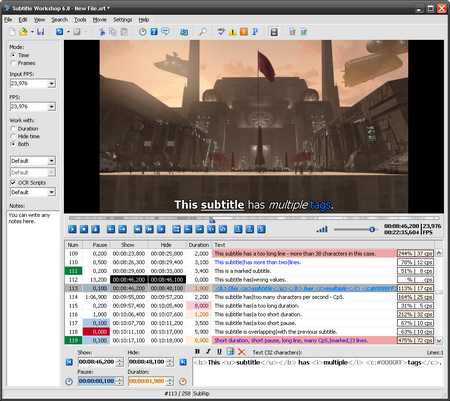 8.Subtitle Workshop
Download: http://subworkshop.sourceforge.net/download.php
Subtitle Workshop has the most user-friendly interface that it exposes all its main features clearly in the home screen and even makes it possible for you to customize the interface to your taste, allowing you to create, edit, and convert subtitles more handily. It is powerful in automatic timing and text manipulations, including automatic durations, smart line adjusting, spell checking, FPS conversion, search and replace, and many more. Nevertheless, it is less tempting in its font formatting where the style is quite old-fashioned.
Pros:
Totally free
Comprehensive features
User-friendly interface
Cons:
Supported only on Windows
Do not have a rich font formatting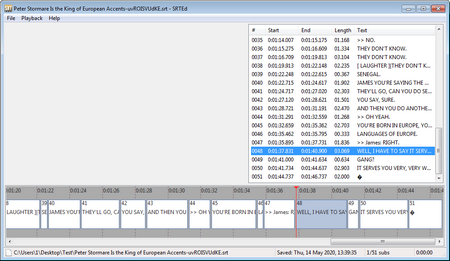 9.SRTEd
Download: https://download.cnet.com/SRTEd-SRT-Subtitles-Editor/3000-13631_4-75884617.html
SRTEd, as its name suggested, is an SRT creator supporting only STR format. It has a crude interface and limited functions, only basic enough to create subtitles. You can use it to spell check, insert lines, and check overlaps. One pleasing thing is that it is capable of visually syncing the subtitles upon the video timeline. Using this software can be painful, but it could be a great option for people who only to refine their subtitles a bit.
Pros:
Totally free
Visually sync subtitles
Cons:
Supported only on Windows
Suitable for people needing only a tiny refinement to subtitles
Lack of many important features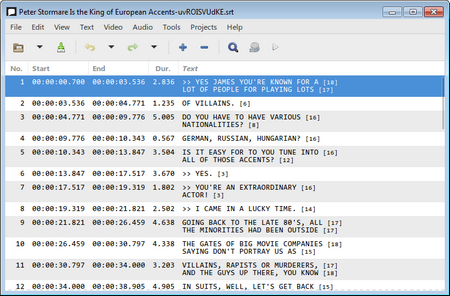 10.Gaupol
Download: https://otsaloma.io/gaupol/
Gaupol is a lightweight subtitle maker with only certain basic functions. It has the least-featured interface and only allows you to create subtitles by either typing from scratch or making adjustments to imported subtitle files. So this freeware might be a good option for people who need only a tiny refinement to his subtitles. By the way, it also supports subtitles formats like ASS, SRT, SUB, TXT, etc. Apart from this, there is nothing special about this program.
Pros:
Totally free
Cons:
Video and audio functions are not available in Windows version
Lack of many important features
Suitable for people needing only a tiny refinement to subtitles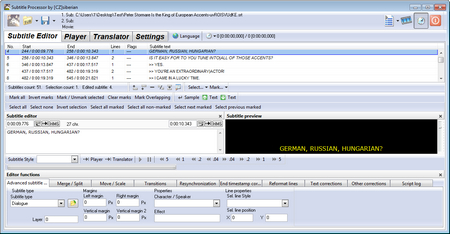 11.Subtitle Processor
Download: https://sourceforge.net/projects/subtitleproc/
Subtitle Processor is a lightweight freeware used on Windows. It helps you create, repair, and translate subtitles. It contains an integrated movie and DVD player for the synchronization of subtitles but doesn't support preview the same time you make subtitles. The interface is simple and clear. All the main functions are listed in tags that are easy to access.
Pros:
Totally free
Cons:
Supported only on Windows