An SRT file is a subtitle file that is programmed in the SubRip file format and contains only the sequential numbers, timing information, and subtitle text of the related video. It is the simplest and most common type of subtitle that you would often see in a video.
Please keep in mind that the SRT files do not hold any video or audio data, but only text document like this:
5
00:00:10,510 --> 00:00:12,429
You meet new people every single day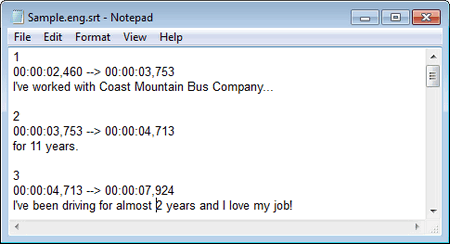 Since SRT file is in essence a text file, any text editor like Notepad and WordPad can be the program to open SRT files. In these text editors, you'll see the metadata of the SRT file in plain text (you are also allowed to make edits to the SRT file within these editors). And the way to open SRT files with these SRT file players is simple. Here is how you can open SRT file on Windows:
Just double-click/tap on the SRT file and it should be automatically opened by the default text editor on your device. If it didn't open, you could right-click/long-press on the SRT file to select Open with to manually choose one SRT file opener.
Note: Please make sure you have a text editor installed on your device beforehand.
You can also use professional subtitle editors such as Aegisub, Jubler, and DivXLand to open and edit the SRT files, but that's mainly used by fansubbers.
You should always play SRT files with videos. But how to view SRT files in a video exactly? Firstly, you need a video player that supports adding external subtitles. The renowned players are:
Windows: VLC Media Player, Windows Media Player with VobSub plugin, Media Player Classic, MPlayer
Mac and Linux: VLC Media Player, MPlayer
Android: VLC for Android, MX Player, Xplayer...(check the best Android video players)
iOS: olimsoft OPlayer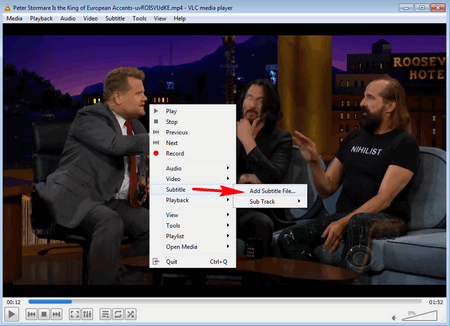 Next, open SRT files in these players, here is the how-to:
In some cases, you just need to put the video and the relevant SRT subtitles together in one folder and then play the video, the player will automatically detect your SRT file and present it along with the video data.
But in other cases, you have to first play the video and then import the SRT file into the player yourself. And the way to open SRT files with these players is quite similar. Here I'll take the VLC for an example:
Step 1. Open your video with VLC.
Step 2. Right-click on the video to select Subtitles > Add Subtitles File... to open and play the SRT file.
If you do not have a player that supports external subtitles and also don't want to put energy on subtitle-importing every time you open the video, you could consider hardcoding the SRT subtitles to your video so the SRT subtitles and the video become one project, which means the video and SRT subtitles would be played at the same time.
To do this, you need a tool to help add subtitles to MP4, or embed subtitles into MKV and AVI. The freeware WonderFox Free HD Video Converter Factory I find is capable of doing this with a solid result. And it is easy to operate. Here are the steps to hardcode SRT files into a video with the software. Free downloadFree download the software and try it yourself.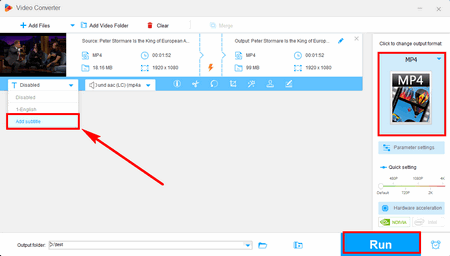 Step 1. Launch the software and open Converter. Click on + Add Files to import or drag and drop your wanted video into this program.
Step 2. In the lower-left corner of the video file, click on the subtitle option and choose Add subtitle to import your corresponding SRT file. Then on the right side of the interface, click on the format icon to pick one output format.
Step 3. When all is set, hit Run to start embedding.