Get Trouble in Playing OGG Files on Windows 10?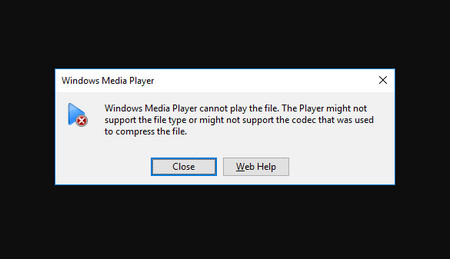 How to Open .ogg Files?
How to Solve Windows Media Player OGG Playback Issue? How to Open .ogg Files?
In order to play OGG files on Windows 10/8/7… and solve OGG unsupported issues, here are three solutions on how to play OGG files on Windows 10. I'll elaborate on each solution step-by-step.
Solution 1. How to Turn WMP as an OGG Player by Adding OGG Codec Pack
Download and install OGG codec for WMP, and you can play OGG files with WMP at will from now on. Here are two codec sources, in case one fails.
1. Xiph
Before installation, uninstall any previous OGG codecs (Go to "Add/Remove Programs"), shut down media player or any directshow apps. Navigate to https://xiph.org/dshow/downloads/ > Binaries > Windows 32/64-bit Installer > Install
2. K-Lite Codec Pack
Navigate to https://www.codecguide.com/download_kl.htm > Basic > Download Basic > Install
Solution 2. Convert OGG to WMP Supported Formats
To manage a perfect audio conversion, a proper audio converter is a must. Unlike online converters, WonderFox HD Video Converter Factory Pro runs much faster and is more stable in conversion, it runs offline, and even enhance your audio quality for a satisfactory result.
Solution 3: Third Party OGG Player to Open OGG Files
There are some desktop/online/app OGG file players worth recommending, they are apparently so convenient and easy-to-use. But sometimes, according to the feedbacks, some of these players can't recognize/play OGG files properly, even if they claim that they do and our test results say that they are just fine. Here are some OGG audio players with rich decoders, no guarantee on the result, just for you to have a try ;-)
1. VLC – Desktop OGG File Player
https://www.videolan.org/vlc/index.html
VLC is the best free & open source media player, no plugin, no ads, no user tracking, just a seem-confusing interface and inexhaustible additional functions including audio conversion, audio edition and etc.
2. Enjoy Music Player – Chrome Browser Extension to Play OGG Files Online
https://chrome.google.com/webstore/detail/enjoy-music-player/hncfgilfeieogcpghjnnhddghgdjbekl?hl=en
Among all web-based OGG file players, this one is one of the most stable one as tested (compared with webpage audio players). It takes Chrome browser to work, you can add that extension from the URL above, and then a pretty OGG music player pops out. By the way, you can have a direct access to your Google Drive with it.
3. Foobar2000 – Mobile App OGG File Player
Android: https://play.google.com/store/apps/details?id=com.foobar2000.foobar2000&hl=en_US
Needless to say how important is a good audio player to your mobile. Foobar2000 supports gapless playback, full ReplayGain, downloads from UPnP media servers, you should totally have a try.
At last...
Despite the good compatibility, you can even play FLAC on Windows Media Player, there are still many media formats that WMP doesn't support, and you definitely don't want to add codec packs to it every time you come across that issue. And WMP is quite a distinguished media player.
What I'm trying to say is, instead of finding a good OGG player Windows 10, why not convert the OGG files for any-device playback?
Thank you for your reading.