Step-by-Step Guide: How to Convert MP4 to BIK?
I bet many people have tried some video converter programs, right? Actually, there is no any third-party software can handle the BIK file type as it's exclusive to RAD Game Tools. Good news is the official has already offered the perfect MP4 to BIK converter - The RAD Video Tools, which contains a set of utilities for processing video, animation, and sound data. Here is the most credible solution below.
Step 1 - Download The RAD Video Tools
Visit http://www.radgametools.com/bnkdown.htm, download and install "The RAD Video Tools". By the way, a 7-Zip encrypted archive file will be saved onto your local drive, and you have to use 7-Zip, WinRAR or other archive programs to unzip it. The unzip password is: RAD.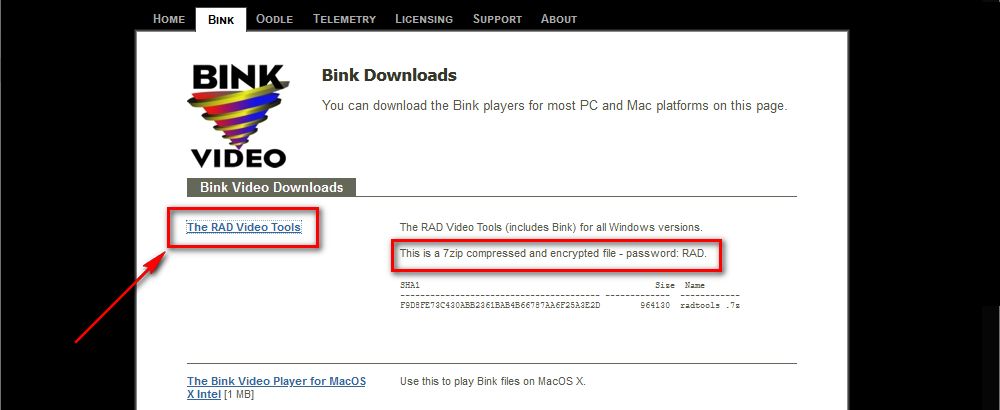 Step 2 - Load MP4 Files
Run "radvideo32.exe" or "radvideo64.exe" based on your 32-bit or 64-bit system. Go to the directory where stores the MP4 video files you want to convert in the window. Hold "Ctrl" key and select all of the MP4 videos, then click "Bink it!" button for batch conversion.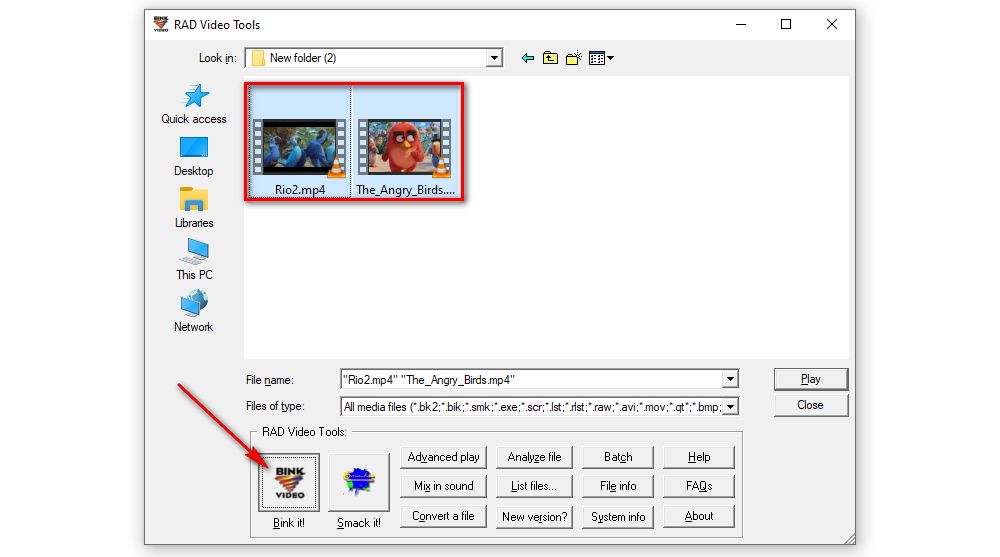 Step 3 - Customize Settings
On "Bink Compressor" window, specify an output directory to save the converted BIK files, and press "Batch" button on the right side. For veteran guys, you're able to customize compression settings, video and audio settings as you wish.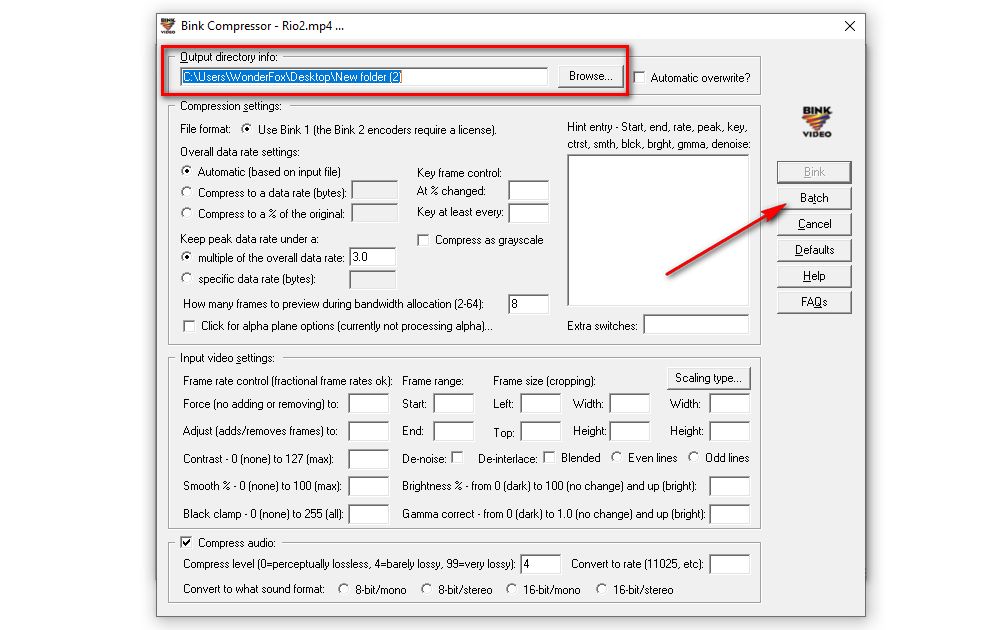 Step 4 - Convert MP4 to BIK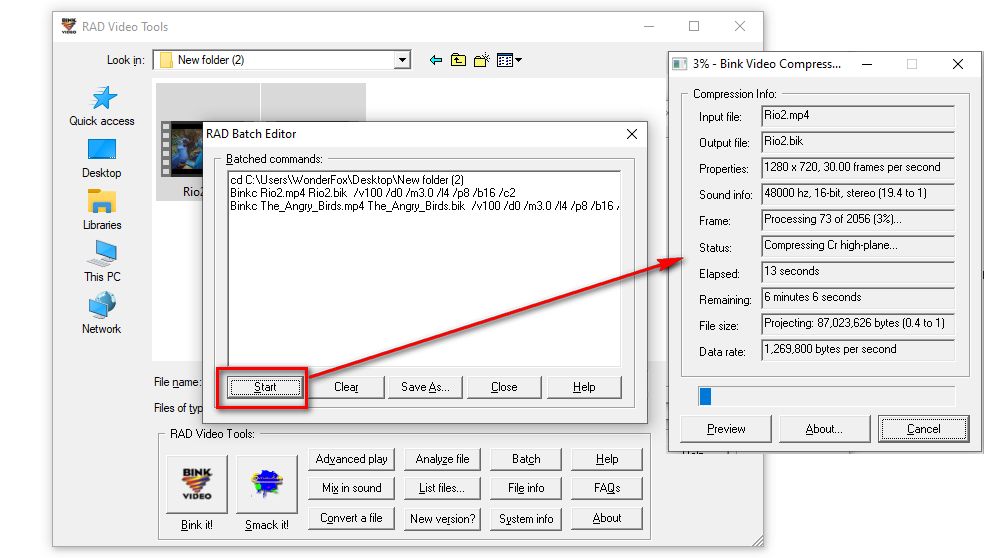 Video Tutorial - How to Convert MP4 to BIK?
Some people complained they tried the above workflow with the RAD Video Tools, but still got an error message and failed to convert the MP4 files. According to the official, RAD Video Tools relies on QuickTime to read H.264 MP4/MOV file. So, assuming your MP4 video is not damaged or encrypted, make sure you've installed the latest version of QuickTime with all necessary components on your computer before you convert MP4 file to BIK format. Then the problem should be fixed.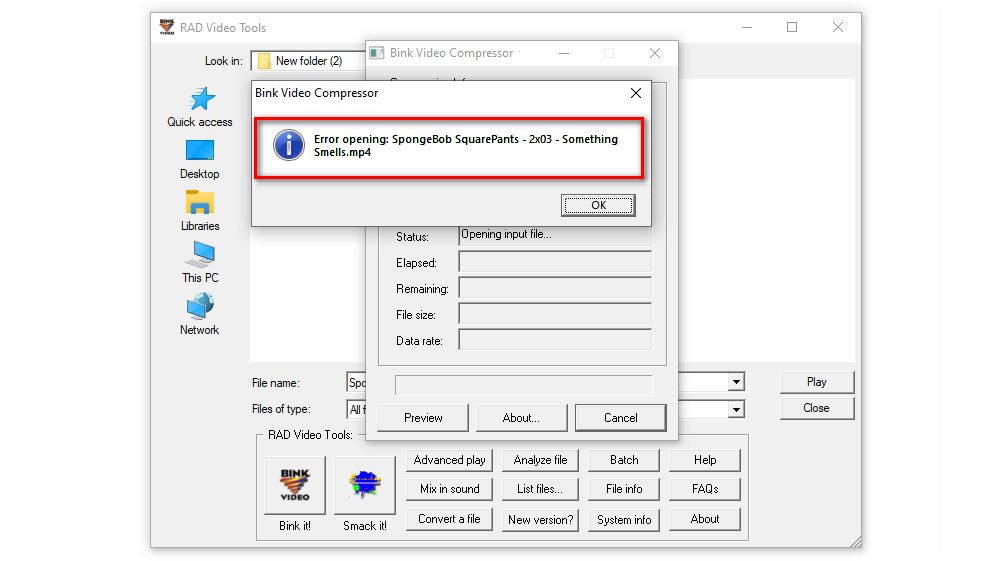 Still Not Working? Convert MP4 to RAD Video Tools Supported Format!
If the "Error Opening..." persists or the output BIK file plays with no sound, it's probably because your MP4 video encoded by some video/audio codecs that cannot be recognized by Rad Video Tool, such as H.265, VP9, AV1, etc. And you should note that RAD does not provide technical support for files that cannot be imported. In this case, the only solution is to convert your MP4 file to RAD Video Tools supported format, and try it again. HD Video Converter Factory Pro would be the best option for green hands.
Free downloadFree download it and follow the steps below to convert MP4 files to The RAD Video Tools friendly format.
Step 1. Run this application and open "Converter", drag and drop your MP4 video or any other videos into the program.
Step 2. Click the format profile on the right side to expand the full 500+ presets. Navigate to "Video" category and select "AVI", "H.264", "MPG" or "WMV" as the output format without further settings.
Step 3. Amend an output directory to save the converted video files, lastly, hit the big "Run" button to start the conversion. When the process is complete, now you are able to convert the videos to BIK files using Rad Video Tool without a hitch.
Tips, if you get confused by the complicated settings of RAD Video Tools, this program allows you to trim video, change resolution, adjust frame rate in a simpler way.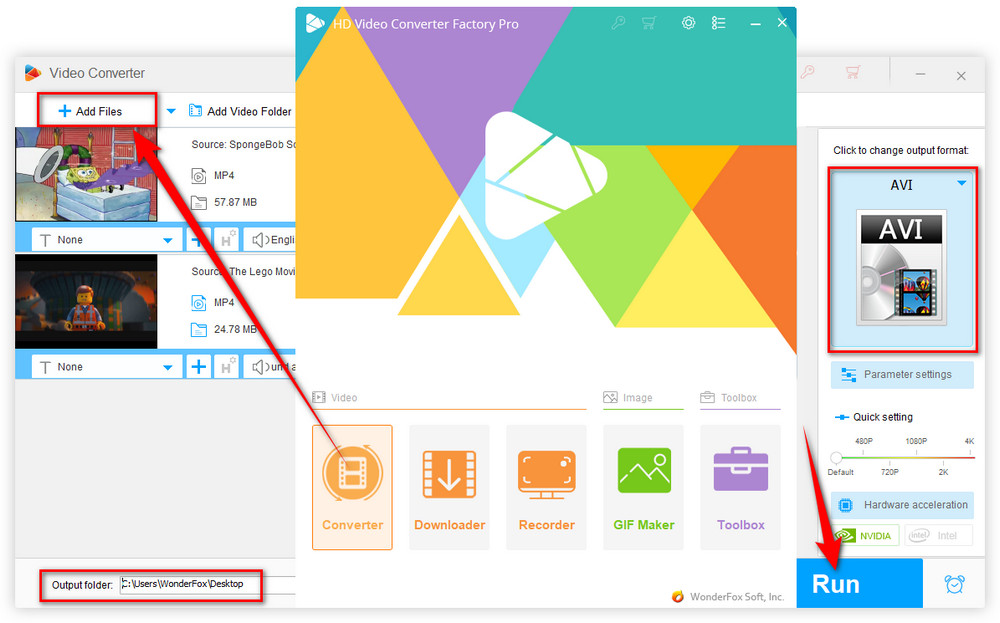 Final Words...
Sincerely hope this post is more helpful to your demand for MP4 to BIK conversion, it's time for modding your game. Also, if you still have any question or problem, feel free to contact me through Facebook Messenger. Cheers!