Q: How do I upload a LoL replay file to, say, YouTube? The highlights are in a .rofl format, which I've never seen before. I've searched up how to convert it to other usable formats like MP4 but failed. YouTube does not support .rofl. What can I do?
A: Firstly, the accepted YouTube video formats are MOV, MP4, AVI, WMV, FLV, 3GP, WebM, and among which the best-recommended one is MP4. For more information, please check YouTube video specs.
Second, the ROFL file is not even a video file and you certainly cannot upload it to YouTube nor convert it to other video formats. To be more specific, the LoL-generated replay files actually contain only instructions for the gameplay and do not hold any video or audio data. The reason you mistook it as a video file is that you saw it played in the LoL game but unaware of the fact that the ROFL file contains mere action orders by which the game client (and only the game client) can follow to present you a smooth game video. To put it in another way, the ROFL file is the game action and works only when loaded into the LoL client.
So you can't convert .rofl to .mp4 and there is no ROFL to MP4 converter.
But if you really want to make your game replay into an actual video, you could use some professional video game recording software to do the heavy lifting, like the famous OBS, FRAPS, and Bandicam. I'll take Bandicam as an example in the following part.
Hot Search: REPLAY to MP4 | EXO to MP4 | LRV to MP4 | TIVO to MP4
Bandicam is a versatile recorder to capture everything on your screen. It has a Game Recording Mode that can record any game that uses the DirectX/OpenGL/Vulkan graphics technologies and allows you to export your recordings directly in MP4. Below is the detailed tutorial of how to convert .rofl to MP4 with Bandicam:
Tips: You can also use OBS or FRAPS to do the recording, but they usually do not record your gameplay in MP4 (OBS records better in FLV or MKV, while FRAPS records in AVI). Yet, you can use a video converter to convert them to MP4.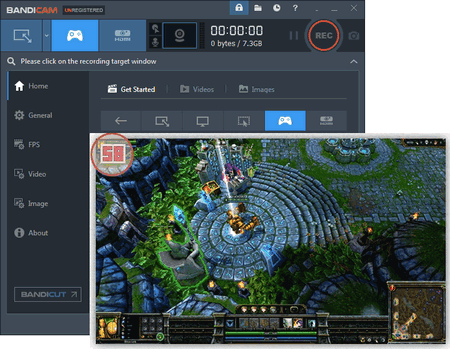 Step 1. Install and launch Bandicam on your PC. Choose Game Recording Mode on the top left.
Step 2. Play the wanted replay in LoL client and you'll see a green number indicating FPS on the top-left corner of the screen.
Step 3. Click the REC button or press the record hotkey (the default one is F12) to start recording. And the green number will turn red.
Step 4. Click the REC button or use the hotkey again to stop recording. Then go to Home > Video to check the recorded file.
Note: When under Game Recording Mode, stop recording when you see Victory or Defeat on the LoL game. Do not click the CONTINUE button, otherwise, the recording might go wrong. Or you can change to Screen Recording in Windowed or Borderless Mode to record your game to avoid such a problem.