Premiere Pro HEVC Green Screen
Sometimes, it will show a green image in Source Monitor after loading an H.265 video in Premiere Pro, but the audio works, just as shown in the screenshot.
Solution:
1. Rename the video file extension to .mp4, .mov, .avi, .mpg, etc. This method has been confirmed by a large number of people, although it doesn't make any sense. You may give it a shot.
2. Clear Media Caches. Go to the Edit menu > Preferences > Media Cache > Remove Media Cache Files, then restart Premiere Pro.
3. Switch Renderer. Go to the File menu > Project Settings > General > Video Rendering and Playback > Renderer: Mercury Playback Engine Software Only.
4. Turn off hardware acceleration. Go to the Edit menu > Preferences > Media, uncheck "Enable hardware accelerated decoding (requires restart)." Then restart Premiere Pro.
Case 3 - Variable Frame Rate Video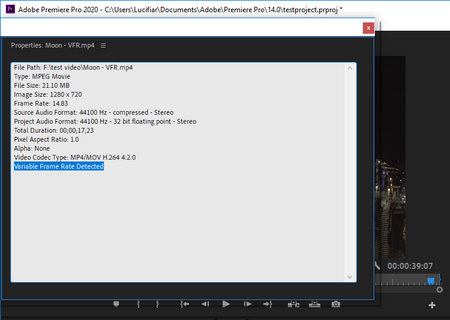 VFR H.265 Premiere Pro
Some HEVC footages were recorded in variable frame rate (VFR), which will fail to import to Premiere Pro or cause video and audio out of sync or Premiere Pro only importing audio issue.
Although Premiere Pro CC 2018 (12.0.1) and later versions offer the Preserve Audio Sync feature to relieve this situation, it inevitably cannot give consideration to all kinds of program versions, systems, hardware configuration, etc., and H.265 typically performs poorly on most computers and devices. Therefore, the ultimate solution is to convert VFR videos to constant frame rate (CFR). To simply fix this problem, I recommend WonderFox HD Video Converter Factory Pro. After 3 straightforward steps, you'll see the juicy result.
Now, free downloadfree download this utility, and see how it works to fix Premiere Pro HEVC codec issue.