Understanding the Importer Reported a Generic Error
Before we dive into the solutions for fixing this error, it's important to understand what it means. The "importer reported a generic error" message usually appears when you are trying to relink or import a file into Premiere Pro, and the software is unable to read the file for one reason or another. This error can occur with any type of file, including video, audio, image, and subtitle files, and can be triggered by various factors, making it difficult for users to pinpoint the exact cause.
It can be frustrating, especially if you have a deadline to meet. By understanding the possible reasons behind this error, you can take the necessary steps to resolve the issue and continue with your video editing projects. In this article, we will explain the possible causes and provide solutions on how to fix the importer reported a generic error in Premiere Pro.

Possible Causes of the Importer Generic Error in Premiere Pro
There are a few potential causes for the generic importer error in Premiere Pro:
Corrupted media file: The file you're trying to import may be corrupted or damaged, preventing Premiere Pro from reading it properly.
Codec missing or incompatible format: Your Premiere Pro system may be missing the correct video/audio codec to import the file, or the file format may be incompatible with Premiere Pro.
Inconsistent location of source files: If the location path of the source files has been changed, it's also likely to run into the importer reported a generic error when restoring the unfinished project.
Permissions issue: If the file is stored on an internal, external, or network drive, there may be permission settings preventing the file from being accessed.
Issues with Premiere Pro: If Premiere Pro crashed during a previous import or hangs/freezes during the current import, it can trigger this generic error. Sometimes, the importer reported a generic error message may also occur due to media cache, software bug, or an outdated version of Premiere Pro.
Insufficient system resources: If your computer does not have enough memory or processing power to handle the file you are trying to import, then you may see this error message. This can happen if you are working with large files or if you have multiple applications running at the same time.
How to Fix the Importer Reported a Generic Error in Premiere Pro?
Now that you know why the importer reported a generic error message appears in Premiere Pro, let's discuss how to fix it. Here are some solutions you can try:
Solution 1: Convert Unsupported Video Files
Whether the codec or format, if the file you are trying to import is not compatible with Premiere Pro, you can convert it to a supported format using a third-party video transcoding application - WonderFox HD Video Converter Factory Pro. The novice-oriented tool provides you with a wide variety of codecs and presets to fix any video and audio incompatibility issue. Thanks to the well-designed graphical interfaces, there's nothing difficult to convert video files to Premiere Pro supported format.
Free downloadFree download the functional app and learn how to get the job done in just a few simple steps:
Step 1: Launch HD Video Converter Factory Pro and open "Converter".
Step 2: Click on "Add Files" button to import the video files that trigger importer generic error in Premiere Pro, or simply drag and drop them into the blank area.
Step 3: Unfold a full list of 500+ configured presets on the right side. Go to "Video" category and choose "MP4" for the best compatibility, or go to "Apple" category and choose "ProRes" for editing purpose.
Optional. Open "Parameter settings" window to configure your preferences, such as changing video bitrate, resolution, frame rate, aspect ratio, interlacing, etc.
Step 4: Specify a destination folder to save the output files. Finally, click on "Run" to start the batch video conversion with GPU acceleration enabled.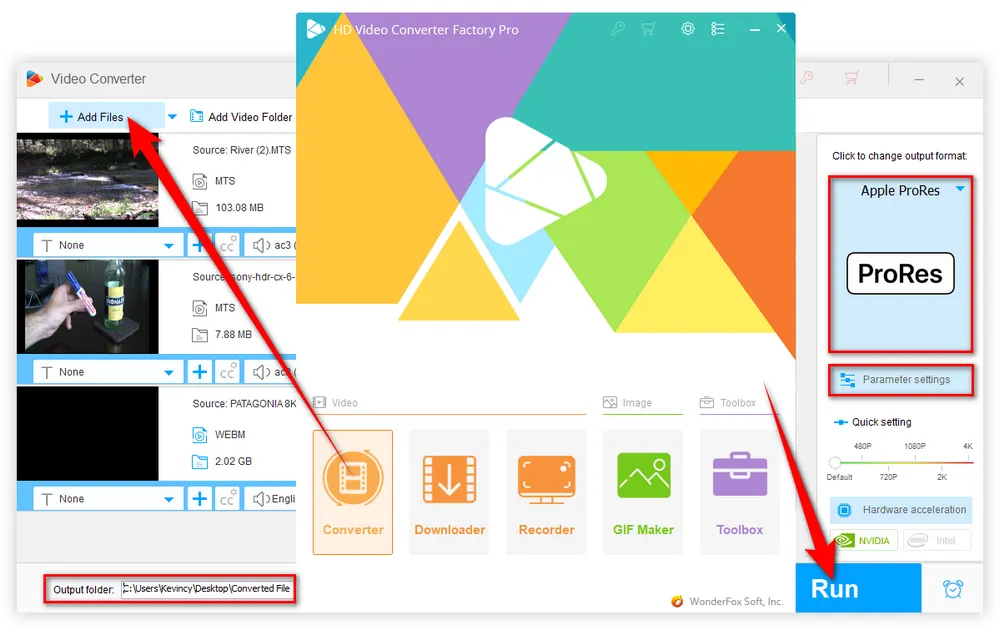 Solution 2: Repair or Replace Corrupted Media Files
One of the most common causes of this error is a corrupted file. If the file you are trying to import is damaged or corrupted in some way, then Premiere Pro will not be able to read it. This can happen if the file was not properly saved, if there was a problem during the transfer process, or if the file was damaged due to a hardware or software issue.
In this case, you're able to replace the media files or repair them. For video files, try running it through a repair utility like Stellar Video Repair. For audio, try a repair tool like WavePad Sound Editor.
Also Read: Repair MP4 Files | Repair MOV Files
Solution 3: Clear Media Cache
Sometimes, the media cache files automatically generated in Premiere Pro can cause issues with importing files. Therefore, you can try clearing the media cache to fix the importer reported a generic error message.
To clear the media cache, launch Premiere Pro and get to the home screen, go to Edit > Preferences > Media Cache, then click "Delete" button under "Media Cache Files" section. You'll be given two options, and try either or both to see if the problem is solved.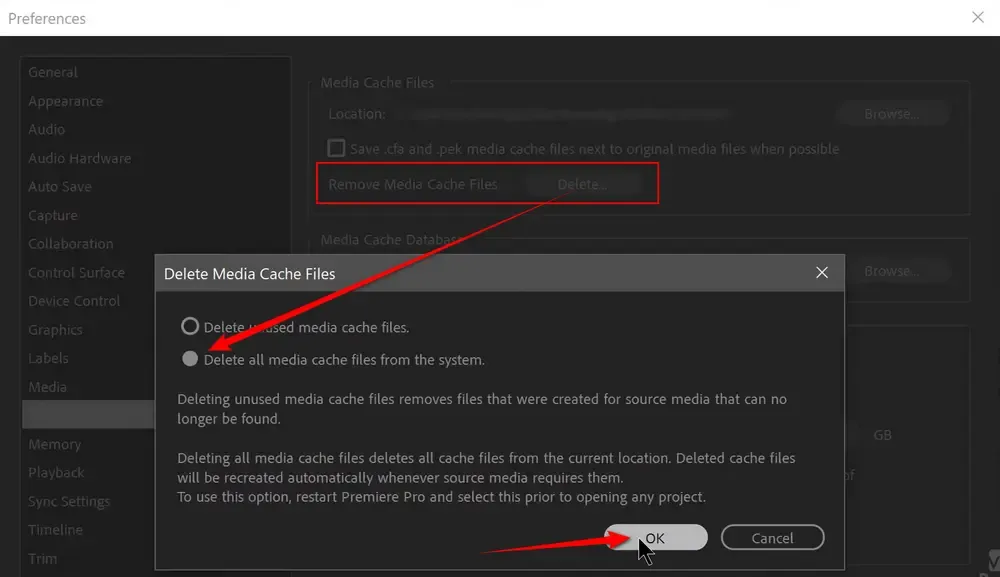 Solution 4: Check Source Files Location and Permissions
Keep the paths and names of source files unchanged and ensure that they are accessible with sufficient permissions. For those "cloud-only" files saved in a network server or a cloud storage platform, you're recommended to make them available on your local drive prior to relinking. Then it should work after clearing the cache.
Solution 5: Restart, Re-Install, or Update Premiere Pro
A simple restart of the Premiere Pro application may refresh the program and fix any temporary issues. Restart your computer as well for the best results.
If restarting does not work, you may need to uninstall and reinstall Premiere Pro through Adobe Creative Cloud app. An outdated version of Premiere Pro could be causing the importer reported a generic error. Update Premiere Pro to the latest version to retains full backward compatibility with early versions and ensure you have the newest updates and codecs.
Solution 6: Use Alternative Import Method
Try importing your media in a different way. For example, if drag and drop is not working, try going to File > Import. Or try moving the file to your Desktop or another location and importing from there. Different methods can sometimes work around issues.
Solution 7: Contact Adobe Official Support
If none of these steps resolve the file import failure problem, you may need to contact Adobe's official support team or community experts for further assistance. They can help you diagnose the problem and provide guidance on how to fix it. You can contact Adobe support through their website or by phone, depending on your location.
Final Words
The "importer reported a generic error" in Premiere Pro can be frustrating but solvable. Trying the solutions in this guide can help resolve your specific issue and get your imports working successfully again. Following a process of elimination through the available troubleshooting options will get your video project back on its feet in no time. However, if none of the solutions work, you should seek help from Adobe support or a professional video editor.
Frequenty Asked Questions
Q1: What file formats are supported by Adobe Premiere Pro?
A: Adobe Premiere Pro supports a wide range of video, audio, and image formats. Some common formats include MP4, MOV, AVI, WMV, and MXF for video; WAV, MP3, and AAC for audio; and JPEG, PNG, and PSD for images. For a comprehensive list of supported formats, visit the official Adobe support page: https://helpx.adobe.com/premiere-pro/using/supported-file-formats.html.
Q2: Why still get "Importer Reported a Generic Error" when importing MP4 files?
A: In fact, MP4 is just a wrapper. The MP4 file may use an unsupported codec, have an incorrect file extension, be corrupted, or have permission issues. Try updating Premiere Pro, transcoding the file to H.264, changing the extension to .mp4 or relinking the file.
Q3: Can hardware issues cause the importer generic error in Premiere Pro?
A: Yes, hardware issues can potentially cause the importer generic error. Issues with your computer's memory, storage, or graphics card can lead to file import failures. Check your hardware and consider upgrading if necessary to ensure optimal performance in Premiere Pro.
Q4: Can I avoid the importer generic error by using a different video editing software?
A: While using a different video editing software might help you avoid the importer generic error, it's important to note that other editing programs may have their own set of compatibility and performance issues. If you prefer to use Adobe Premiere Pro, it's best to follow the steps outlined in this guide to resolve the issue.