Actually, It's Not That Difficult to Split GIF into Frames

What would you do when you were impressed by a specific moment in an animated GIF? Take a snapshot? No, it's inadvisable due to the fast motion and transition, and it's difficult to seize the right moment to capture the desired frame with the ideal quality. It's totally a cinch for those computer whizzes, but in this post, I would like to share with non-tech savvy guys 8 free GIF frame extractors, which can perfectly help separate GIF into frames with ease. The highlights boil down to the following:
1. No paid program or service, completely FREE.
2. No complicated operation, just several mouse clicks.
3. No command lines, jargon, plug-ins, learning materials.
Also Read: Extract Frames from Video | Make GIF with Sound | Make GIF from YouTube | Add Text to GIF
1. Animated GIF Frame Extractor
Animated GIF Frame Extractor is an ultra-lightweight and easy-to-use GIF frame extraction tool that enables you to quickly extract a single frame or all frames from an animated GIF image. Since the official website is offline, download it from Softpedia: https://www.softpedia.com/get/Multimedia/Graphic/Graphic-Others/Animated-Gif-Frame-Extractor.shtml.
You'll be amazed by its file size, only 35KB, and this portable tool can be run out of the box without installation. After you load a GIF, you're able to preview all frames in the left column, simply select your desired moment and save the current frame or all frames in JPG or PNG format.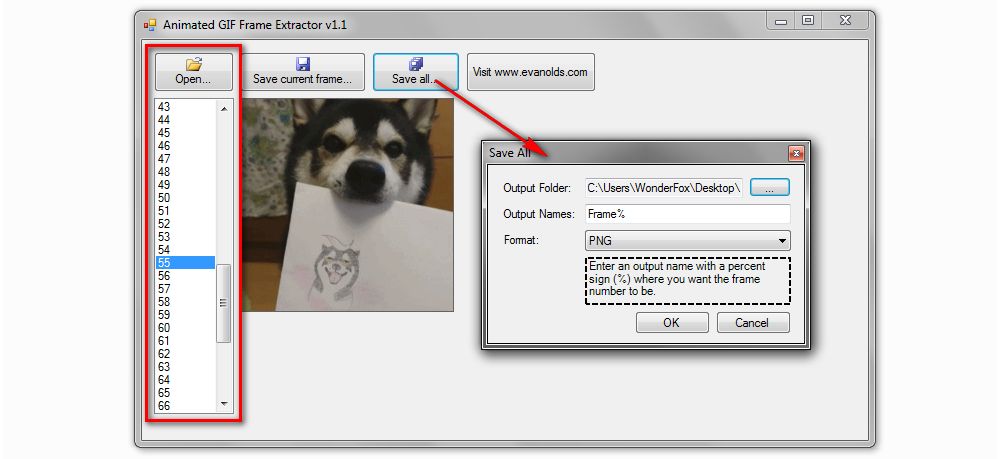 2. GIF Image Tools
GIF Image Tools is also an open source lightweight utility in only 68.5KB, but you can hardly imagine that it's a two-in-one program integrated with both GIF to frames extractor and images to GIF maker. Here is the download link: https://sourceforge.net/projects/giftools/.
I'm pretty sure you'll understand how to use GIF Image Tools when the utility GUI shows up. To separate GIF into frames, click on "GIF to Images" tab so that you can add a GIF, select output image format and directory, finally, hit "Extract GIF" button. Additionally, you can also switch to "Images to GIF" option to make a GIF file with a bunch of still images.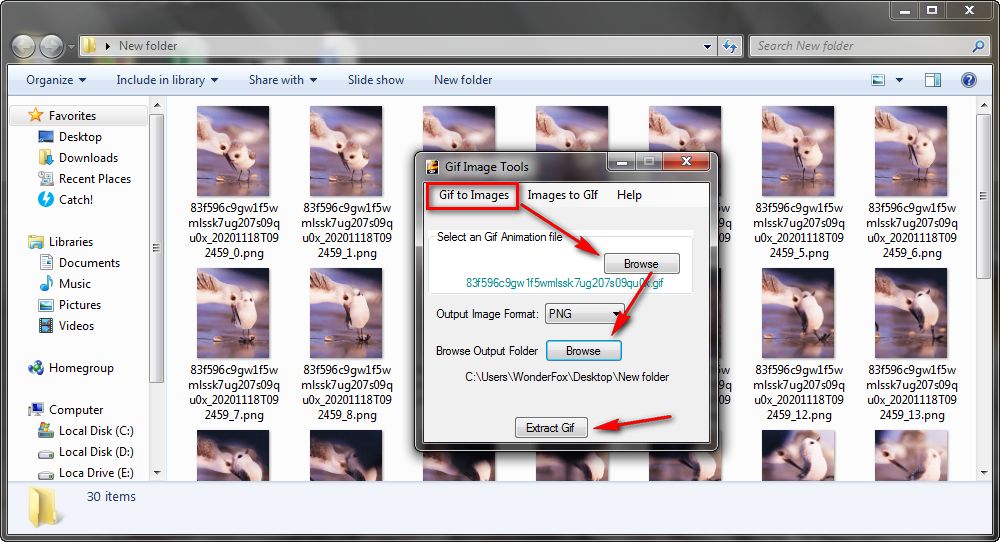 3. GifSplitter
Another foolproof portable tool I have to mention is GifSplitter, which can break animated GIF down into individual frames in BMP format. Thanks to the plain interface, the freeware is easy to operate, even a novice can quickly get started. Get GifSplitter here: http://www.xoyosoft.com/gs/index.htm.
No more explanation, just input your GIF file and provide the output directory, then hit "Split Now" button to break GIF frame by frame. It's worth mentioning that, if the original GIF has a transparent background, the second option is helpful to replace the transparent background with a color.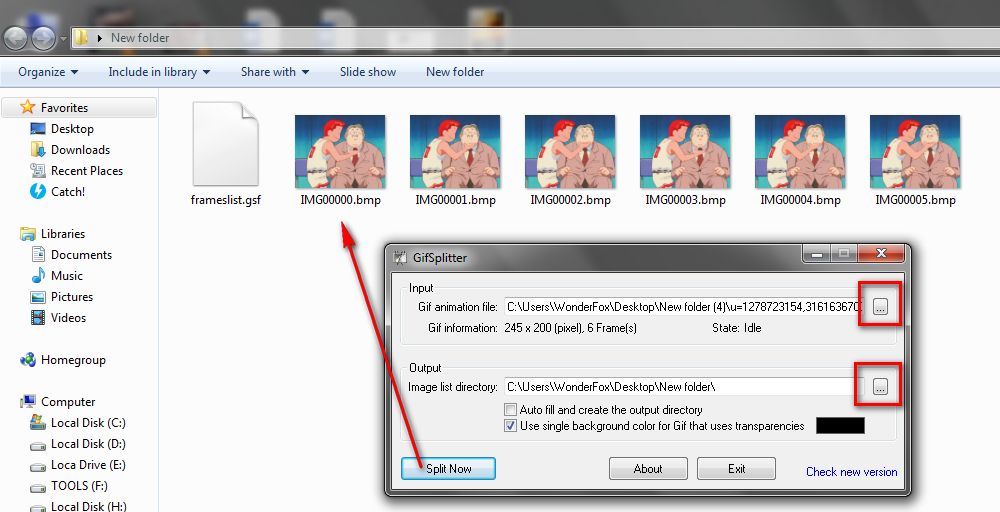 4. GIF Viewer
GIF Viewer is an open source animated GIF player that requires .NET Framework 3.5 installed on your computer. This tiny program not only supports animated GIFs playback, but also allows you to extract a specific range of frames or all frames from a GIF. Simply download and install this 133KB gadget via https://sourceforge.net/projects/gifviewer/.
When you run this program, it will automatically pop up a window to prompt you to add an animated GIF. And it will play the GIF at infinite loop. To convert GIF to frames, right-click on the player and select "Extract Frames" option. Then set a range for frames you want to extract using the sliders on a new window, press "Extract Frames" button. Specify a save path and file name, you can extract GIF frames as BMP, JPG, GIF (not animated), PNG, TIFF, EXIF, EMF or WMF images.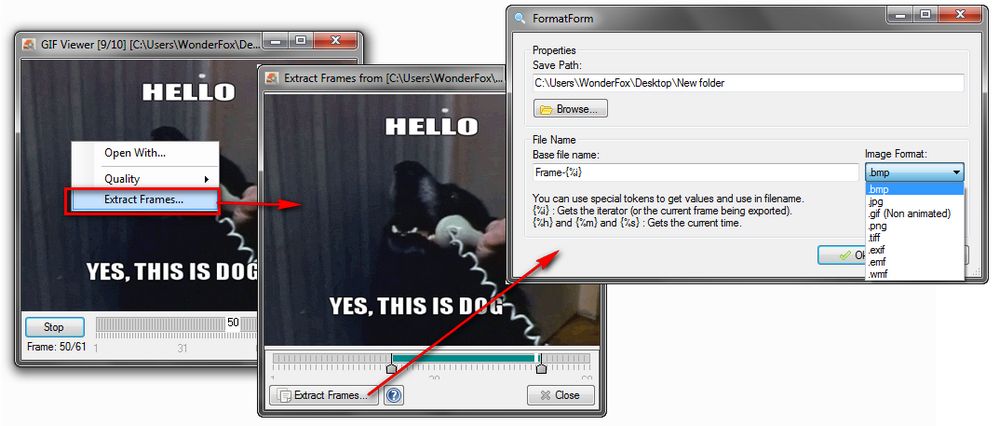 5. 7GIF
7GIF is another free animated GIF player for Windows equipped with more practical features. It allows you to view GIF frame by frame, increase/decrease playback speed, zoom in/out, play playlist and slideshow. Most importantly, it supports single and all frames export, just like Animated GIF Frame Extractor does. You can either download the .exe setup or a portable archive through: https://www.xtreme-lab.net/7gif/en/index.html.
After you launch the program, drag and drop a GIF file into the window. Locate your preferred frame using the hotkeys "Ctrl + Right" and "Ctrl + Left". Then click on the "Gear" icon > "Save frames" > choose "Save current frame" or "Save all frames". You can save GIF frame in JPG, BMP, GIF (not animated), PNG, TIF, or WMF format.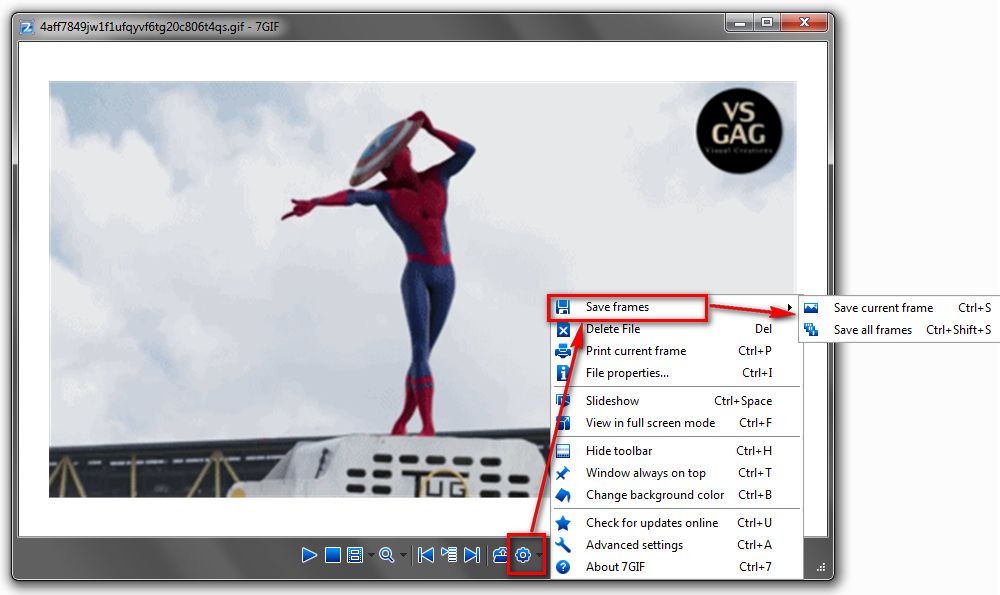 6. AniView
AniView, as its name implies, is actually a brief and clean GIF image viewer, and the frame extraction is a bonus feature that only enables you to extract all frames of a GIF file. Download this neat installer or portable version from official website: https://codedead.com/software/aniview.
Run AniView, drag and drop a GIF file into the window. Before you split GIF into frames, navigate to "Tools" menu and select "Settings" option. Select frame format under "Image" tab, there are PNG, BMP, JPEG, TIFF and GIF available in the drop-down list. Save the settings, go to "File" menu and select "Export all frames" option.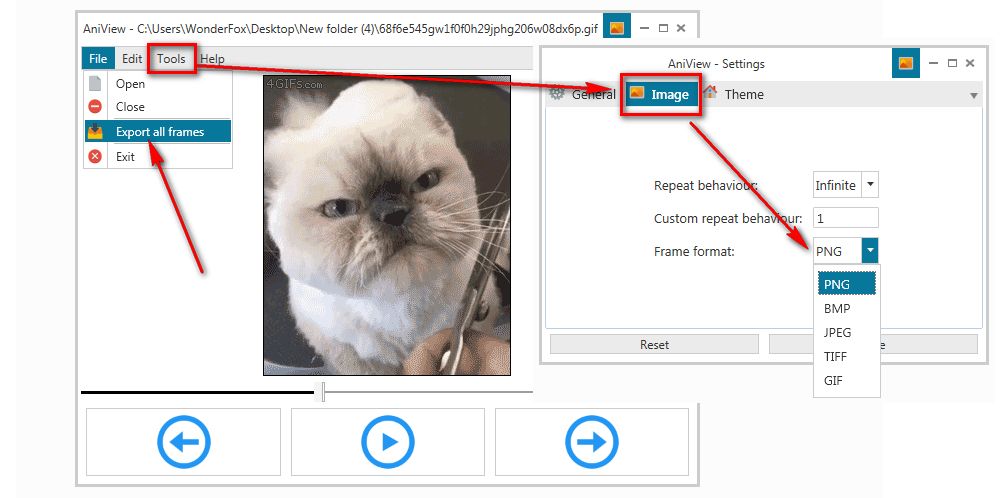 7. IrfanView
Yes, really, you know that IrfanView is more than a simple graphic viewer, but an image editor, organizer and converter. Besides, it was the first Windows graphic viewer with multiple animated GIF support, which also allows you to split GIF to frames. Download this handy freeware for non-commercial use: https://www.irfanview.com/.
After installation, open an animated GIF file with IrfanView, navigate to "Options" on top menu bar and select "Extract all frames" option. You're able to either select all GIF frames or set a range of frames for extraction. Then choose an output folder and image format, hit "Start" button.
8. Online Solution - Ezgif
How can you forget the online solutions? Indeed, there are many terrific online applications that also work perfectly to split GIF into frames without any program installed. I'd like to introduce a representative - Ezgif.com, a free, simple to use toolset dedicated to editing, converting and making animated GIFs. Simply visit: https://ezgif.com/split.
You can either upload an animated GIF from your desktop or paste a GIF URL. In addition to animated GIF, WebP, APNG, FLIF and MNG file types less than 35MB are supported as well. After the uploading, select a split options and start to split GIF into frames. And you can choose to edit animation or download frames as a ZIP package.