Free iPod Video Converter - Hold Your 40000 Songs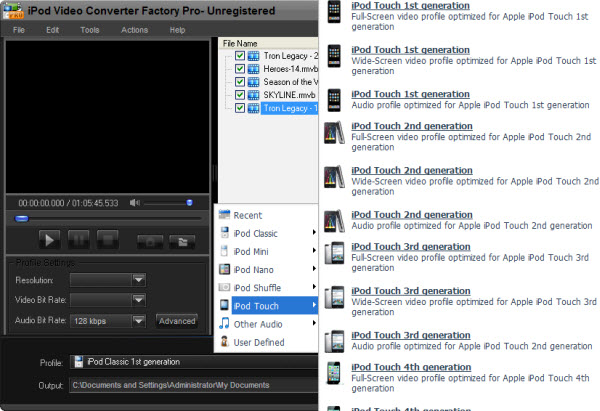 News About iPod

Now, iPod is hot for its 160GB of storage. What does that mean? It provides enough space for up to 40000 songs. That's amazing! So, the problem of lack of storage has been solved. Then you don't have to delete one song for another. But for some other iPod users with smaller storage such as 8GB of storage, how can they hold so many songs?
Analysis of Storage Space
160GB of storage for 40000 songs, it says that almost every one take 4 MB of storage. And I think this data is just for MP3. We know that MP3 is professional for audio files; but the size for one song may seems to be large. If we want to storage more songs with less space, we have to convert MP3 to some format which takes smaller storage.
To iPod, we have to convert audio to the format it supports. So accordingly, M4A is a good choice. It takes less storage space but in a high quality in comparison. It says that one song in MP3 may take 4MB of storage or more, but in M4A it just takes 3 MB at most. Then, some free iPod video converter may help you. But why is iPod video converter? Follow me!
Free iPod Audio Converter or Free iPod Video Converter
For some music player, audio converter is enough and good. But if our iPod is a multimedia player, it is not just for audio playing but also for movie and video; then some free iPod video converter is necessary. This kind of iPod video converter must support to convert audio and video both. Thus, the storage space we saved is not just for other songs but also for some other movie or video.
Here I suggest Free iPod Video Converter Factory. It is an all-in-one video converter for iPod, it supports to convert audio and video both, we can convert MP3 to M4A freely; and it also supports to extract audio from video. If you want to edit your audio file(s), iPod Video Converter Factory Pro is also available.
So, under the help of Free iPod Video Converter, hold your own 40000 songs is not a dream.
Screenshot of Free iPod Video Converter