Things You Should Know About VOB Files
Q: I'm doing a project and I have 8 VOB files, each over 1 GB and altogether they exceed 8 GB. I want to merge these files together into one single file and reduce the file size because it's extremely large (and perhaps convert them to MP4). Thanks in advance.
- From Video Help Forum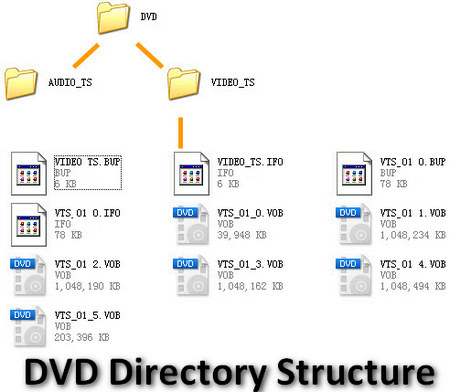 DVD directory structure
A: That's a frequently asked question by users who have ripped their DVDs to digital backups. When it comes to VOB files, we mostly refer them to VIDEO_TS folders containing multiple VOB, IFO, BUP files rather than the VOB video(s) solely. VOB, IFO and BUP files compose the complete Directory Structure of a DVD folder and are indispensable if you want to keep data intact - which is the reason why, to compress DVD files, the right move is to compress the entire VIDEO_TS folder rather than just the VOB files.
It's not as sophisticated as it might sound if you pick the right tool. Here's a decent one I recommend: WonderFox DVD Ripper Pro. It's a top-rated and well-received DVD processing tool that can rip your DVD VOB video with original quality preserved. Besides, with its help, you can easily sort out the messy, scattered DVD files, single out the main title, and convert it to a single video with the full movie plot. 300+ output formats and devices are supported including MP4, MKV, MOV, WMV, AVI, iOS/Android devices, HD TV, etc. In the following, I'll show you the detailed steps on how to compress VOB files, or rather, compress DVD files with WonderFox DVD Ripper Pro.