Q: "Is there any simple way to do the conversion from WebM to WAV? I want to create WAV audio files from a batch of WebM files with Opus audio streams, and I want to do so without further degrading the audio. Any help is much appreciated!"
A: As you know, WebM is an open, patent-free video container format developed for HTML5 video and web streaming. In addition to VP8/VP9/AV1 video streams, WebM typically stores Vorbis/Opus audio streams. Actually, there are plenty of options for WebM to WAV format conversion. But if you intend to go for a more efficient method without a piece of jargon and complicated workflow, the following guide will definitely satisfy your need. Now, let's jump in!
3 Simple Steps to Convert WebM Files to WAV
An excellent batch WebM to WAV converter can undoubtedly make the entire process quite easy and save time, and HD Video Converter Factory Pro is definitely your right choice, which is a GUI-based all-purpose video/audio processing utility developed based on FFmpeg. Because of its simple and intuitive design, you are no longer bothered by the esoteric command lines of FFmpeg WebM to WAV conversion and complex operations. The whole conversion process will be complete in three steps, namely, a few mouse clicks.
Free downloadFree download the program below and let's dive into more details about how to convert WebM files to WAV with great ease.
Download and launchDownload and launch this WebM to WAV converter, you'll be impressed by a clean and colorful interface with five main modules embedded: "Converter", "Downloader", "Recorder", "GIF Maker" and "Toolbox". To convert WebM files to WAV format, click on "Converter" button.
On the new "Video Converter" window, click "Add Files" or "Add Video Folder" button on the top bar to add all WebM video files. To make it easier, just drag and drop them into the blank space.
Related Posts: YouTube to WebM | Merge WebM Files | WebM Compressor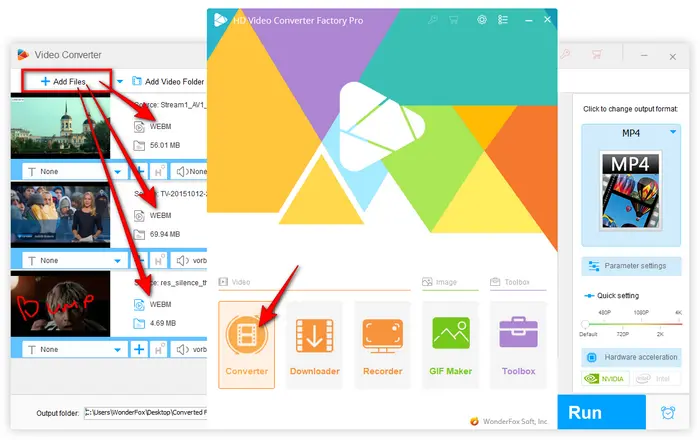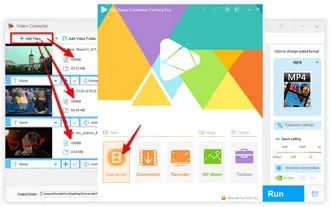 Step 2 - Select WAV as Output Format
All WebM videos will be listed in the workplace with basic video information after a few seconds. Next, hit the Format Profile on the right side to open a whole list of 500+ common video/audio Formats and hot Devices. To convert audio streams from WebM to WAV format, navigate to "Audio" category and select WAV profile. Similarly, you can also convert WebM to FLAC, WMA, MP3, M4A and so forth.
Note: WebM to WAV conversion is bound to lose quality as the audio stream in WebM container is compressed with either the Vorbis or Opus lossy audio codec. Therefore, it's impossible to convert lossy audio to raw, uncompressed WAV. It can only maintain the maximum sound quality of the original WebM files.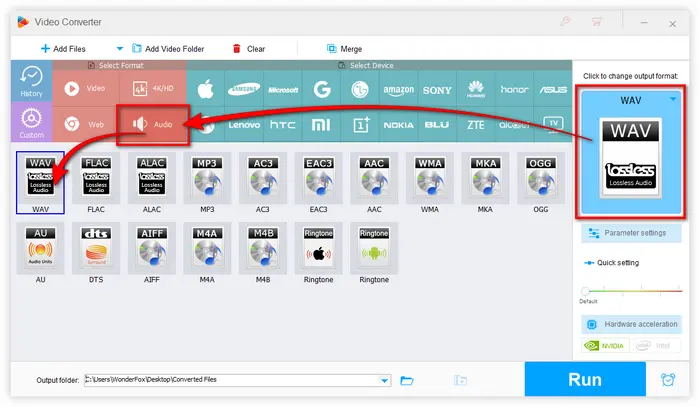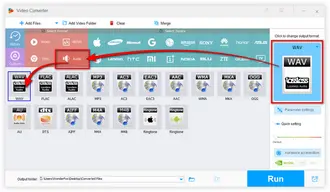 Optional - Modify Parameters & Audio Editing
If you have personalized needs, before the batch WebM to WAV conversion, you're allowed to open "Parameter settings" window, where you can adjust audio encoder, customize audio bitrate, sample rate, channel mode and audio volume. Click OK to save the preferences. BTW, this program is outfitted with some basic editing tools that enable you to cut, trim, split audio and merge songs.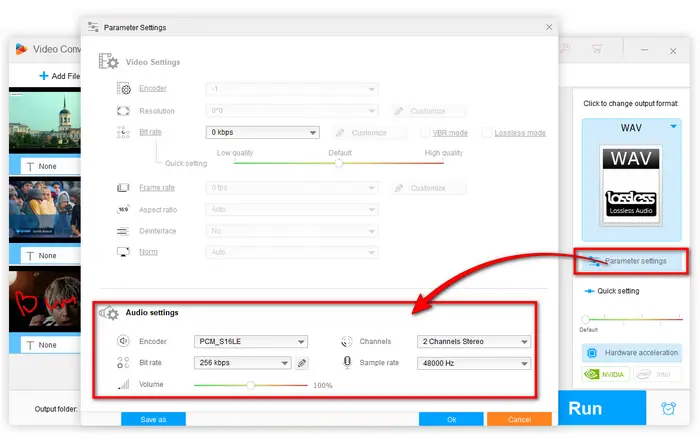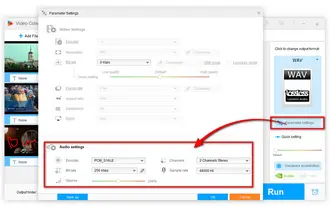 Step 3 - Convert WebM Files to WAV in Bulk