How to change WAV bitrate or convert MP3 to lower/higher bitrate? How to change bitrate of music files? A good audio bitrate converter is what you'll need. Below, I will share a simple but powerful audio bitrate changer and show you how to change audio bitrate. Without further ado, let's get started.
Most people expect an audio bitrate converter to change the audio bitrate while maintaining a perfect balance between quality and size. Well, here is an impressive audio bitrate converter - WonderFox HD Video Converter Factory Pro to help you.
It supports all major audio formats, from lossless WAV, AIFF, FLAC, APE, ALAC to lossy MP3, AAC, etc. And it can convert MP3 bit rate, WAV bit rate, etc. in batches. Also, it can change the video bitrate. Without complicated interface and steps, you will find it easy to change audio bitrate with it. Now, let me demonstrate how to change WAV bitrate using the converter below.
Before start, please free download free download the audio bitrate changer and install it on your PC.
Step 1. Import Audio File
Launch WonderFox HD Video Converter Factory Pro and open the Converter. Next, click + Add Files to load the audio file(s) you want to change bitrate. You can drag and drop the file(s) into the program directly.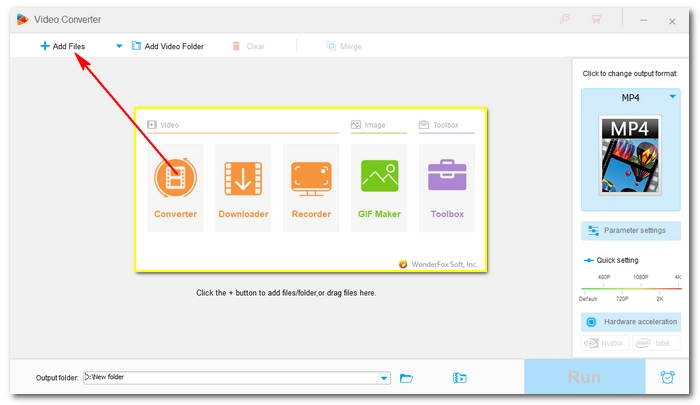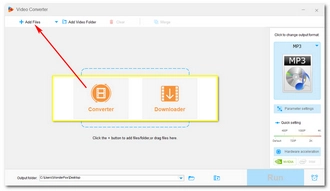 Step 2. Choose Output Format
Click the right-side format image to open the format library. Under the Audio tab, select your preferred format. You could choose the same format as the original or use a different format.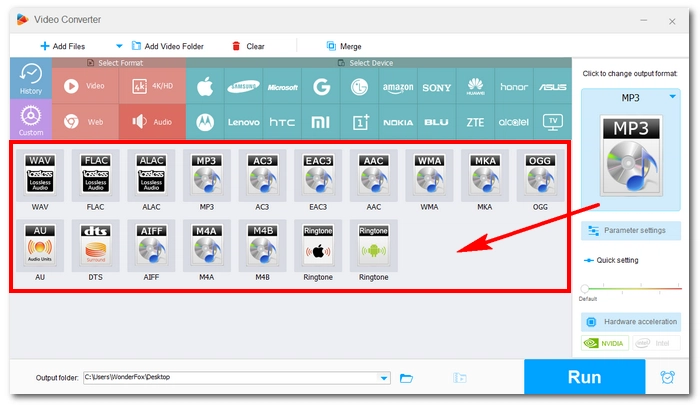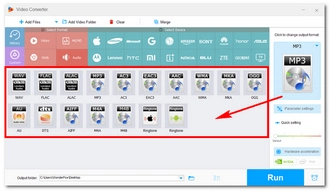 Step 3. Change Audio Bitrate
To change WAV bitrate, open Parameter settings (right below the format image). Then find the Bit rate option in the Audio settings. Click the bitrate drop-down list to select one bitrate or you can customize the bitrate by clicking the pencil icon. You can continue to change other parameters if you want. Next, click OK to save the changes.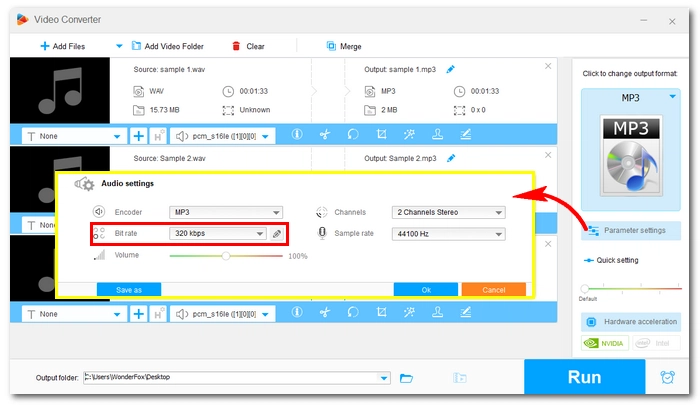 Step 4. Start Conversion
Click the ▼ button to specify an output path or leave it as default. Finally, hit Run to start the audio bitrate conversion.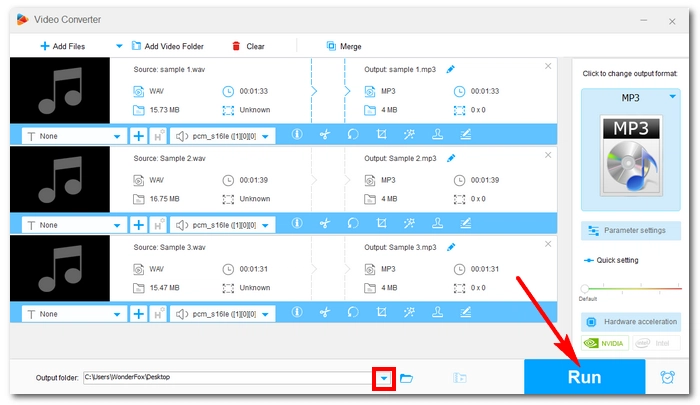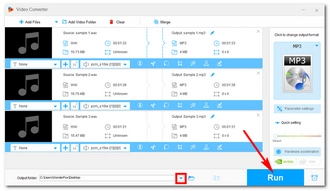 Audio bitrate refers to the number of bits used per unit of playback time to represent a continuous audio stream after source coding. It very much determines the size and quality of the audio. Generally speaking, the higher the bitrate, the better the sound quality, and the larger the file size.
Yet, for many listeners, there is no obvious difference between the higher-quality audio and some lower ones using mass-market earbuds or standard speakers. Demand for high-quality audio hence become less necessary in such case. On the other hand, the high-quality audio files always take up much more space. If you have hundreds or thousands of high-quality music files stored on your device, chances are high that your device will be overburdened and run slow gradually.
Given these two factors, many people want to compress audio files while keeping a decent audio quality. And the best way to do this is to change audio bitrate. Read on the next part to know the right bitrate to convert your audio to. Then try the best audio bitrate changer to start your work.
We all know that higher bitrate generates better audio quality, provided that the sample rate and bit depth are also high. But does higher bitrate mean the right bitrate for you? Not necessarily. It all depends on what you are going to use your audio for.
If you are to listen to your music files on your phone or computer, MP3 128Kpbs ~192Kpbs is enough. Due to the hardware limitations, devices like phones, computers, and TVs can't deliver every detail a high-quality audio can offer. In short, high-bitrate audio played on such devices can give you hearing experience no different from what lower-bitrate audio can give you. But you can't have the bitrate too low. For MP3 files, bitrate under 90Kpbs will lead to a notably quality drop. However, if you are to play your audio on quality hardware, you might want your audio files to have the best quality they can.
One last thing, if you want to convert audio to the right bitrate, we suggest that you convert from audio with higher bitrate to lower-bitrate audio, such as convert MP3 320kbps to 128kbps. In this way, you can get a small-size file with a fairly good quality. Do not change audio from low bitrate to high bitrate in the hope of getting better quality audio because that's impossible. What you'll get from this conversion is only a big-size file with the same or even worse audio quality. But it is still necessary to increase bitrate of audio for other purposes, like sharing on social media, playing on specific device, etc.
Wrap-up
That's all I want to share about how to change audio bitrate with the best bitrate converter. If you have any questions during the conversion process, please feel free to contact me on Twitter. I'll be glad to help. Now, time to download download the music bitrate converter to change bitrate of MP3, WAV, and other audio files.