Understanding the Unidentified Codec Error in VLC
VLC media player is a popular open-source software used for playing various audio and video formats. It is an excellent media player that supports almost all file formats, making it a go-to option for many users. However, sometimes when you try to play a video or audio file, VLC media player displays an error message saying, "Unidentified codec: VLC could not identify the audio or video codec."
The VLC unidentified codec error means the software is unable to recognize the audio or video codec used to compress a specific media file. This issue can occur due to outdated VLC versions, improper settings, or unsupported codecs. With this guide, you'll learn how to identify the root cause and implement the most effective solutions to fix the error.

Solution 1: Update VLC to the Latest Version
You know what, VLC comes with its own VLC codec packs and is continuously updated with new features and codec support, so the VLC unidentified codec error sometimes can be fixed by updating VLC to the latest version, allowing it to recognize more media formats with the newly-added codecs.
To update VLC, open VLC and go to Help > Check for Updates. If an update is available, follow the prompts to download and install any available version. Once the update is complete, try playing your video again. Alternatively, you can go to the official website VideoLan.org to get the up-to-date version.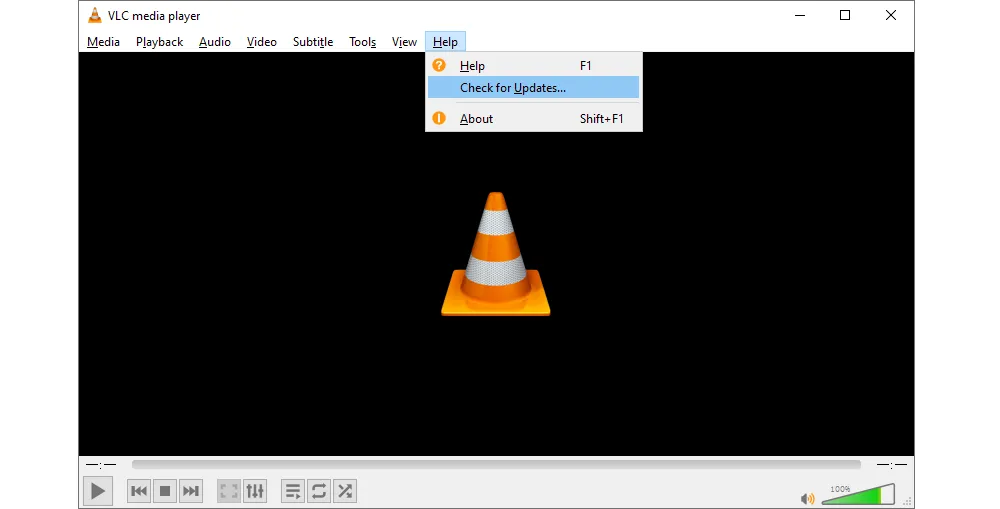 Solution 2: Modify VLC Settings
Some incorrect settings in VLC can trigger this error message. You may be able to fix it by modifying the following VLC settings:
Change the Audio & Video Output settings: Go to Tools > Preferences > Audio or Video > Output and try switching to a different module. DirectX and OpenGL tend to work well.
Disable hardware decoding: Hardware acceleration may cause issues for some systems. Go to Tools > Preferences > Input / Codecs and choose "Disable" option in "Hardware-accelerated decoding" drop-down list.
Reset Preferences: As a last resort, you can reset VLC preferences to default settings. Go to Tools > Preferences, then click Reset Preferences button at the bottom of the window. You will need to customize your preferences again but this can fix other unknown issues.
Also Read: VLC Not Playing MKV Files | CFHD Codec VLC | To Play This Video You Need a New Codec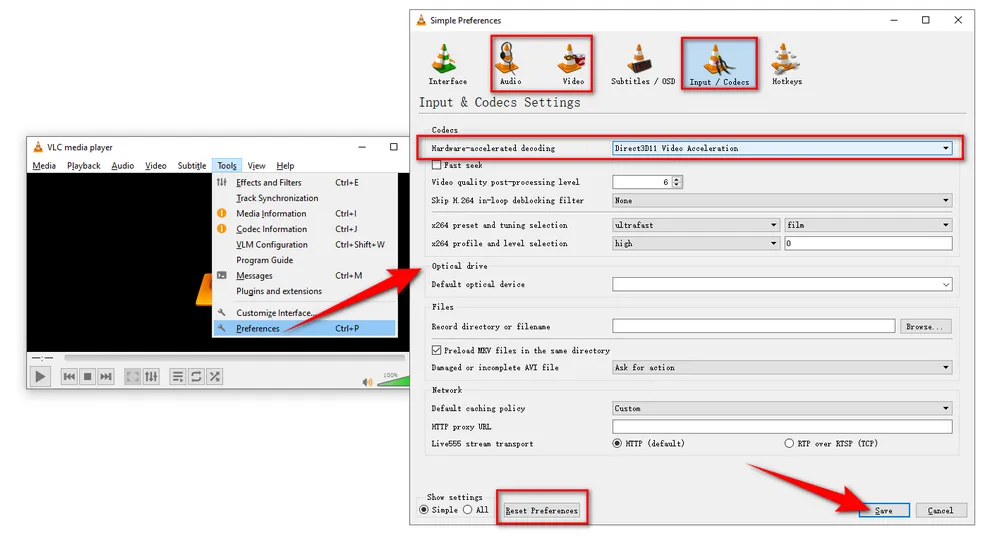 Solution 3: Using an Alternative Media Player
If the VLC unidentified codec error persists even after updating and modifying preferences, consider trying an alternative media player of VLC with extensive codec support, such as KMPlayer, PotPlayer, or Kodi. These may have better support for your media file.
Solution 4: Convert the Media File Format
In some cases, converting the problematic media file to a different format can resolve the VLC could not identify the audio or video codec error. Use a dedicated video transcoding application like WonderFox HD Video Converter Factory Pro that comes with a wide variety of codecs and multiple modules to fix any video and audio incompatibility issue. Thanks to the WYSIWYG interface, you can quickly and easily complete the conversion process with only a few clicks.
Free downloadFree download this novice-oriented app, let's see how it works to fix VLC unidentified codec.
Step 1. Launch HD Video Converter Factory Pro and open "Converter" module from the startup screen.
Step 2. Drag and drop the problematic video files into the blank area.
Step 3. Click the "Format" image on the right side to expand a full list of 500+ configured presets. Choose a common VLC-compatible format under "Video" category like MP4, MKV, etc.
Optional. Click the "Parameter settings" button to configure your preferred parameters, such as changing video resolution, adjusting video bit rate, modifying frame rate, aspect ratio, etc. Click OK to save the changes.
Step 4. Click the "Down Arrow" icon to specify an output folder. Finally, hit the "Run" button to convert video files to VLC friendly format with GPU acceleration enabled.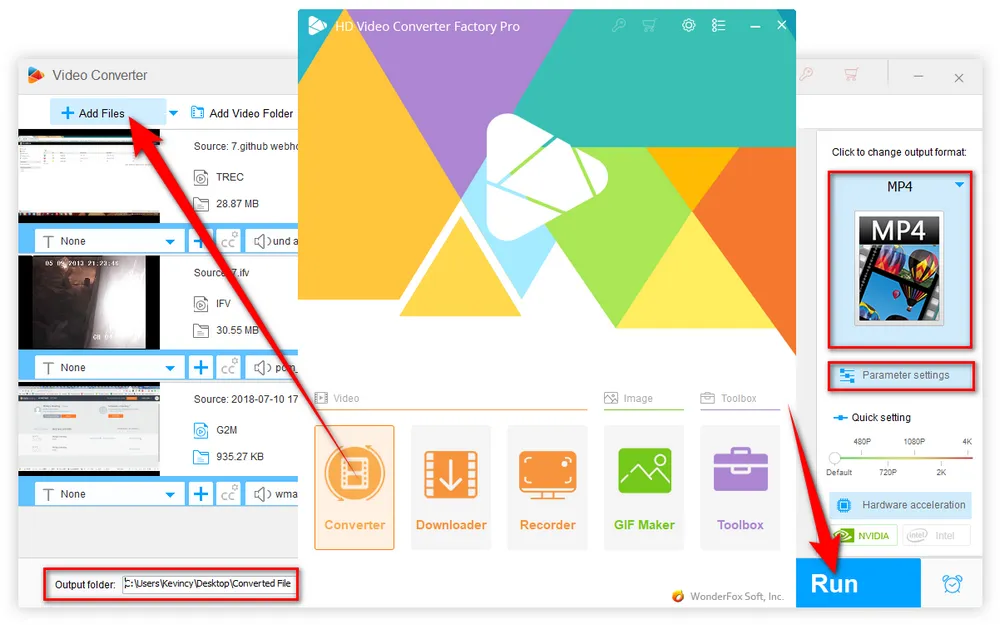 Solution 5: Contact VLC Official Support
If all else fails, you can contact the official VLC support for further help. They may ask you for log files or other debug information to determine the exact cause of the problem. Be prepared to provide details about your operating system, VLC version, hardware specs, and the media file you are trying to play. VLC's support team are often able to provide personalized solutions to get videos playing for users facing issues.
Final Words
The "VLC could not identify the audio or video codec" error can often be resolved by updating VLC to the latest version, modifying your VLC settings, trying a VLC alternative, using a video converter tool, or contacting official VLC support. Try the solutions in this guide one by one, and you should be able to get your media playing in VLC again. Let me know if you have any other questions!
Frequently Asked Questions (FAQs)
Q1: Why does the "VLC could not identify the audio or video codec" error happen?
A: This error occurs when VLC does not recognize the format or codec of your media file like MP4, MKV, AVI, WAV, etc., so it cannot decode and play the video or audio successfully. The codec required to play the video or audio file is missing or unsupported.
Q2: What are codecs, and why are they essential in playing media files?
A: Codecs are software components that encode and decode audio and video data. They compress the data, making it possible to store large media files in a small space. Codecs are crucial in playing media files, and without them, your media player will not play the file correctly.
Q3: How do I know the specific video/audio codec of the problematic video file?
A: A media information tool like MediaInfo, GSpot, or VideoInspector is helpful to identify the detailed properties of your media file, such as checking video codec.
Q4: Should I uninstall and reinstall VLC?
A: Uninstalling and reinstalling VLC is generally not recommended as a first step. It is usually better to first try updating VLC, modifying settings, and using alternative solutions. Uninstalling/reinstalling VLC may lose all your VLC settings and customizations in the process.