People like to shoot and record videos in spare time as their entertainment. You know videos captured with camcorders, smartphones, webcams always contain footages or frames that you don't want. For example, gotta cut out the beginning and the end of a video, need a particular portion from a long video, remove unwanted part, etc? You might think of video editing software when you get in trouble with the cases above. Definitely, it means nothing for a professional video editor, but it's obviously not the best choice for a general user in face of its costly price and complicated operations. Sometimes, you just need to do a simple editing, such as split video, rotate video, merge video and so forth. So here comes this tutorial about how to split video with three simple methods.
Method One - Split Video Online
If you don't want to install any software on your PC, Online-Video-Cutter.com, an acclaimed free online video cutter must be your ideal choice. It's simple, convenient and free for anyone to split video online as well as crop, rotate, trim, merge video in MP4, AVI, FLV, MPG, 3GP.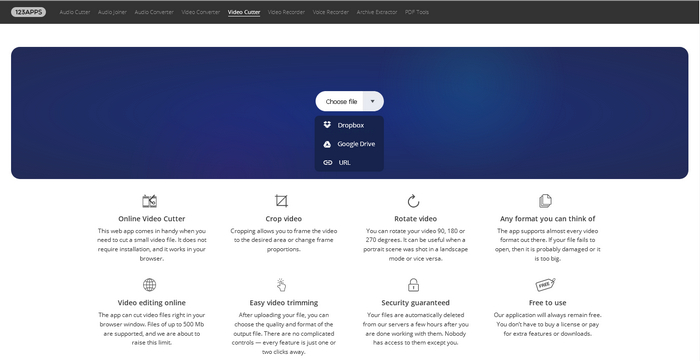 The Interface of Online Video Cutter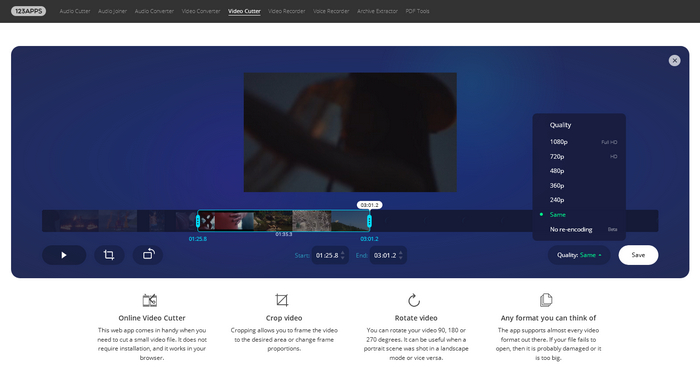 Splitting Video with Online Video Cutter
Pros:
1. Free and easy to use, just 3 steps to cut videos.
2. No software installation required.
3. Support importing video from local hard drive, Google Drive and remote file link.
4. Video Resolution is ranged from 240P to 1080P.
5. Support adding Google Chrome extension.
Cons:
1. Maximum file size is 500MB.
2. Less supported formats, only MP4, AVI, FLV, MPG, 3GP.
3. Depend on network speed to upload original video and download finished video.
4. Cannot support YouTube URL to video and other online video sites
5. In danger of browser cracked and broken network.
Method Two - Split Video in Batches with Video Splitter Software
Method one is not the right solution if you have plenty of video clips or long videos with large size. So I will recommend this best video cutter - WonderFox HD Video Converter Factory Pro. Free download and install it on your PC (Compatible with Windows 10/8.1/8/7/Vista/XP), you can figure it out by yourself without any instruction while launching it.
Step 1. Click "Add Files" or drag your videos into this MP4 splitter.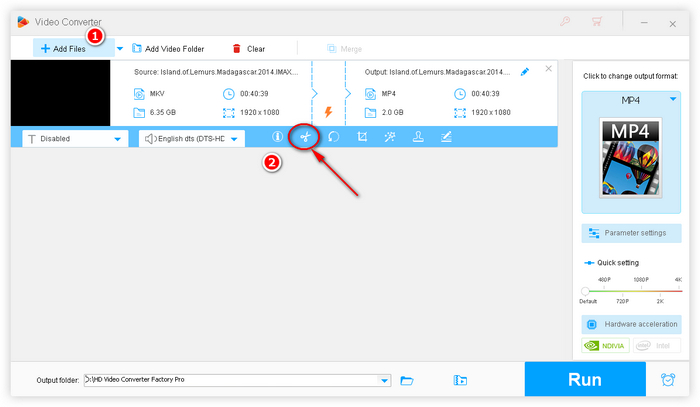 Import Videos into Video Splitter
Step 2. Press the "scissor" button to pop up a window to partition video. Here you can drag two sliders to determine the beginning and end points. Or fill in the start time and end time to make the fine tuning control.
Click OK after done and repeat the work for another video. That is to say this best video cutter enables you to cut videos separately for each video. Yeah, that's right! You are allowed to divide videos in batches. Amazing! All the "scissor" buttons will become white symbols with a blue background color when all your settings are ready.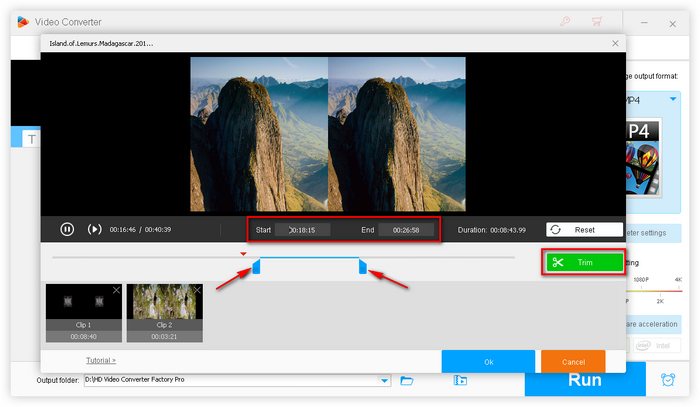 Press the Scissor Button to Split Video
Step 3. Select the output format as you wish in a wide range of format list on the right, like H.265, VP9, 4K, HTML5….. Yep, you are enabled to make your splitted standard video into HD resolution.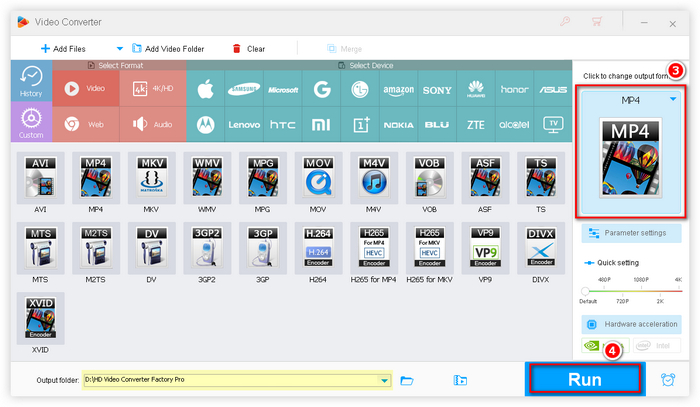 Select Output Format and Output Folder
Step 4. Locate your output destination and hit the Run button to split videos in batches. You'll find all splitted videos in your directory folder.
This is the perfect solution to do video segmentation offline. As you experienced, WonderFox HD Video Converter Factory Pro is not just a video cutter software, it also enables you to download YouTube 4K video or 8K resolution video, even 360 degree video download. Besides, to make your video outstanding with smaller size, it can help rotate video, add subtitle to video, reduce video size without quality loss, etc.
Method Three - Split Video with VLC Media Player
Step 1. Open the video you want to split with VLC.
Step 2. Pause the playback and click the "View" tab in the main menu bar and then select the "Advanced Controls" option in the pull-down menu.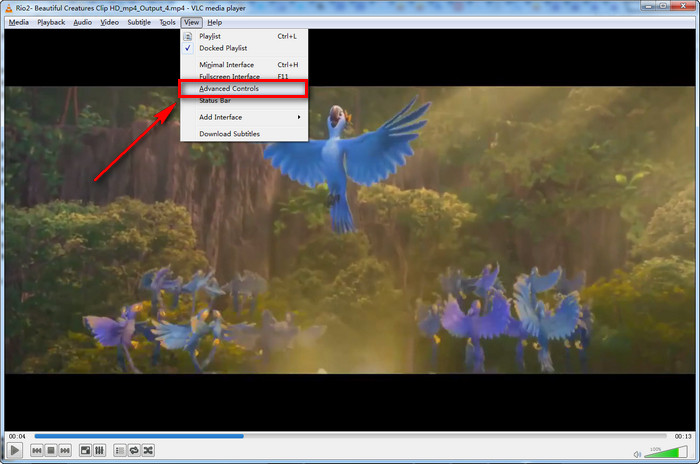 Choose Advanced Controls Option in VLC
Step 3. Move the slider along the progress bar to the starting point you want to split, then click the red "Record" button.
Step 4. Press Play button for playback and click "Record" button again when it reach the end point. Attention, DO NOT move the slider to the end point since VLC records in real time so you must wait for the video to play.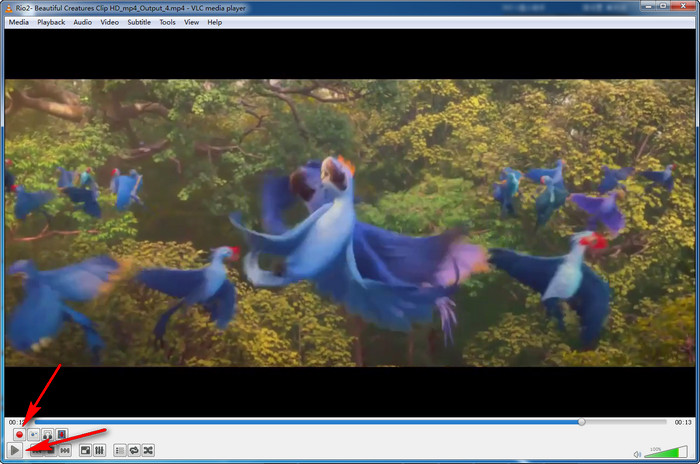 Press Play Button and Click Record Button
Step 5. VLC will automatically create the output file after your second click on "Record" button. Typically, the output file exists in the "Videos" or "My Videos" library folder. You can also set the record directory by going to Tools > Preferences and click on Input / Codecs column.
As a powerful and top rated media player, VLC media player also owns the ability to cut video clip with advanced recording feature. You can regard it as an MP4 splitter or AVI splitter. However, VLC is not the right video cutter software if you need fine tuning control or more precision in cutting. And you have to let the video play while splitting. So, it will take you more time to get the job done if you have a long video to split.
That's all about how to split video with three simple ways. You can choose any method most suitable for you. Hope this article will be helpful to solve your problems.

Congrats, problem solved now! Why not keep the full-licensed program for
LIFETIME
at lowest price now!
Still got question? Submit it to us and get answer within 24 hours.