Perhaps some of you guys prefer online methods, well, there is one. Note that online subtitle converters may not perform the job as well as you expect, but they are a good support to turn to if you are trying to convert some small subtitle files in good network condition. The recommended online SUB SRT converter is SubtitleTools, an online service that helps you transcribe captions of many kinds. It's probably the most stable one among all, with acceptable conversion speed.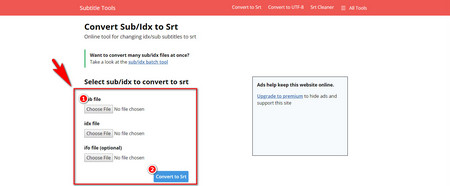 Convert SUB Subtitle to SRT Online
Step 1. Navigate to Subtitle Tools: https://subtitletools.com/convert-sub-idx-to-srt-online
Step 2. Import .sub file, .srt file, .ifo file (optional) as instructed. Hit "Convert to SRT" after uploading to convert SUBs to SRT, and that's all. The process could take quite some time, and if the website is busy, your file will be queued.