Similar to YouTube automatic captions, Facebook has also launched a free, automatic video captioning tool for Facebook Page video. But it's currently only available in US English. Page admin is able to automatically generate captions and proofread them.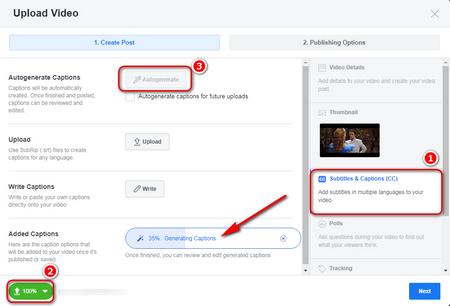 Automatic Subtitling for Facebook Video
Step 1. Go to one of your Facebook Page, https://www.facebook.com/pages/?category=your_pages.
Step 2. When posting the status, click Photo/Video and select Upload Photos/Video.
Step 3. Add the video you want to automatically generate subtitles, fill in the video title, description, and click Publish.
Step 4. After waiting for the video to upload, click the Generate button at the top of your video post on your timeline. If the Generate button is not directly displayed, click Edit Post > Subtitles & Captions(CC) > select Video Language.
Step 5. Preview the generated captions, and edit on the right side.
Step 6. Click Save to Video button after completion.
Hot search: Facebook Videos Not Playing | Upload Audio to Facebook | Facebook Video Autoplay
It is an easy task to create auto subtitles with automatic subtitle generator for sound in videos, right? P.S. The final result may vary due to mispronunciations, accents, dialects, multiple speakers, poor sound quality, complex audio or background noise.
If you have a better subtitle generator recommendation or more ideas, welcome to contact us. Hope this article does help you and you are free to share it with more people!