Similar to YouTube automatic captions, Facebook has also launched a free, automatic video captioning tool for Facebook Page video. But it's currently only available in US English. Page admin is able to automatically generate captions and proofread them. Facebook allows users to create auto subtitles before uploading a video and for uploaded videos. Here I make an example of how to create auto subtitles before you upload a video. For uploaded videos, you just need to click the edit button and follow the below steps to add auto subs to them.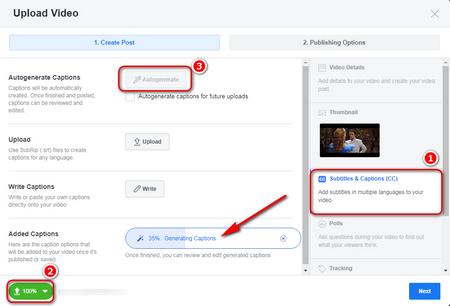 Automatic Subtitling for Facebook Video
Step 1. Sign in to your Facebook account and click the "Photo/Video" button on the "Create Post" panel. Then select the video you want to upload.
Step 2. Select the "Subtitles & Captions (CC) option on the right of the new window.
Step 3. Wait for the upload process to finish, you can see the progress bar on the bottom left.
Step 4. Now you can click the "Autogenerate" button on the top to create auto subs.
Step 5. Review and edit the generated captions.
Step 6. Finish the rest of the video uploading process.
Hot search: Facebook Videos Not Playing | Upload Audio to Facebook | Facebook Video Autoplay