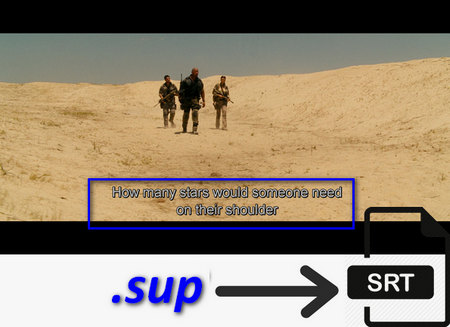 Convert .sup to .srt for proper playback
SUP subtitles, using .sup as file extension, are subtitle bitmap image files extracted from DVD or Blu-ray discs. Unlike text-based SRT, which is perfectly supported by almost any program runs on computer, SUP subtitles have lots of issues (not appearing, right-aligned, etc) during video playback.
To solve the related issues and make your SUP subtitles well-supported by your device, the answer is simple - Convert .sup to .srt. And it's easy to be done, with a technology called "Optical Character Recognition" (aka OCR). The OCR process is to grab the subtitles from bitmap images and save them in text form. Text-based subtitles have excellent compatibility, so that you can wrap it with video data like Blu-ray M2TS using Matroska container and play it on computer nicely.
Well, I've tried many OCR programs, and that's probably the best one among all related software: Subtitle Edit.
Subtitle Edit can convert SUP to SRT with simple steps, and its transcriptions are quite accurate, so few modifications need to be done. And you won't need the very SUP subtitle to do so, the film you ripped from DVD or Blu-ray will do.
Related Posts: Add Subtitle to MP4, Samsung TV Subtitles Problems, Turn off Subtitles on LG TV