Common Ways to Fix Streamlabs OBS Not Recording Audio
1. Unmute the Audio Source
Streamlabs desktop audio may be muted due to bugs or unexceptional handling. In this case, unmuting audio from the app is the first solution to fix Streamlabs not capturing audio on your computer. Here is how to:
Step 1. Find "Realtek HD Audio Manager" in the lower right corner of your screen. Right-click the icon and select "Volume Control".
Step 2. Click the speaker icon below the Streamlabs app (obs64.exe) to unmute the audio source. You can also drag the slider to increase the volume.
Step 3. Open Streamlabs OBS to check whether it records audio. If not, move to the next method.

2. Check Sound Settings
Improper audio settings can also lead to Streamlabs not capturing game audio issues. It's essential to check the audio track settings in the software before recording. Let's check if your audio device is properly selected:
Step 1. Run Streamlabs OBS. Go to "Mixer" on the right side of the program and click the sound icon to "switch on the Desktop Audio".
Step 2. Click "Settings" at the bottom left. Then select "Audio" from the left panel.
Step3. Choose the Desktop Audio Device and Mic/Auxiliary Device you're using.
Step 4. Click "Done" to save your changes and close Streamlabs OBS. Then, restart the app to check if the audio works in the right way. If the problem persists, try other solutions below.
Tips. How to check what audio device you're using: right-click the audio icon on your computer, select Audio Devices, and then you can see the default devices for playback and recording.
3. Remove Other Audio-control Programs
Some audio management software or motherboard audio software, like Sonic studio sound and Realtech HD Audio Manager, are known to cause issues. Try closing these kinds of software to resolve the Streamlabs not recording audio problem. Right-click the bottom column and choose Task Manager. If any process with a similar name is running, right-click it to end the task.
If this doesn't work, go to your Windows Playback Devices in Audio Settings, right-click on the sound device you are using and click on Properties. Under the Advanced tab, uncheck the box saying "Give exclusive mode applications priority". Press "Apply" to save the change.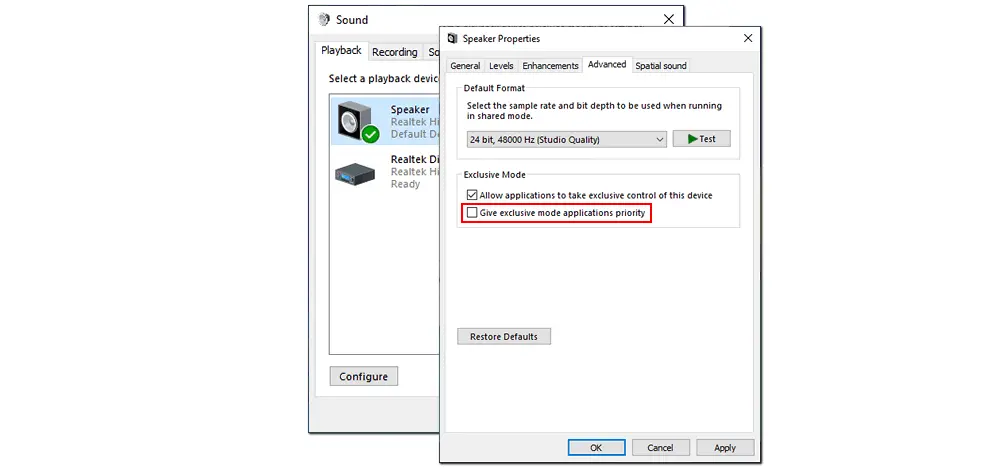 4. Update the Audio Driver
Another cause of Streamlabs not capturing game audio may be the wrong audio driver. If your audio driver is installed incorrectly or meets malfunctioning, update it as follows:
Step 1. Click the "Start" menu on your computer and search for "Device manager". Then click to open it.
Step 2. Expand the "Sound, video and game controllers" option. Right-click the audio device and select "Updated driver".
Step 3. Next, select Search automatically for drivers, and your computer will check for the latest version if there's an update.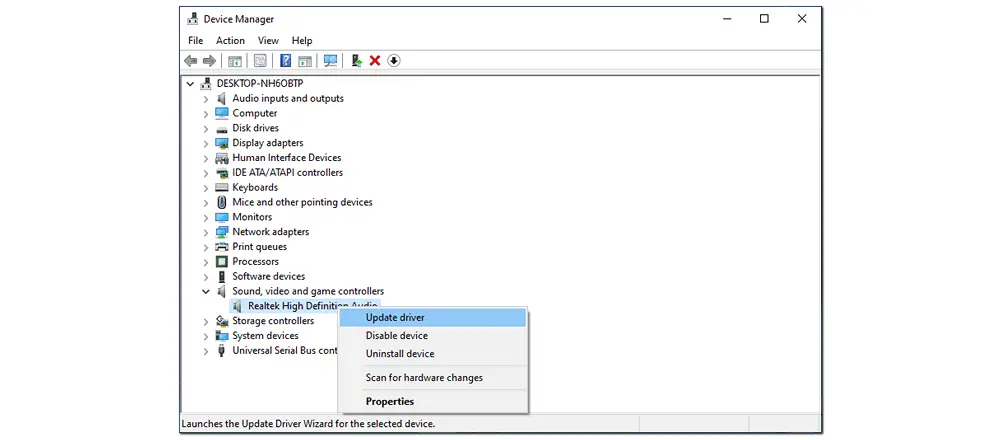 5. Install Windows C++ Redistributables
Streamlabs Desktop and Streamlabs Chatbot require additional files installed on your system before using the software, or you may run into issues. Download and install the Microsoft Visual C++ 2015-2022 Redistributable. After that, reboot your computer to see if it works.
Above are the five common ways to resolve the Streamlabs not capturing audio problem. If you have tried all the solutions but still can't capture the game audio or other sounds with Streamlabs, use alternative recording software to get the job done. The following part shares the best alternative to Streamlabs OBS for Windows and shows you how to record gameplay with audio easily. (Besides gameplay, this software can record any video/audio on your PC, including streaming videos, video chat, VoIP calls, browser audio, online conferences, and more.)
How to Use an Alternative Program to Record Video with Audio?
Step 1. Launch WonderFox HD Video Converter Factory Pro after installing it on your PC. Click "Recorder" and select the "game recording" mode by clicking the gamepad icon.
Step 2. Select full-screen or partial-screen recording mode and confirm the area you want to record by pressing the "OK" button.
Step 3. Choose a recording format and quality, or leave it as default. And check the audio source from "Desktop", "Microphone", or both. Then, specify an output folder.
Step 4. Press the red "REC" button at the top to start recording a video with audio. Once done, press "Ctrl + F1" to end the recording.
Also Read: How to Record Zoom Meeting without Permission | How to Record MP4 on Windows | How to Record Audio from Website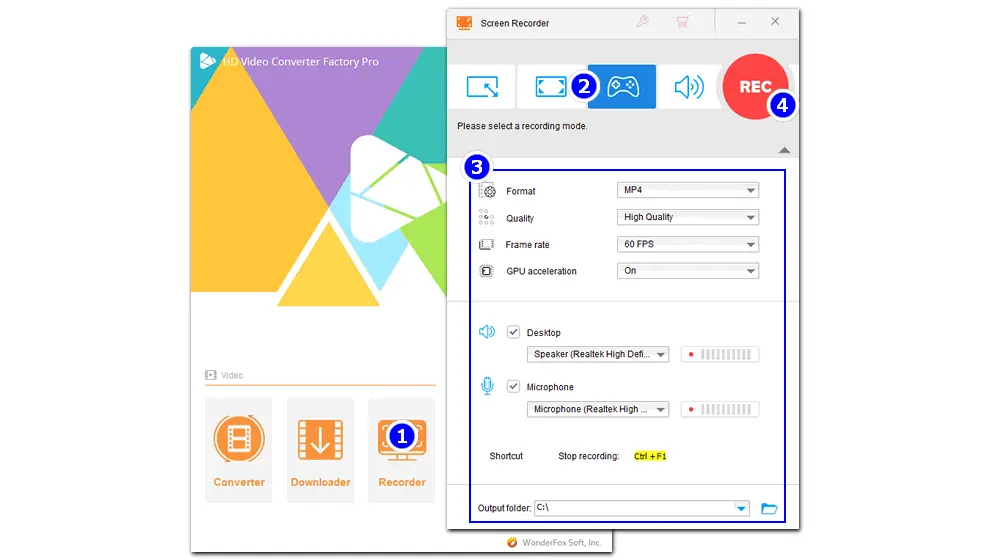 Bonus: How to Record on Streamlabs Desktop?
Recommended system requirements for Streamlabs OBS:
Operating System: Either Windows 10 or Mac OS 10.15 and higher
CPU:
Intel® Core™ i5 or higher (11th or 12th gen)
AMD Ryzen 5000 series or higher
GPU:
Nvidia RTX 20 or 30 series
AMD RX 5000 or 6000 series
RAM: 16GB+
Storage: 512GB SSD or more
Internet: Ethernet connection
1. Install Streamlabs on your desktop and log in.
2. Click the "+" button beside Sources to add a recording source.
3. Go to "Settings" to adjust the related settings, such as audio device, video resolution, frame rate, bitrate, output path, etc.
4. Click the "REC" icon at the bottom right corner of the software to start recording. Tap the button again to stop recording.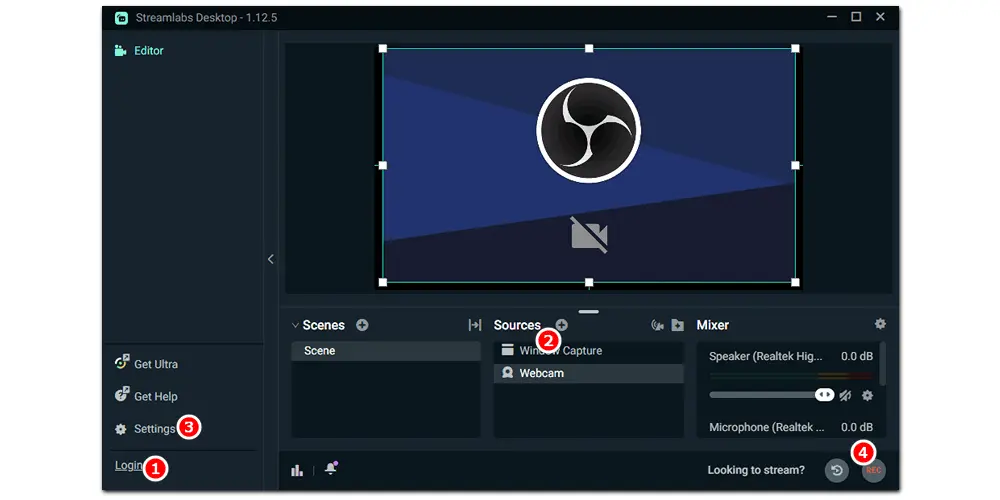 Bottom Line
Streamlabs OBS is an easy and powerful tool for video recording and live streaming available on Windows PCs. But problems occur at times due to malfunctioning audio devices, audio driver, or the lack of plug-ins. This article focuses on Streamlabs OBS not capturing game audio and gives simple fixes. By comparison, the most effective solution to the Streamlabs desktop audio not working issue is to use a powerful alternative recording application like WonderFox HD Video Converter Factory Pro. Apart from recording video and audio on your screen, it offers additional features to change video format, download videos from YouTube, edit videos, enhance video/audio quality, make GIFs, and more. Get this versatile software: