7 Fixes to PowerPoint Not Recording Audio on Windows
1. Enable Settings in Privacy
Microsoft introduced a bunch of new settings to address privacy issues in Windows 10. You have to enable this option to allow PowerPoint to access the microphone of your device. Otherwise, it won't be able to record the audio input.
Step 1: Go to "Settings" and select "Privacy".
Step 2: Search "Microphone" in the left-hand pane. Enable the "On" button for "Allow apps to access your microphone".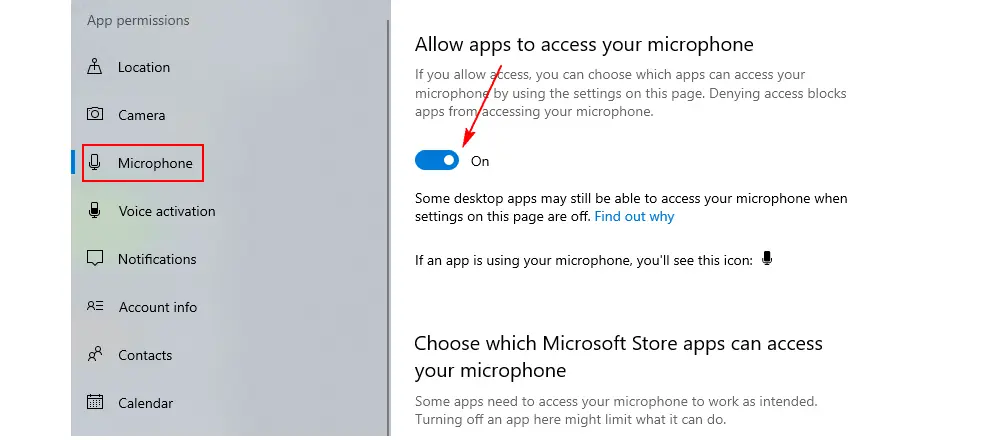 2. Set Default Sound Device
If your computer is connected with multiple recording devices, then PowerPoint might not be able to configure which device to use. In this case, you need to set the default recording device to resolve the PowerPoint audio recording not working problem.
Step 1: Open the "Settings" and click "System".
Step 2: Select the "Sound" option from the menu.
Step 3: Click "Manage sound devices" under "Input". Select an input device to set it as default.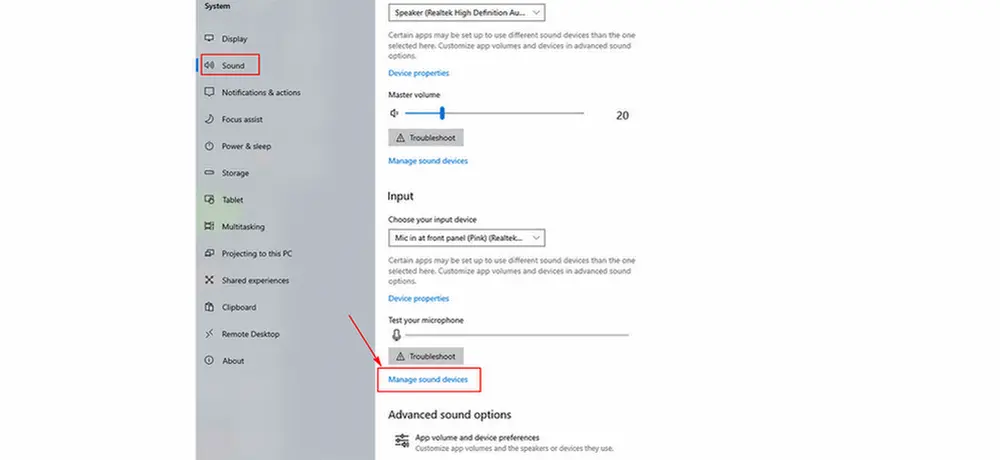 3. Run Audio Troubleshooter
Step 1: Open "Settings" and locate "Update & Security".
Step 2: Click on the "Troubleshoot" and search "Recording Audio" (from the Additional troubleshooters). Press "Run the troubleshooter" to fix PowerPoint screen recording no audio.
Step 3: Close PowerPoint and launch it again. Then test if you can record audio.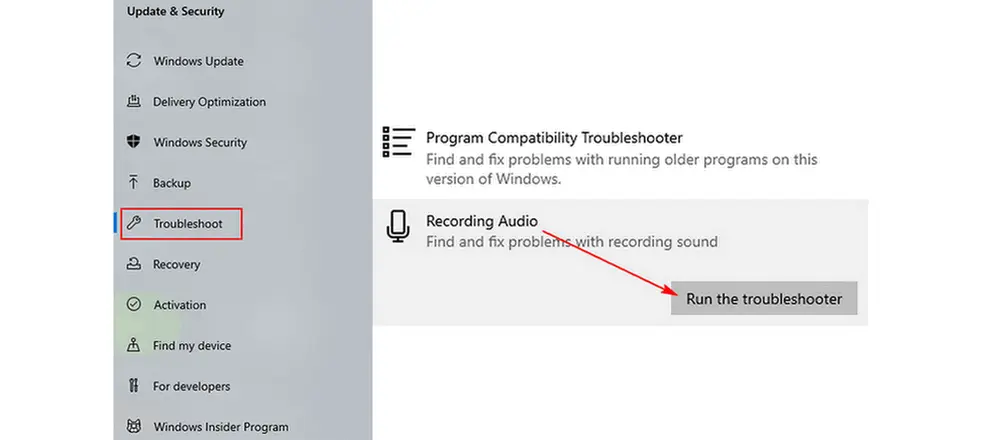 4. Update Sound Drivers
Outdated or corrupted audio drivers will cause problems with recording. To repair PowerPoint audio recording not working, you need to update your audio drivers to the latest version.
Step 1: Open "Device Manager" and click "Sound, video and game controllers" to expand the list.
Step 2: Right-click on your audio driver and press "Update driver". Alternatively, you can choose "Uninstall device" to remove the old driver and re-install if of the latest version.
Step 3: Restart your computer to check if this works.
5. Clean Boot Your Computer
There are hundreds of different programs running on your PC at any given time, so certain processes might block PowerPoint from connecting to your microphone. Then cleaning boot system may be helpful in solving the PowerPoint not recording audio issue.
Step 1: Press "Windows" and "R" on your keyboard to launch a Run window.
Step 2: Type in msconfig to enter the System Configuration window. Switch to the "Services" tab and check "Hide all Microsoft services" at the bottom. Then click the "Disable" all button on the right side.
Step 3: Switch to the "Startup" tab and click "Open Task Manager". Select the programs that you think are problematic and disable them. Close the Task Manager window.
Step 4: Restart your computer and record in PowerPoint again. If it still doesn't work, this means it's not a software issue. You should try other remedies.
6. Restart Audio Services
The Windows Audio Services manage and control the audio devices connected to your computer. They might be malfunctioning, so you can fix PowerPoint screen recording no audio by rebooting the services.
Step 1: Go to "Windows Search" and type services.
Step 2: Right-click on "Windows Audio" and select "Restart".
Step 3: Right-click on "Windows Audio Endpoint Builder" and select "Restart".
7. Best Alternative to Record Screen with Audio
If PowerPoint does not record audio after you try the methods above, a third-party screen recorder might be a good choice. WonderFox HD Video Converter Factory Pro is a reliable program that can help you capture any screen activity with audio included on PC. It allows you to record voice from your device and microphone at the same time. No watermark and frame drops.
You can free downloadfree download it and follow the steps to record video with audio in high quality easily.
5 Quick Fixes to PowerPoint Recording No Sound on Mac
1. Let PowerPoint Access Microphone
You'll encounter the PowerPoint screen recording no audio problem if the program doesn't have permission to access your microphone.
Click on the "Insert" tab in PowerPoint and select "Audio" > "Record Audio". Then you'll be asked if you allow PowerPoint to use the microphone. Click "OK".
2. Use Safe Mode
Restart your computer and press and hold the Shift key button. After the Safe Mode is activated, check the Safe Boot notification in the right corner to see if PowerPoint can record audio in this mode.
3. Reset PRAM
General audio issues can be fixed by resetting PRAM on your Mac.
Restart your Mac and press and hold Option, Command, P, and R appearing on the interface.

4. Remove the Cache
Cache files may burden your system and trigger problems. Find the folder Microsoft PowerPoint and open it. Delete all the temporary files in this folder to troubleshoot the PowerPoint audio recording not working error.
5. Create a New User Profile
Creating a new user profile has worked for some users meeting the PowerPoint recording audio not working issue on Mac.
Choose the Apple menu and select "System Preferences". Then click on "Users & Groups" and press + button. Enter the login details and press "Create User".
In Summary
That's all the solutions to fix PowerPoint not recording audio on Windows and Mac. With the tips above, I believe now you can easily record video with desired audio input using PowerPoint or third-party recording software like HD Video Converter Factory Pro. If you still have problems with PC screen recording, welcome to contact us. Thanks for reading!