How to Rip DVDs to new Apple TV for streaming on Windows 10
I am trying to steam DVD movies from my Windows 10 running iTunes (12.3.2.35) via Home Sharing. The Apple TV is the new Apple TV 4 running TVOS 9.1. However, I am having problems with WinX DVD Ripper Platinum in creating DVDs rips for my new Apple TV. Either it will create a file that the Apple TV will not accept or it will create a file that distorts the video output by horizontally stretching a 4x3 picture to fill a 16x9 screen. I would like a file that the Apple TV will play that does not distort (i.e. stretching) the video output.
I tried "The New Apple TV (MPEG4)" and the "MP4 Video" profiles. The Apple TV will not accept the MPEG4 file and the MP4 file has the horizontally stretched output. I am using the default settings. "The New Apple TV (MPEG4)" profile states that it is recommended and that it will produce an mp4 formatted (Codec: mpeg4+aac, Resolution: 640 x 480) file for the New Apple TV. The finder reports that the resulting file has a dimension of 640 x 480 with a MPEG-4 Video AAC Codec. The problem is that the Apple TV 4 will not run this file. The Apple TV 2 and the Apple TV 3 will both run and display this file. In addition, when they do the video output is not distorted (i.e. the video display is 4 x 3, not stretched).
I have to look around for another DVD ripping software to copy my DVD collection to iTunes, in order to stream to a television via Apple TV, the latest one, aka, Apple TV 4. This software WonderFox DVD Video Converter seems to fit the bill. However, not being much of a techie, I first want to check that your product is capable of doing this. And thanks to the help from Swizz, a very kind guy from WonderFox, I am now able rip DVDs to new Apple TV for streaming. Below is what I do with this new Apple TV ripper that makes me perfect DVD copy for streaming to new Apple TV.
How to rip DVD to new Apple TV with highest quality on Windows 10 for streaming?
I noticed that a copy of an expert from a DVD produced using the trial version of WinX DVD Ripper Platinum and DVDFab seems a bit pixelated and seems to stutter a little when running. The film is The Hobbit, so I would expect the quality of the original to be high and therefore not a problem originating from the DVD itself. I would ideally like to produce a copy comparable in picture quality to the original DVD. I am here to advice upon how this is possible and provide a brief step-by-step guide on the best method of copying to produce the highest quality (i.e. if watched in iTunes identical picture/ sound quality to the DVD) on my Windows 10 machine?
Step 1. Download, install and open new Apple TV ripper

DVD Converter for New Apple TV
Rip any copy-protected DVD to digital video and hot devices thta includes The New Apple TV. Solve all of compatibility Issues on New Apple TV playback.
More features >
Step 2. Put your DVD into the DVD drive, click the Load DVD button, and then OK to load the DVD in the DVD drive. If there is one more drive connected to your Windows 10, click the drop-down menu to select the one you want to rip. The DVD here in example is Men in Black.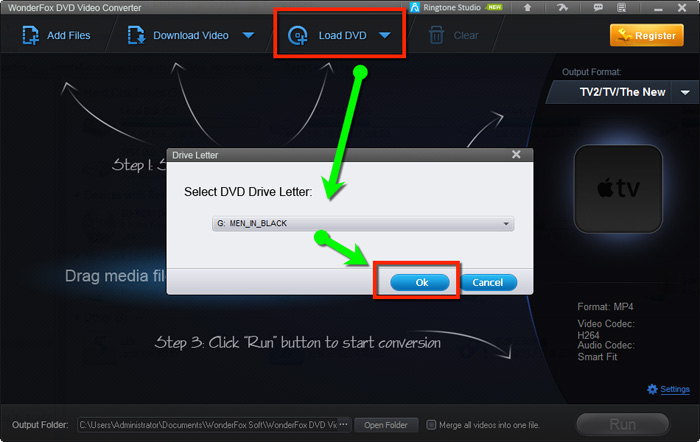 Step 3. Specify the output format. If this is the first time you use this program, MP4 would come as the default output. You will have to go Apple and select new Apple TV. To be able to rip DVD to new Apple TV with the highest quality on Windows 10, we'd better go Settings and set the encoder to H264 and Bit Rate to VBR and Highest.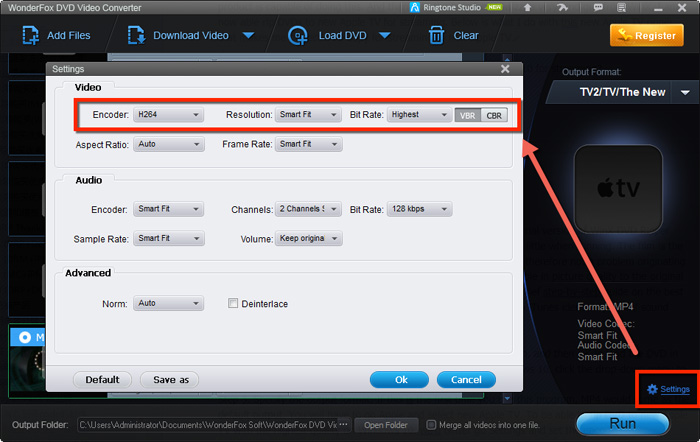 Tips: If you have ripped one movie to the new Apple TV, you do not have the set the output format again as the program will remember what you have one in the previous rip. Alternatively, you are free to save the profile as your own, so next time when you rip DVDs to new Apple TV on Windows 10, the above profile will always give you the highest quality.
Step 4: Start Ripping DVD to new Apple TV.
Now, click the Run button to start ripping and let the program do the rest for you. With the above options, I believe you will get an original video quality copy.
Rip DVD to new Apple TV and preserve the 5.1 surround sound of the DVD (DTS or Dolby)
To be able to enjoy the original 5.1 DTS or Dolby surround sound on Apple TV, we need to go and set the audio channels to 6 here before ripping: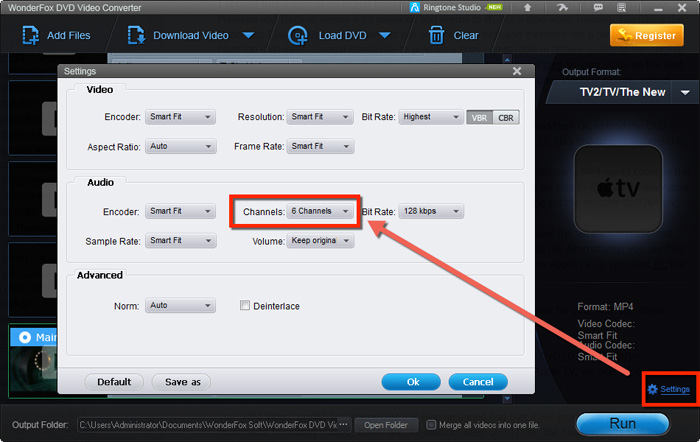 Still have problem on ripping DVD to The New Apple TV?
Related Resource
Time-limited Offer Today
Special Offer: WonderFox DVD Video Converter
One software helps you solve all of problems such as DVD ripping , video converting, YouTube downloading...