How to Rip DVD to FLAC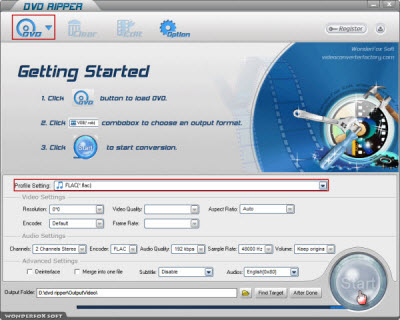 Do you want to play the wonderful audios of the DVD like the wonderful theme song or the classic dialogue on your music player? If so, you have to rip DVD to audio format, at this time, FLAC, as a popular and excellent audio format, is the right choice for you. This article will teach you know how to rip DVD to FLAC below.
How to Rip DVD to FLAC
What is FLAC
FLAC means Free Lossless Audio Codec, it is an audio format as MP3 and it is known as an audio compression codec primarily authored by Josh Coalson. FLAC employs a lossless data compression algorithm, which can ensure the high-quality audio playback effect to meet users' demands in the round. Audio sources encoded to FLAC are typically reduced to 50%-60% of their original size. It does not remove any of the original audio data and compresses audio files with no loss in quality. Compared with MP3 or WMA, it gains much better tone and can provide users with fantastic audio feast. Even the size of file is much bigger than MP3, many music fans still prefer it as their first choice as its nice audio effect. While many music fans would like to enjoy the audio factor of DVD, like some super-star vocal concerts, it is a nice way to put it into your music player to enjoy it. Then, you may have the trouble like how to rip DVD to FLAC. It seems that you need a great DVD ripper.
How to Choose a Great DVD Ripper for FLAC
It is not that easy to choose a great DVD ripper for FLAC from various kinds of ripping tools in the market. However, users can still get a good one to solve how to rip DVD to FLAC if they consider these points:
1. Easy-to-use. Users spend less energy knowing how to handle this ripper.
2. Various formats and devices supported. A great DVD ripper can support different kinds of output formats and digital devices.
3. Speed and quality. Users can spend less time ripping process and get the high-quality output files with nice video and audio effect.
4. Safety. Users can enjoy the ripping process without worrying about the viruses and spywares. It is totally safe to rip DVD to FLAC with this ripper.
5. Extra functions. A great DVD ripper can meet users' demands with more additional functions, like trimming, cropping, adding effect and other vide editing functions.
Based on these principles, I would strongly recommend you WonderFox DVD Ripper. It can solve how to rip DVD to FLAC with fast speed and high-quality output audio effect. You can regard it as a FLAC DVD ripper, also you need know that it can be much better. WonderFox DVD Ripper can support almost all the video, audio formats, and different kinds of cellphones or digital devices, such as, iPad, Xoom, iPhone, BlackBerry series and NOKIA series.
Steps of Ripping DVD to FLAC
Users can finish the whole ripping process with few clicks.
1. Download WonderFox DVD Ripper and install it.
2. Load DVD disk and choose 'FLAC' as the output profile.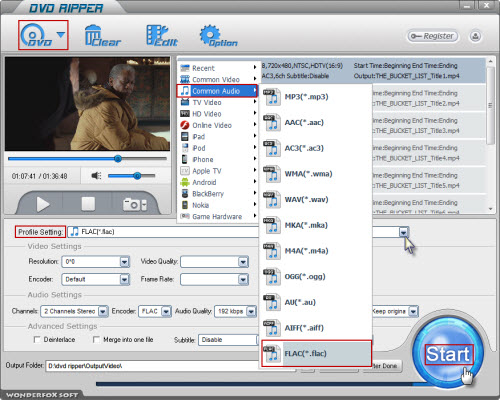 3. Click 'Start' to launch the ripping process.
4. Get the output files and enjoy them.
It is easy and fast to solve how to rip DVD to FLAC with WonderFox DVD Ripper. Users can get the excellent output effects without any harmful factors.
All in all, the WonderFox DVD Ripper is really a good choice for us to rip dvd to audio. With the DVD to MP3 ripper/converter, we can easily rip/convert DVD to MP3/audio file. By the way, the DVD ripper runs well on Windows, so, we can easily convert DVD to PC, convert DVD to Hadr Drive, copy DVD to tablet, convert DVD to cell phone with it. Furthermore, the software also allow us to convert DVD to AVI video format, convert DVD to iPad 3 compatible video, convert DVD to WMV video, convert DVD movies to MP4 format, rip/convert DVD to MKV video; and besides, convert DVD to Nokia video type, convert DVD to BlackBerry video formats and convert DVD to Android devices are also available for us.