Can Android Play WebM Files? It depends!
Despite a fact that WebM is on the list of Android Supported Media Formats, but as you know, WebM is just a container format that may contain various codecs in addition to the common VP8/VP9/AV1 video and Vorbis/Opus audio. And HTML5 video is always tricky and difficult to handle on different Android devices, such as handset, tablet, TV, projector, set-top box, etc. The common causes of WebM Android not working can be summed up as follows:
1. The WebM file is corrupted or damaged during the device-to-device transferring or downloading from Web.
2. The WebM file may not have been encoded in the standard video codec (VP8, VP9 or AV1).
3. You are using a media player that cannot recognize and decode WebM file.
4. The current device OS build version doesn't support WebM file.
Method 1 - Convert WebM Files to Android Supported Format
As the Android WebM playback issue is typically caused by unrecognized video codec, it's a good option to transcode WebM file to another Android compatible format on computer, such as convert WebM to MP4, AVI, MKV, etc., and then transfer them back to Android device or USB drive. Free HD Video Converter Factory is a great helper that not only allows you to download WebM from YouTube and 500+ websites, but also enables you to convert WebM files to 500+ presets with only a few simple mouse-clicks.
Free downloadFree download this program and follow the instructions below to make Android play WebM normally.
Step 1. Run Free HD Video Converter Factory and open "Converter".
Step 2. Drag and drop your WebM files into the interface.
Step 3. Select "MP4" format under "Video" category on the right side. Also, 500+ presets are available for your choice.
Step 4. Specify an output folder on the bottom to save the converted videos.
Step 5. Lastly, click "Run" button to convert WebM files to Android supported format.
Also Read: Play WebM on iOS Devices | Play WebM on iPhone | WebM Editor | Convert WebM to Windows Media Player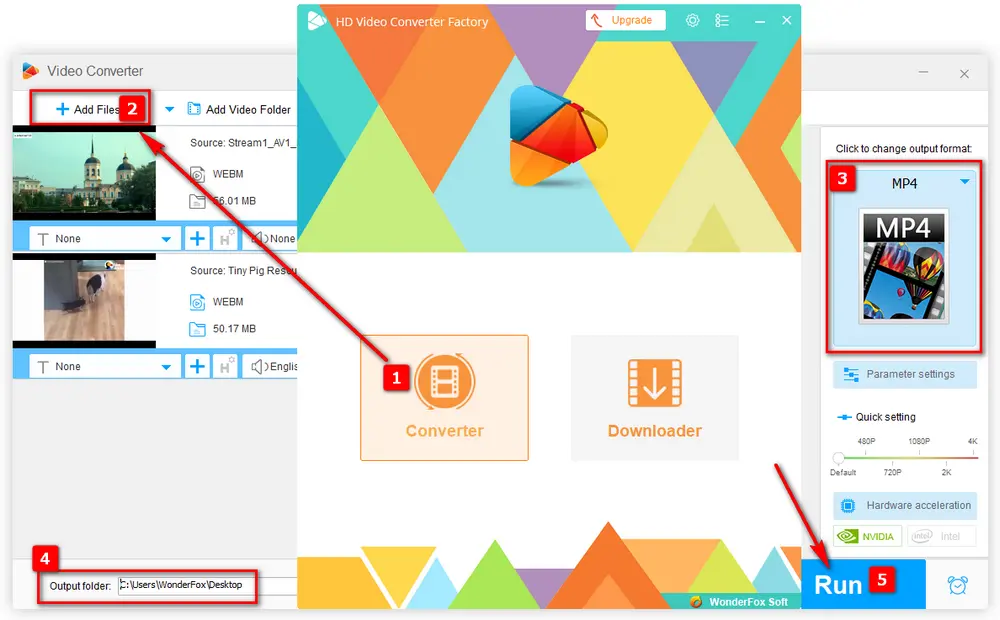 Method 2 - Update OS Build Version of Android Device
If WebM file won't play in the default Android media player, no matter what Android device you're using, try to update OS build to newer or the latest version which always includes timely fixes and new supports for better performance, including WebM decoding. But in some cases, it may not work on some old models or in-depth custom Android devices (custom firmware and custom ROM), you have to turn to other methods below.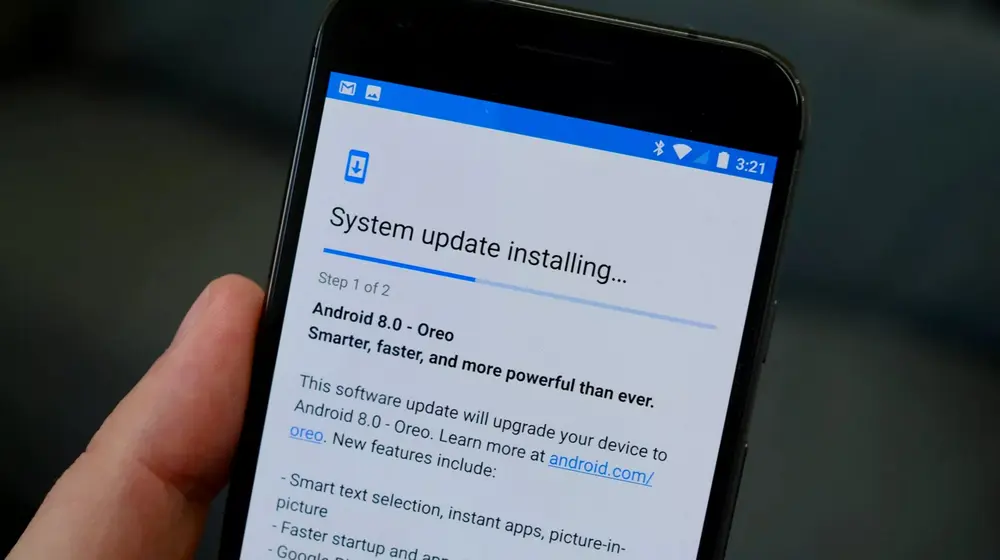 Method 3 - Play WebM in Android Browser
Most Android devices provide a built-in browser which may support WebM file playback. However, older browser versions did not support all codecs, for example, Android 2.3 - 4.4.4 browser only offers partial support for WebM decoding. So you'd better keep the built-in browser up-to-date. Alternatively, you're able to smoothly play WebM on the latest version of some third-party browsers like Chrome for Android, Firefox for Android, UC Browser for Android, etc. Either WebM streaming link or local WebM file is supported.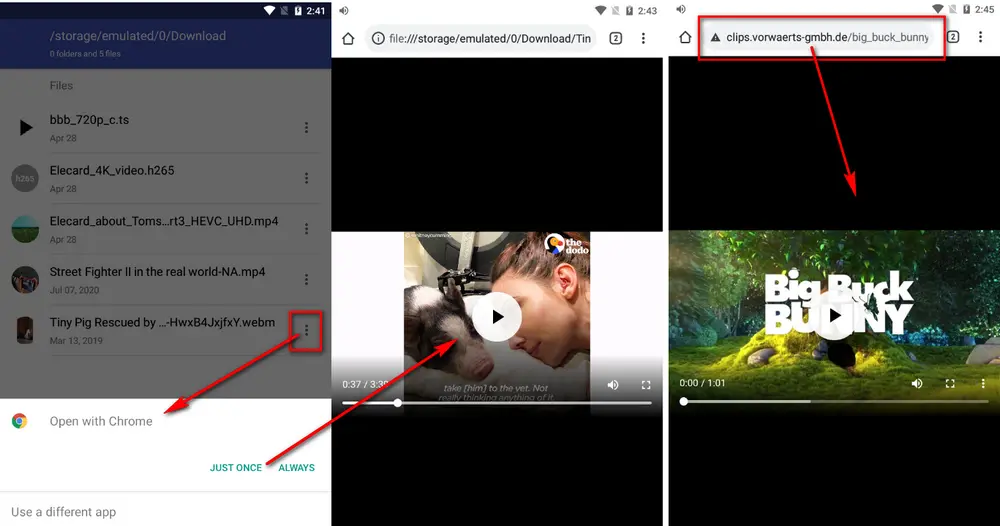 Method 4 - Play WebM Files in 3-rd Party Player for Android
For some people who are not satisfied with the preinstalled media player and don't want to install another web browser on their Android devices, they may tend to look for a WebM player to make it work. Actually, quite a few well-known 3rd-party media players provide terrific WebM playback support based on their own powerful decoding ability. Both VLC and MX Player are the most representative. Apart from WebM files, you're able to play almost all video and audio files, including those uncommon formats.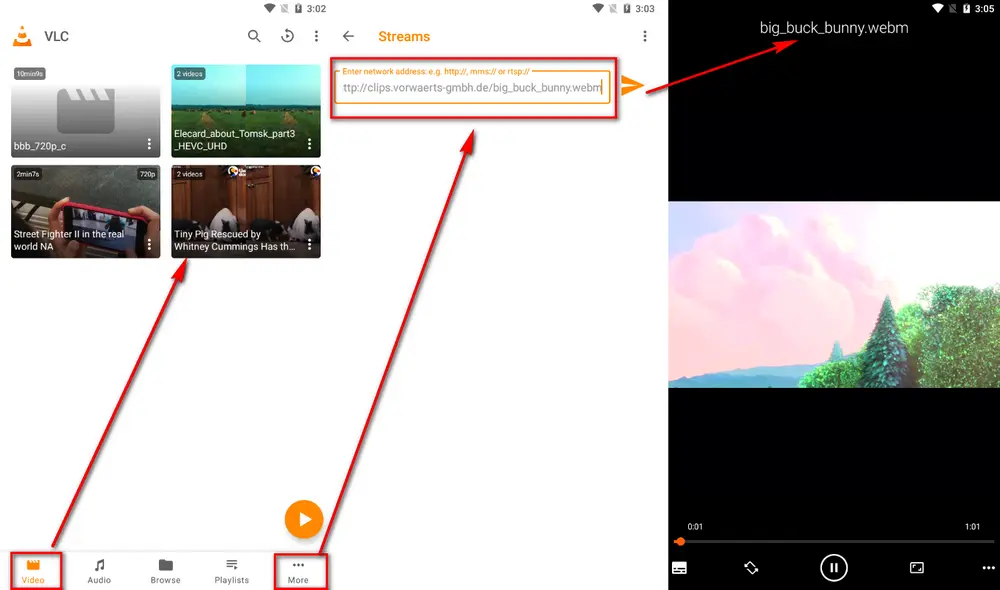 Final Words...
With the above methods, as long as the WebM files are normal and playable, you're able to smoothly play WebM videos on any Android device without a hitch. If there is still any WebM Android playback issue, upload a sample file as attachment and feel free to contact me via Facebook Messenger, I'm glad to help you. Thanks for reading!