Step 1. Import Opus Audio Files to the Program
Launch HD Video Converter Factory Pro after you install it on your computer and enter the "Converter" module from its initial interface. Click on the "+ Add Files" or "Add Video Folder" button to add Opus files (folder) to the workspace. Or you can also directly drag and drop the target files into the window.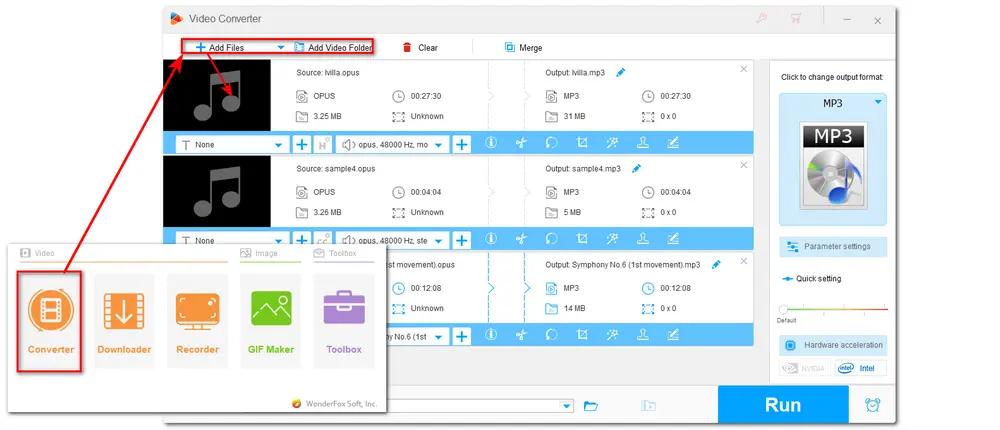 (Optional) Step 2. Play Opus Files with WonderFox Media Player
Once you import the audio files, you can see a screen with a file thumbnail or the music icon. Move your mouse over the screen and click on the play icon, then you're on the media player window, and the audio files are playing now.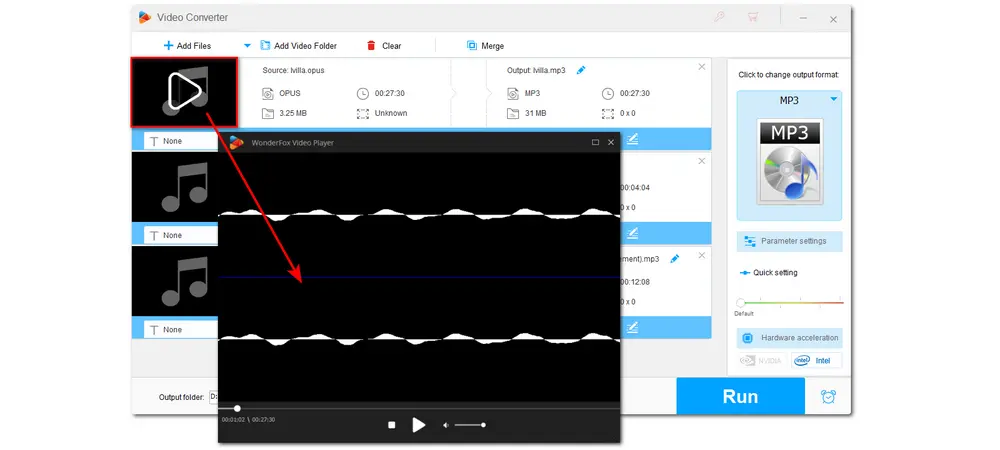 Step 3. Select an Output Format to Convert Opus Files
If you want to play Opus files anywhere and anytime, converting Opus to MP3 or other widely used formats is a good choice. Click on the format image on the right side of the interface to expand the output format library. Head to the "Audio" category and select "MP3" or other formats. Then modify the output path by pressing the inverted triangle button, or you can leave it as default. Finally, hit "Run" to start the conversion.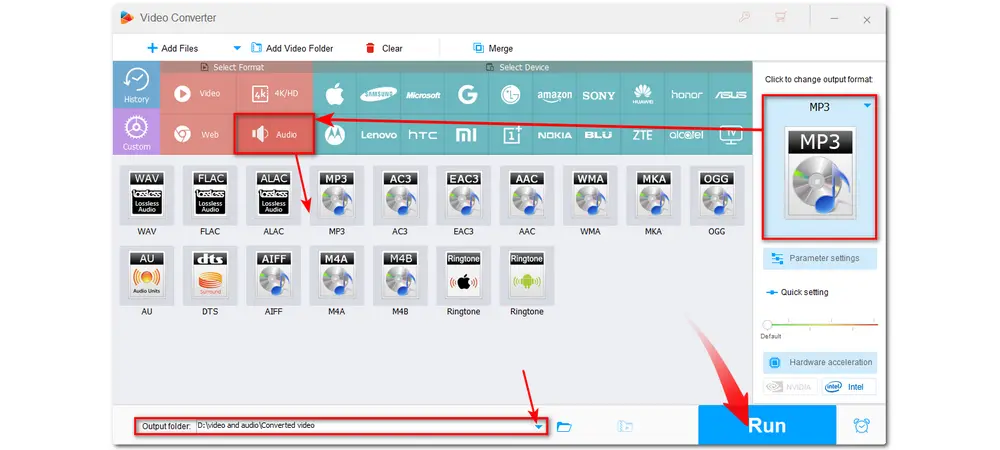 1. VLC Media Player
When it comes to media players, the one you cannot miss is VLC Media Player. It is a powerful media player that can play almost anything, such as music, videos, DVDs, and so on, without conversion, including Opus files. Moreover, it is compatible with all operating systems, so you can easily play Opus on Android, Windows, Mac, and iPhone with it. If you haven't downloaded VLC, just get it here now!
VLC Media Player download link: https://www.videolan.org/vlc/

2. Foobar2000
Foobar2000 is an advanced free program for playing audio files on the Windows platform. It is one of the lightest Opus audio players for PC. It provides outstanding audio playback quality and supports almost all the popular audio formats, including MP3, MP4, AAC, WMA, Vorbis, Opus, Flac, WAV, AIFF, and more. Moreover, it can help transcode the supported audio formats. But Foolbar2000 only works on Windows XP and later. If you want a lightweight Opus media player, just get Foolbar2000 with the link below.
Foolbar2000 download link: https://www.foobar2000.org/

3. Winamp
Winamp is one of the earliest Opus audio players used on Windows PCs. Not only can it play various audio and video files, but it can also import CDs and play the audio content on CDs. If you choose CD-text, you can also burn the contents of the audio to a CD. However, it lacks .opus support. Luckily, someone has written a plug-in to help you read Opus files. You can find the related sources online. Download Winamp on your Windows PC with the link below, and it also allows online use without downloading the software.
Winamp download link: https://www.winamp.com/downloads/

4. AIMP
AIMP is also one of the best music players you can find on the internet. It offers you high sound quality and personalized functionality so that users can listen to their music in their own way. With support for more than 20 audio formats, users can easily play MP3, AAC, OGG Vorbis, MIDI, Opus, etc. smoothly. Additionally, it can also act as an audio converter to convert a total of 27 audio formats to 9 different popular audio files. Users can use this Opus audio player on both Windows PCs and Android devices.
Windows users can download AIMP from its official site: /tips/pc-audio-recorder.htmlhttp://www.aimp.ru/
Android users can easily get it from the Google Play Store on their phones.

5. SMPlayer
SMPlayer is a free media player that can work on Windows, Mac, and Linux PCs. It uses MPlayer as its playback engine and adds more advanced features to improve the usability of the software. Users can use it to play most common video and audio files (including Opus) without any external codecs as it has built-in codecs for nearly all file playback. While playing video and audio, it also offers you the ability to apply video and audio filters, flip and rotate videos, control playback speed, etc. You can also use it to play YouTube videos. Moreover, users can customize the player interface as it provides several skins and icon themes.
SMPlayer official website for program download: https://www.smplayer.info/

6. Zoom Player
Windows users can also give Zoom Player a try to play their Opus and other media files, as this software also has wide format support. It not only supports video and audio formats but also image formats. However, it is worth mentioning that Zoom Player only offers a 30-day free trial, and upgrading to the advanced player will cost $29.95 a year or $79.95 for a lifetime. The trial version contains a graphic equalizer, a playlist editor, and other capabilities that a basic player should have. The advanced player includes user data security, a web remote, and video playback secured by Windows Media DRM.
Download Zoom Player at this link: http://www.inmatrix.com/files/zoomplayer_download.shtml

7. MusicBee
MusicBee is an ultimate music manager and player that makes it easy to manage, find, and play music files on Windows. It supports audio file playback including MP3, AAC, M4A, OGG, FLAC, ALAC, APE, WMA, WAV, MIDI, Opus, and more. Utilizing high-end audio cards, upmixing stereo to 5.1 surround sound, resampling tracks to a lower bitrate, supporting some Winamp plugins, etc., MusicBee brings you high sound quality and enhances your music. You can also use it to sync your music collections with the devices you use.
Get MusicBee from it official site: https://www.getmusicbee.com/