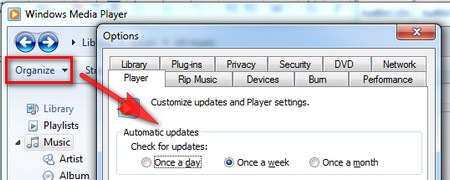 Fix Windows Media Player M4A Playback Issue
Method 1. Update – Turn Windows Media Player to a Windows M4A Player
Windows Media Player can update itself automatically. Enable that at:
Launch Windows Media Player > "Organize" > "Player" tab > Set "Check for update" to once a day/once a week/once a month
And you'll be able to Play M4A on Windows Media Player properly after the update.
Method 2. Manually Install a Proper Codec Pack
In case the update doesn't work somehow. We can manually install a proper codec pack for Windows Media Player. To save your trouble seeking, here's a renowned and well-tested one: K-Lite Codec Pack (Compatible with Windows XP, Vista, Windows 7, 8, 8.1 and 10.)
Step 1. Navigate to https://www.codecguide.com/download_kl.htm
Step 2. Locate Basic pack, click "Download Basic" to download.
Step 3. Remove the former codec pack if there is any. Launch the K-Lite Codec Pack .exe to install it to your Windows Media Player.
Now play M4A files on Windows Media Player to see if it works!