Free HD Video Converter Factory is capable of compressing mp3 at a pretty high compression rate, freeing up your storage space on your USB, smart phone and digital player for you to enjoy your favorite music to your heart's content.

by Michael
What Can A Powerful MP3 Compressor Do for You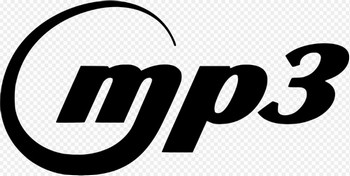 mp3
Christmas and new year is around the corner and you must have lots of things to get prepared for your party. Theme music, for example, then you find that your hard drive is full without extra space for the music. Don't worry, you do not necessarily have to delete any videos or other files to make it empty because a powerful MP3 compressor has come out to handle all the space-insufficient stuff. Free HD Video Converter Factory is not only a effective MP4 compressor but also it can reduce MP3 size to the greatest extent by changing mp3 bitrate (newer encoders are able to delete extra bitrate while
keeping graphic effect unchanged) which is the crucial factor that decides the size of an audio file. Meanwhile, in the course of the mp3 conversion, no quality gets lost and the audio file is as clear as the original one. Taking down two birds with one single stone, well done, isn't it?
Related Articles: How to reduce video size without losing quality | How can I compress WAV file on windows
Don't hesitate, come to have a try on the newest compression technique. Similar to the steps of converting video, here I am going to have a brief introduction on how to use this MP3 resizer.
Download Free HD Video Converter Factory to resize MP3 and other audio files
Compress MP3 File Within 3 Steps
Step 1
Open Free HD Video Converter Factory and click Add Files to choose the MP3 file you want to compress and also you can directly drag the file to the interface.
Button Clear can help you delete the file you have chosen.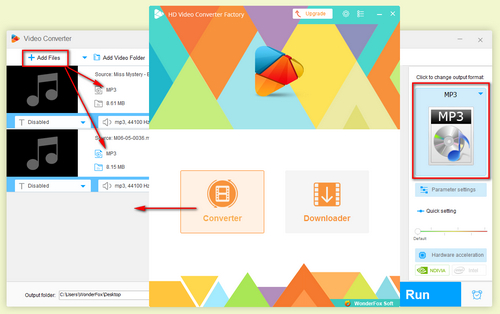 Put mp3 onto the Interface
Step 2
Go to the lower right side and then you could see the Settings button. Click it and then you will see a list of parameters. Go to the audio section and choose Bit Rate. Adjust the bit rate according to your demand. The lower the bit rate is, the less space the MP3 file occupies. and meanwhile you can boost volume to make the output louder and clearer.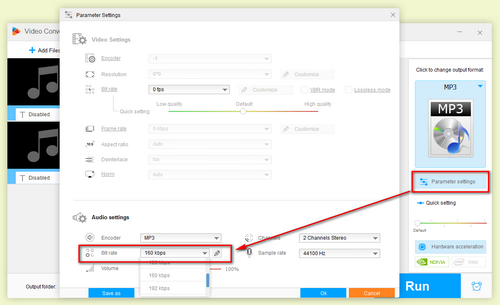 Preset parameters
Step 3
Click Run button at the lower right corner to begin the compression. After it is finished, Click Open Folder at the bottom to go to your mp3's directory and check the file.
Launch the conversion
Comparison - HD Video Converter Factory and Online Compressor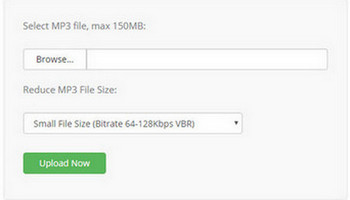 An online MP3 Compressor
To verify how powerful Free HD Video Converter Factory in MP3 Compression is, I decided to have a trial on an online MP3 Compressor - MP3 Smaller. The interface was simple which was pretty good and then I clicked Browse button and added my MP3 file and began the upload. 1s, 2s....5 minutes was past, the circle in the progress icon kept running. I thought it might be because of my bad network so I waited for another 2 minutes. Nothing got changed. Finally, I was so upset and pissed off that I decisively put an end to it. I opened my Free HD Video Converter Factory and chose the same MP3 File and let the compression
run again. You know what. It just took 2 seconds which was more than 10 times faster than the former one. So, now you have understood which is the best free audio converter that can literally help solve problem both fast and efficiently, never being restricted by network.
Some Related Functions You May Need
1. You can customize the length by clipping your file to choose the segment you want before you launch the compression for it is also an effective HD video-audio editing software.
2. There are tens of audio formats for you to convert your MP3 into including WAV, AC3, AAC, WMA, etc...( FLAC, ALAC and DTS is not supported in the free version of HD Video Converter Factory although they are in the audio format's list. )
3. You can maker original ringtones in Android and iPhone platforms
4. Not only can you control the bit rate of your MP3 file but also you can preset its channel, choose encoders, and change sample rate at your own will.
5. HD Video Converter Factory is much more than a MP3 File Compressor. Most audio and video formats are supported to be converted. You can convert MP4 or other formats to MP3 to extract the audio you desire.
Now, please download the Free HD Video Converter Factory to complete your jobs.
Extra Main Features of Free HD Video Converter Factory
Various media formats, optimized profiles for 220+hot devices.
Convert mp4 to swf and vice verse.
Download videos from YouTube and freely customize your video image.
An internal video editor is available( clip, crop, effect).
50X faster conversion speed is supported.
Merge several videos together to create a movie montage.