Online-audio-converter is a remarkable audio compressor online service, which can help you decrease the size of audio files by lowering the bitrate. The interface is simple and easy to handle for its users.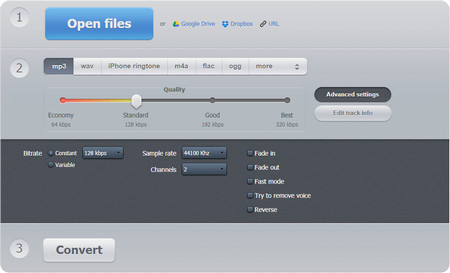 Lower Audio Size by online-audio-converter
Merits:
1. Shrink audio file size by dragging the quality bar: Best (320kbps) > Good (193kbps) > Standard (128kbps) > Economy (64kbps).
2. Upload local audio files or import files from Google Drive & Dropbox for shrinking.
3. Output audio tracks to mp3, wav, m4a, flac, ogg, amr, mp2, and m4r.
4. Allow you to set constant & variable bitrate as well as change the sample rate.
5. Add special effect to audio files: fade in/out, remove voice, reverse.
6. For better security, the server will delete your uploading data in a few hours automatically.
Demerits:
1. The audio minimizing process might be time-consuming for uploading + reducing + downloading to local disk.
2. There are some advertisements. If you have Ad-Block, this site cannot work properly.
Visit the official site at: https://online-audio-converter.com/