Step 1. Run Shotcut Video Editor. Click "File" on the menu bar and select either "Open File" or "Open MLT XML As Clip" to import your MLT file.
Step 2. Shotcut will read and restore all your work processes since the last editing status, so that you're able to go ahead with your editing as you wish, such as add effects, transitions or other elements, etc.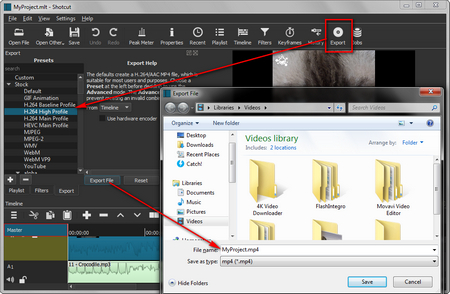 Shotcut Save as MP4
Step 3. After done, make sure you press "Export" button on the Quick Access Toolbar or "File > Export Video", rather than "Save" or "Save As". Then, it will show some presets formats on the left. Choose "Default", it will acquiescently convert MLT to MP4 (H.264/AAC) video that is compatible with most players and devices as well as YouTube. For experienced user, you can choose your desired profile or go to Advanced window to customize your user-defined settings, for instance, change video resolution, adjust video bit rate and so forth.
Step 4. Finally, hit "Export File" button, specify the video name and destination to save the MP4 file. After a while, you'll find the real video file in the output folder.