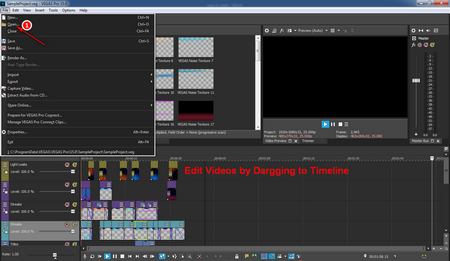 Preparation for Solving Sony Vegas MP4 Issue
Step 1: I believe that people who want to convert VEG to MP4 must have downloaded Sony Vegas. If not, you can go to its official website to download: http://www.vegascreativesoftware.com/us/vegas-pro/
Note: Vegas Pro is not a free tool, you can choose its trial version to free use for 30 days.
Step 2: Launch Sony Vegas and it will be used as a VEG to MP4 converter.
Click Open to load your source .veg video files, after loading files, you can edit your video by dragging the file to the timeline.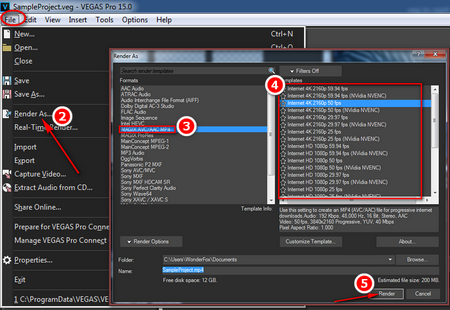 How to Export Sony Vegas to MP4
Step 3: Once you've finished editing, go to File and select Render As…, and then a new window will pop up. Under Output File, select where you want the file rendered or exported to, and choose a name. Here you should select MAGIX AVC/AAC MP4, and you are allowed to choose different resolutions and frame rates such as Internet HD 1080p 29.97 fps. Finally, click Render button to export Sony Vegas to MP4.
After you getting the exported .mp4 files from Sony Vegas, you can upload these videos to YouTube easily and play them on all kinds of media players.
After the text description, in order to help you better understand how to export Sony Vegas to mp4, I'd like to insert a tutorial video here, Sony Vegas Pro 12 is used in this video. Although Vegas Pro has been updated to version 20 and its interface has changed slightly, the steps are basically the same, so, this tutorial video is equally useful. Enjoy it!
Have trouble importing and editing MKV in Sony Vegas Pro? Read this post to get a solution: Sony Vegas MKV Issue – How to Import MKV in Sony Vegas Pro