Note: Because the WVE file contains references to video and audio data, video effects settings, etc., if your WVE file is shared by friends or downloaded from the Internet, then just stop, because the source file and path are completely changed, this is a task that cannot be accomplished at all. If it is a WVE file on your own computer, then surely you have installed Wondershare Filmora, ithe only appropriate .wve to MP4 converter. The specific operation for converting WVE to MP4 is as follows: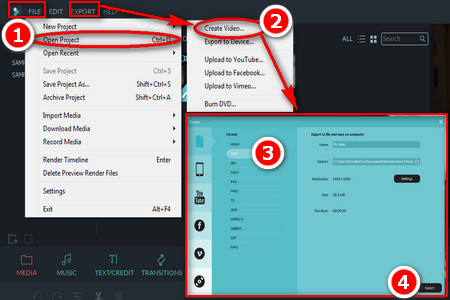 How to Convert .wve to MP4
Step 1: For converting WVE to MP4, firstly, please run Wondershare Filmora.
Step 2: Click FILE < Open Project in the upper left corner, or directly press Ctrl+O to load your .wve source file.
Step 3: Select the WVE file you want to convert and import it to the video editor, as long as the original media files path has not changed, you can restore all previously edited text, elements, transitions, effect, etc. Then, you are free to continue editing or directly go to the next step.
Step 4: Click EXPORT on the menu bar to open the Output Format window and select the MP4 format. Of course, you can also choose to convert WVE to MOV, WMV, AVI, etc.
Step 5: Finally customize the video name, output directory, select video resolution, and click Export to start WVE to MP4 conversion.
After the .wve to .mp4 conversion is over, you can play MP4 video normally. Not only that, you can also choose to upload videos directly to YouTube, Facebook, Vimeo, even burn video directly to DVD or create ISO image. Now that you've learned about how to convert WVE to MP4, and if you think this article is useful, please share it with more friends.