VideoPad Video Editor is the only VPJ converter because the VPJ file is exclusive to VideoPad Video Editor, and there is no third-party tool can play or convert VPJ, not to mention the unreliable VPJ to MP4 converter online. The conversion process is as follows: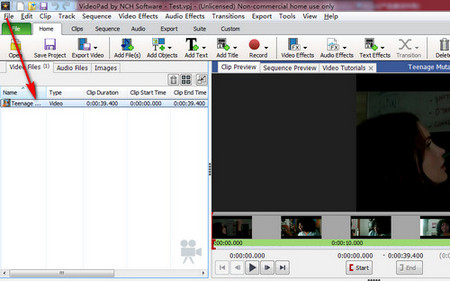 Load VPJ File to VPJ Converter
Step 1: Before converting VPJ to MP4, you need to download VideoPad Video Editor first. Here is its official site: https://www.nchsoftware.com/videopad/index.html
After installing this VPJ converter, you will find that the icon for the VPJ file is already consistent with the VideoPad Video Editor's icon.
Step 2: Load the VPJ file to the VPJ to MP4 converter. Three ways can import VPJ files:
(1) double click VPJ file
(2) drag and drop
(3) click "File" on the top menu and then hit "Open Project" to open VPJ files.

You are allowed to edit your video after importing. It covers clip length, in and out points, clip sequencing, splitting clips, and deleting clips.
Warning!If the VPJ file is shared or downloaded from others, because all information about video transitions, effects, audio track, and the location of the source used have changed, it will be fail to open.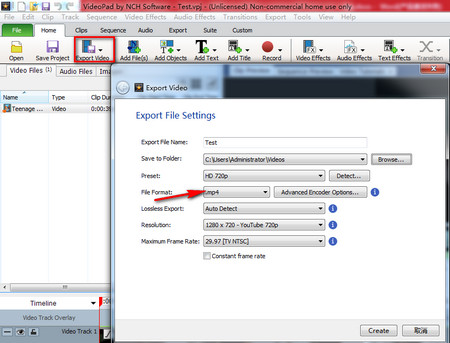 How to Convert VPJ to MP4
Step 3: After editing, click the "Export Video" button on the toolbar and select Video File.
Step 4: Select MP4 as the output format, and you can customize the file name, output folder path, resolution, and other parameters.
Step 5: Click "Create" to start to convert VPJ file to MP4. Similarly, you can convert VPJ to AVI, MOV, MKV and other formats.
After the conversion, you can find the MP4 files you need in the output folder path.
Now, you have got the way to convert VPJ to MP4. If you still have puzzles about other project files, don't worry anymore because we have provided corresponding guides to deal with project files like VPROJ, ARF, WLMP, DAV, TREC, etc.
Related articles: VPROJ to MP4 | Convert ARF File | WLMP to MP4 | Convert DAV Files