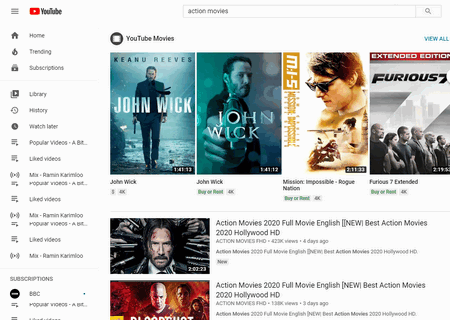 1.YouTube
https://www.youtube.com/
On YouTube, you can find all kinds of videos, including comedy, romance, history, drama, and of course, action movies. The official YouTube Movies offers many classic action movies free with ads, but its quality is limited up to 480P. Besides the official channel, YouTube has the oldest as well as the latest action movies uploaded every day by individual users, and this doubles your chance to find your wanted one though most of the films might be hidden under other odd titles and require a little digging. Here are some suggested channels and playlists:
https://www.youtube.com/playlist?list=PLInXAQUHZ7AeGrjCPVzvKtDNfF_OUrx54
https://www.youtube.com/channel/UCT_DccBbDvLklLGHU9LRggQ/featured
https://www.youtube.com/feed/storefront?bp=kgEmCGQSIlBMSFBUeFR4dEMwaWJWWnJUMl9XS1dVbDJTQXhzS3VLd3iiBQIoAg%3D%3D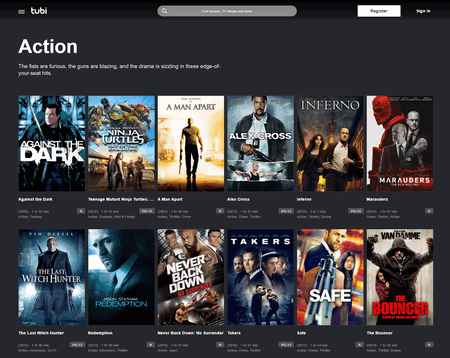 2.Tubi
https://tubitv.com/category/action
Tubi has hundreds of classic action movies on demand, like The Terminator and Kill Bill series. But it does not have a filter under the action movie category, you have to enter the film name in the search bar to find your desired movie or scroll down the page row by row to pick one interesting picture. Yet the quality of the movie is guaranteed. Also, no registration is needed to view the content on Tubi and ads are excluded.
Tips: Don't forget the check the "Leaving Soon!" section before some of your favorite movies being taken down.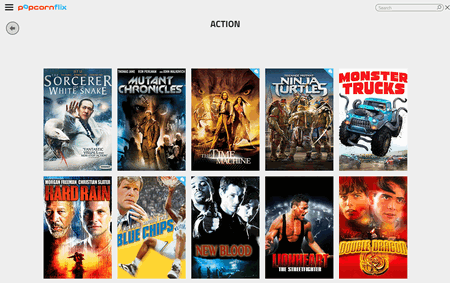 3.Popcornflix
https://www.popcornflix.com/channels/details/actionthrillers
Popcornflix has a separate section for Asian action films where you can find classic Chinese movies like City Hunter (starring Jackie Chan) and Flash Point (starring Donnie Yen). But the overall amount of action films presented on Popcornfilx is rather limited, and the source of these action films are quite old. It needs no registration as well but contains ads before watching the movie.