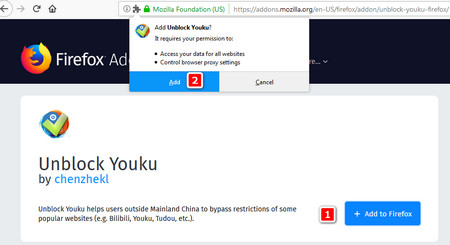 Solve "Block Youku" via Extension
For people who are not very technically-minded, if you want to unlock Youku on computers, the easiest way is to install a Youku unblock extension on Firefox. If you search "unblock Youku on Firefox" in the browser, it will show varied extensions. Here is the recommended Youku unlock extension - Unblock Youku. It is a free Youku unblocker that helps users outside Mainland China bypass restrictions of some popular websites (e.g. Bilibili, Youku, Tudou, etc.). Now let's see how this Youku unblock extension works:
Step 1: In order to unblock Youku, firstly, please visit https://addons.mozilla.org/en-US/firefox/addon/unblock-youku-firefox/.
Step 2: Click the "Add to Firefox" button on the right, and then confirm installing this Youku unblock extension.
Step 3: Once the installation is complete, you need to set the extension to "FULL". When you visit www.youku.com in Firefox, you'll find that Youku is no longer blocked. Now you can enjoy all Youku contents.
Hot search: Top 7 Free Movie Download Sites | Unlock DVD Region Code | Get Kickass Unblocked