Part 1 - How to Insert a GIF into Gmail?
Method 1 - Drag and Drop the Downloaded GIF from Your Desktop
Open your Gmail and click on "Compose" button at the top-left corner. On the "Compose" window, find your downloaded GIF on your hard drive, drag and drop it into the email body section. Gmail will automatically upload and display the GIF in a short while depending on the file size.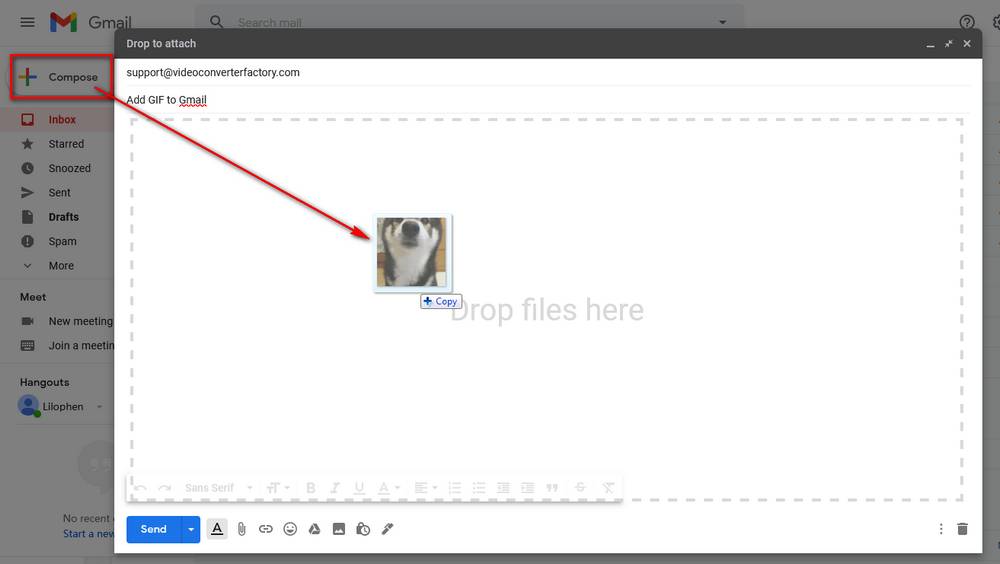 Method 2 - Insert GIF into Gmail via Web Address
The common method to add GIF to Gmail is using "Insert photo" feature. Open the "Compose" window, click on the "Insert photo" icon on the bottom, then a new window will pop up that offers you 4 methods to insert your GIF. Select "Photos" or "Albums" if you have GIFs already uploaded to Google Photos, select "Upload" to add GIFs from your desktop. And you can also choose "Web Address (URL)" and paste a GIF URL to preview and fetch the GIF.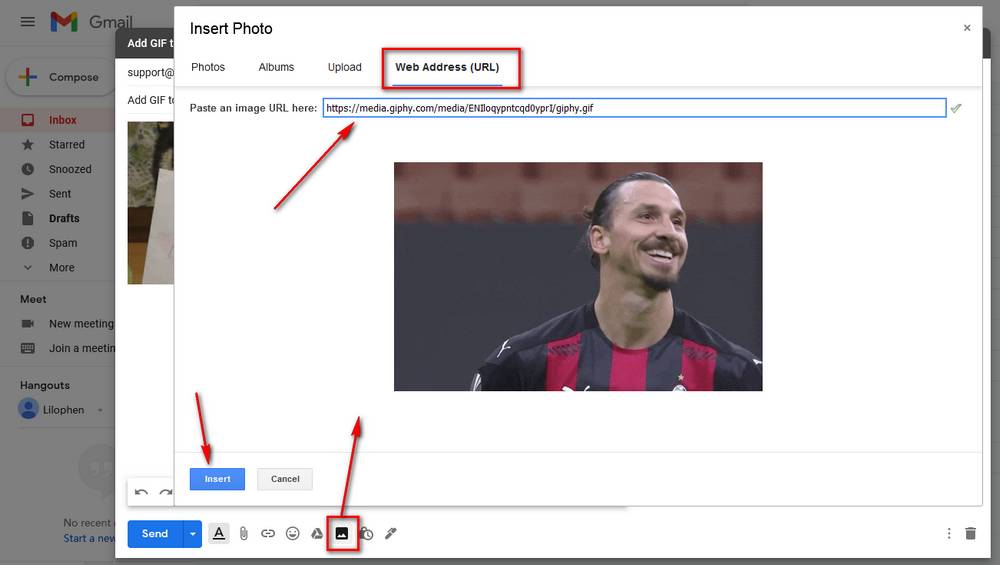 Method 3 - Embed GIF with Chrome Extension and Gmail Add-on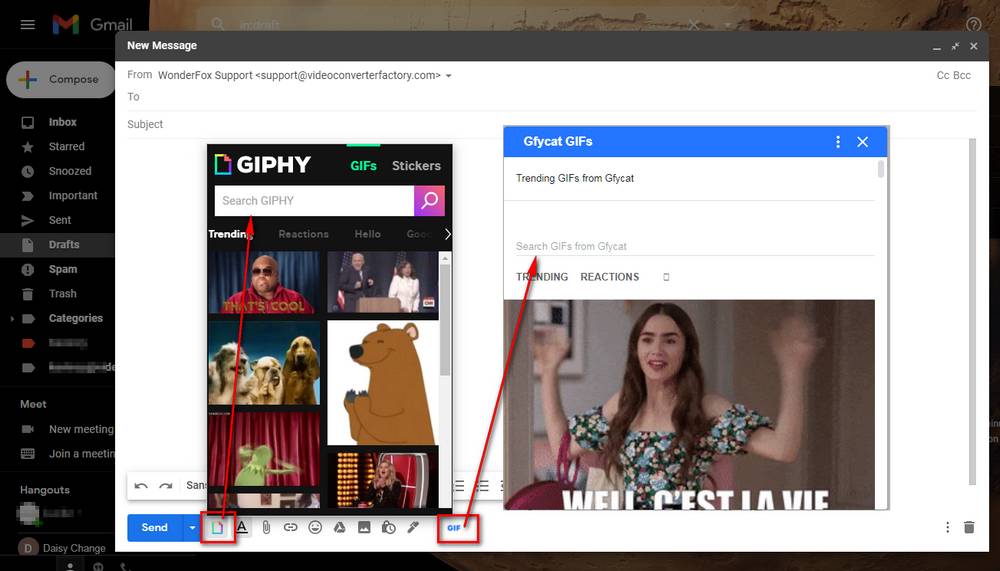 Part 2 - How to Insert GIF into Outlook Email?
For Outlook desktop email client, you know what, Outlook Express and Outlook 2000 - 2003 can display GIFs in animated form. However, since Outlook 2007, Outlook began to use Microsoft Word as the text editor so that it only displayed a still image of the first frame of an animated GIF when you navigate to "Insert" tab > "Pictures" or "Online Pictures" to insert your GIF.

But no worries, when the recipients open the email in browsers, the GIF image is animated as usual. And if recipients view the email in Outlook email client, they can view the animated GIF by opening the email in a new window > go to "Actions" section under the "Message" ribbon tab > then select "View in Browser" option.

For Outlook webmail, there are no such problems. When you start a new message, simply click on the "Picture" icon at the bottom to add your downloaded GIF file, or press the smiley icon to insert emojis and GIFs on the right side. It allows you to search GIFs with Bing.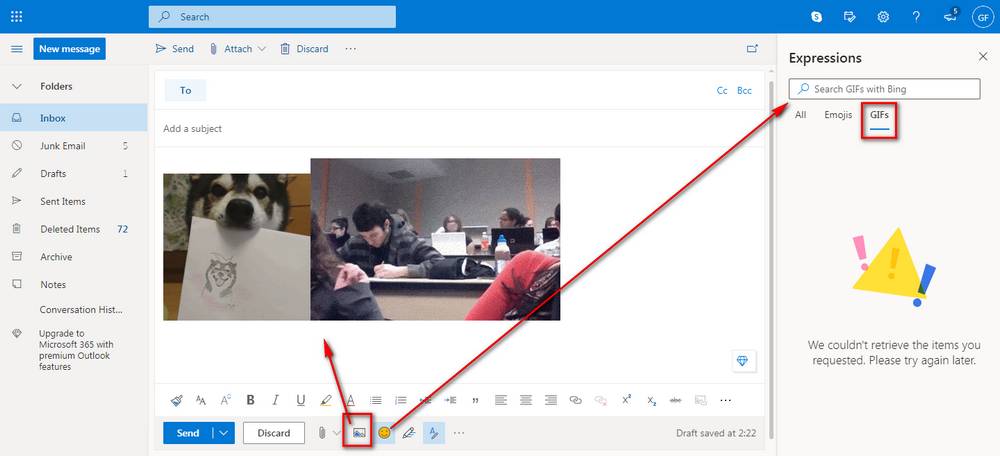 Part 3 - How to Embed a GIF in Yahoo Mail?
Compared with Gmail and Outlook, Yahoo Mail comes with a feature that allows you to search and insert GIFs with ease. When you compose an email, there is a "GIF" icon next to "Send" button and the attachment paper clip icon. Click it to explore and search your desired GIFs and insert them into Yahoo email.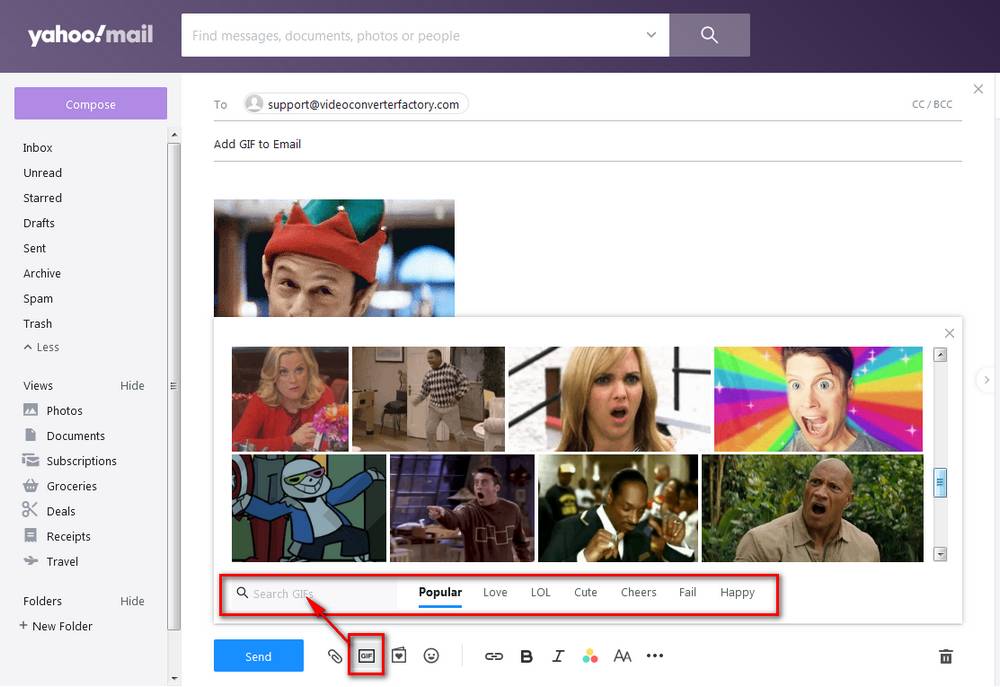 Video Tutorial: How to Insert a GIF into an Email?