Method 1: Enable Parallel Downloading to Speed Up Chrome Downloads
By default, Chrome browser adopts a single-threaded download method to download files, which will naturally slow down the download speed compared with those standalone download managers that support multi-threading download. To increase Chrome download speed, you can enable a hidden feature - Chrome parallel downloading to activate Chrome multi thread download. Here's the simple how-to guide.
Step 1. Run Google Chrome browser, input "chrome://flags" in the address bar and press "Enter" on your keyboard to open "Experiments" settings page.
Step 2. Type "Parallel downloading" in the top search box.
Step 3. The "Parallel downloading" feature will immediately show up. The option was originally set to "Default". After switching it to "Enabled" and pressing "Relaunch" button in the lower right corner, Google Chrome will be automatically closed and reopened, releasing Chrome's built-in multi-threaded download restriction.
Also Read: Download Embedded Videos | CRDOWNLOAD to MP4 | Google Video Downloader | Download Firefox Video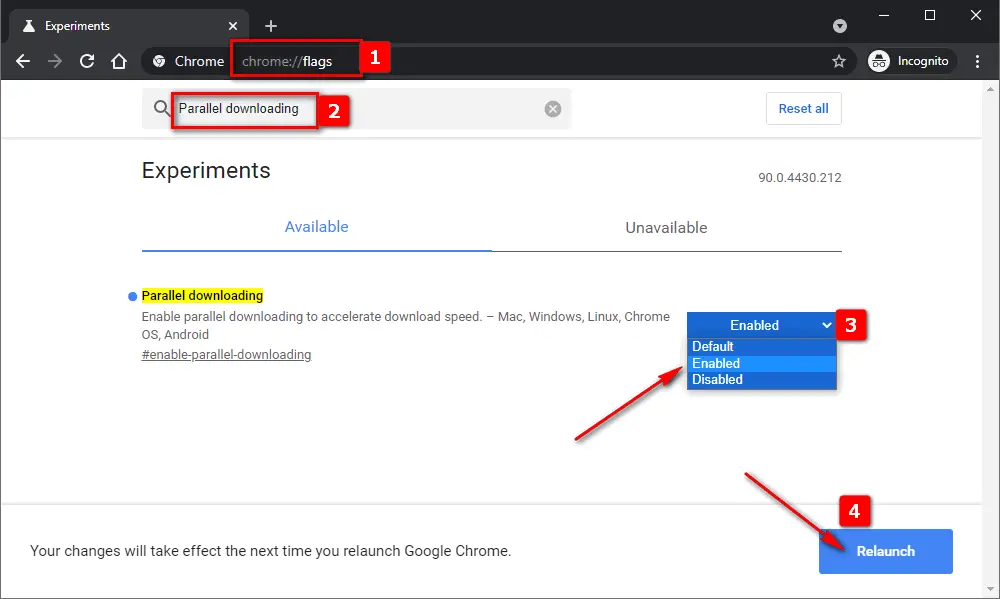 This is how to speed up download in Chrome using a barely known trick. Theoretically, this method is also applicable to other Chromium-based browsers, for example, you're able to visit "edge://flags/" and enable "Parallel downloading" on Microsoft Edge. Not sure which version this feature started from, but it can definitely accelerate the download speed. Check out the before & after comparison below.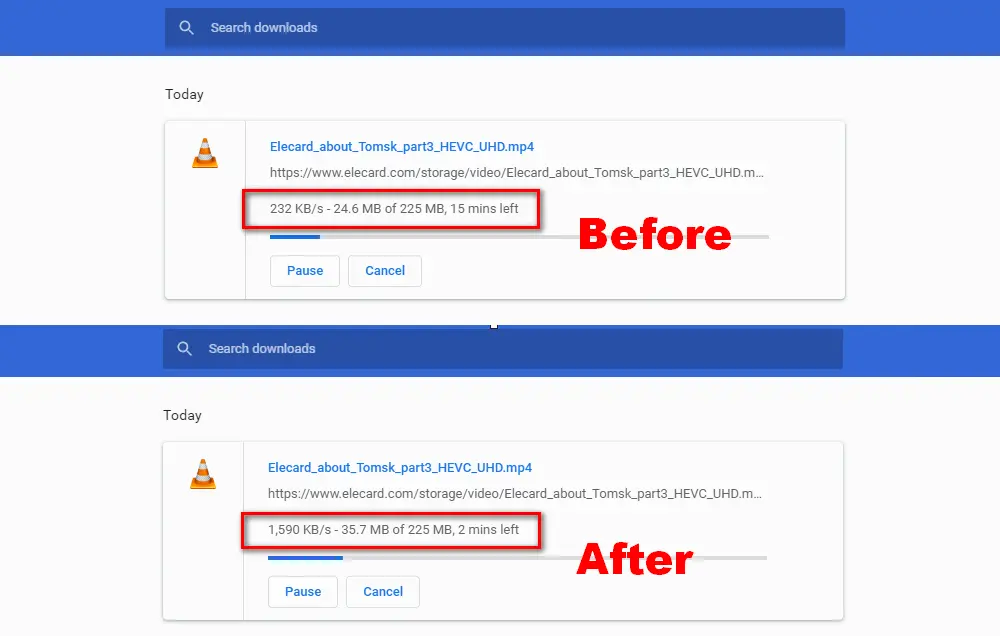 Method 2: Increase Chrome Download Speed Using Chrono Download Manager Extension
Chrome's native download tool is pretty neat and not quite functional, but if you need a better experience, Chrono Download Manager, a browser downloader extension, would be a great choice. It will take over Chrome's download behavior when turned on, and compared with the original and crude downloader, Chrono is more comprehensive. Download and install it from Chrome Web Store or Home Page.
Chrono is seamlessly integrated into the Chrome browser downloader. After enabled, it will automatically take over all download tasks of Chrome and automatically synchronize the downloaded history. When a new download task is completed, you will be notified by a pop-up window. In short, Chrono performs a very smooth download process during my experience.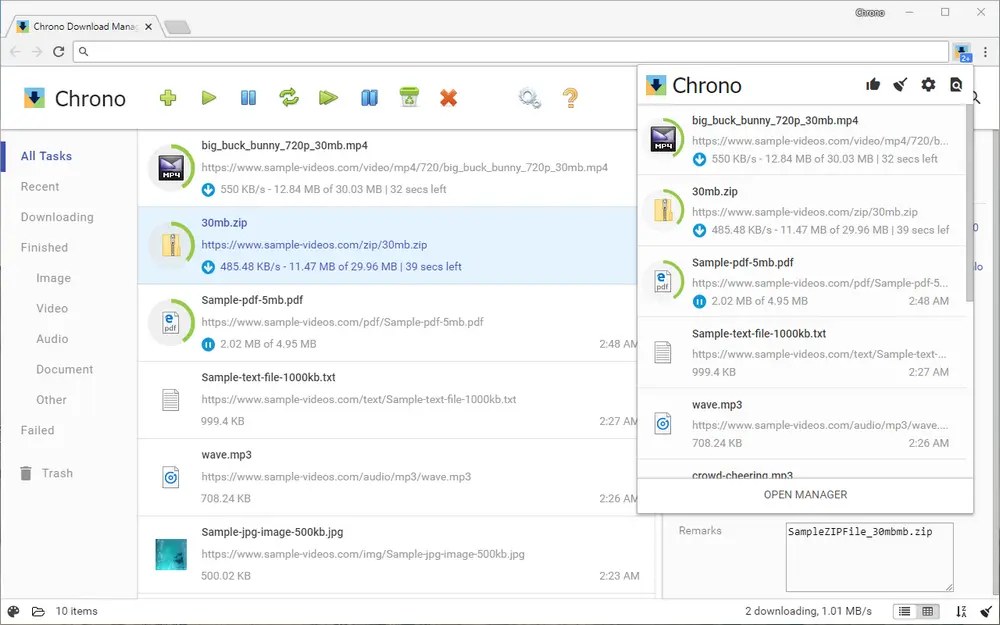 In addition, Chrono offers a native sniffer that helps detect all links, images, audios and videos on a general webpage for batch downloading. Certainly, it cannot beat some specialized sniffers like Video DownloadHelper, but on balance, Chrono Download Manager is a decent choice which can either increase Chrome download speed or have some practical features with an intuitive UI.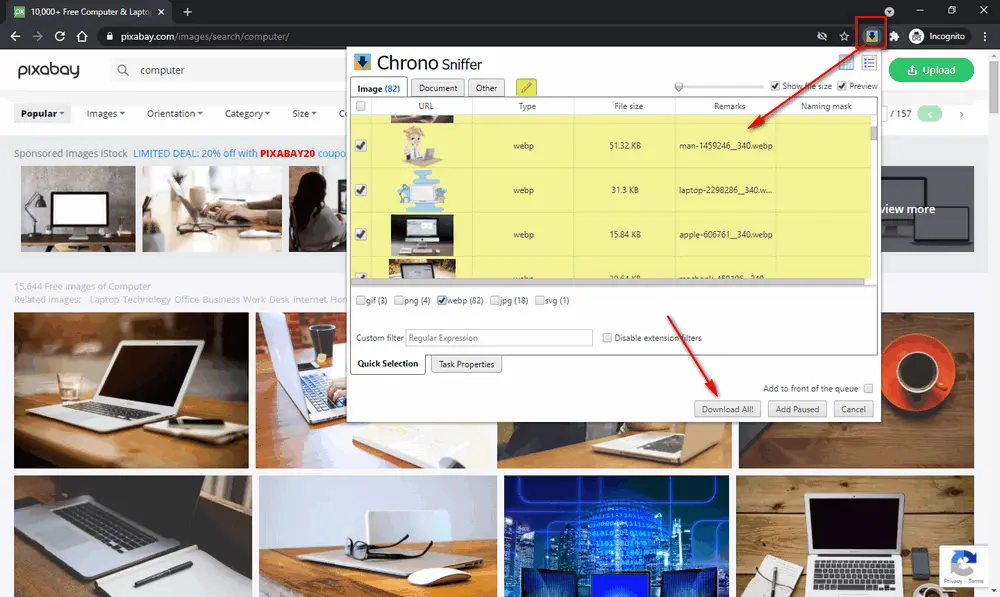 Final Words...
Now you've figured out how to increase download speed in Chrome without installing software. But please remember, Chrome download speed will be limited by the website server, download device/program, the speed of network connection and some external factors. The two methods can absolutely accelerate Chrome download. If the result is unsatisfactory, you are advised to use some desktop download managers like IDM, FDM, XDM, etc. Thanks for your reading.