HandBrake will rip any DVD that is not encrypted out of the box. But with the libdvdcss library added, it is able to decrypt copy-protected DVDs as well. You may have used HandBrake to back up your DVD collections for years. But all of sudden, it stops ripping some or all of your DVDs. What to do if HandBrake won't rip DVD? This is the issue we will try to fix in this article. Continue reading to learn the cause and solution to HandBrake not ripping DVD. Hopefully, you can get your problems solved today.
Assuming that your DVD is intact (without scratch or damage) and the PC is running in optimal status but HandBrake can't rip the DVD, the cause of it is most likely the copy protection. The official document of HandBrake states that "HandBrake does not defeat or circumvent copy protection of any kind". However, most DVDs, if not self-made, come with copy protection and hence cannot be ripped by HandBrake. But a workaround does exist.
libdvdcss, a free DVD playback library developed by the VideoLAN project and used by VLC Media Player, can be installed on HandBrake to help it decode encrypted DVDs. But if you already installed libdvdcss and still can't rip a DVD in HandBrake, two reasons are behind it.
1. The libdvdcss.dll is incompatible with your current HandBrake and system. There are HandBrake versions for 32-bit and 64-bit Windows. You need to use the correct version of libdvdcss to work with the corresponding HandBrake. Also, system updates may break the linkage between the library file and HandBrake.
2. The DVD you want to rip contains newer structural protections. Keep in mind that libdvdcss can only access DVDs encrypted with the Content Scramble System (CSS). Other encryptions like X-project protection, Disney protection, and Sony ARccOS cannot be decoded by libdvdcss.
Now, knowing why HandBrake can't rip DVD, it'll be easy to solve the problem. Read on to learn the solutions.
Solution 1. Install the Correct libdvdcss.dll
If you want to decrypt and rip DVDs with HandBrake properly, you need to install the correct libdvdcss.dll. Here is how:
• Install libdvdcss on Windows
Step 1. Download libdvdcss to your computer. Click to download 32-bit libdvdcss or 64-bit libdvdcss. Note that if your PC is a 32-bit version but HandBrake is 64-bit, you should install a 32-bit version of HandBrake.
Quick tip – click Start > Settings > About to learn your Windows version.
Step 2. Copy the .dll file to your HandBrake installation folder. The default location is C:\Program Files\Handbrake unless you customized a new path during the setup process.
Step 3. Restart your computer and launch your HandBrake. Now, try ripping your DVD and see if it works.
• Install libdvdcss on Mac
If you are on Yosemite or older, you can download libdvdcss for Mac and double-click on it to install it on your Mac. But due to the System Integrity Protection on Mac EL Capitan, it will be a little complex to install libdvdcss on EL Capitan or newer. We will need a command line tool called Homebrew to get around this.
Step 1. On your Mac, launch the Terminal window.
Step 2. Type the following commands
/bin/bash -c "$(curl -fsSL https://raw.githubusercontent.com/Homebrew/install/HEAD/install.sh)"
then hit the Enter key.
Step 3. Next, input your password and press Enter.
Step 4. You will see what components will be installed. Hit Enter to begin the installation.
Step 5. After the installation, paste the following two codes
echo 'eval $(/opt/homebrew/bin/brew shellenv)' >> /Users/$USER/.zprofile
eval $(/opt/homebrew/bin/brew shellenv)
Now, we can install libdvdcss:
Step 6. Open the Terminal window.
Step 7. Type in
brew install libdvdcss
then hit Enter to complete the installation.
Step 8. Now, open HandBrake and see if it rips your DVD now.
Tips. DVD ripping is a CPU-intensive process. Close other apps while ripping can enhance the DVD ripping performance.
Solution 2. Try HandBrake Alternative to Decrypt Newer Encryptions
If the above methods failed, it might be that your DVD is protected by other encryptions other than CSS. In such a case, there is nothing we can do to improve HandBrake to decode the newer protections. We must need a professional DVD decrypter.
WonderFox DVD Video Converter is an all-in-one DVD decrypter and ripper program on Windows. With its up-to-date decryption algorithm, it can bypass not only CSS but also the latest DVD encryptions. It introduces a trouble-free and hassle-free solution to rip any DVD, be it homemade or commercial, to digital video files. Moreover, as a dedicated DVD ripper, it helps you rip DVDs to various pop formats and devices, such as MP4, MOV, AVI, HEVC, WAV, iPhone, Android, game consoles, and more. Its exclusive 1:1 quick copy mode even helps you rip DVD without losing quality.
WonderFox DVD Video Converter is a much simpler program than HandBrake. It has a user-friendly interface and simplified steps. Download Download the program and follow the steps below to start ripping a DVD to your computer now.
* Please insert a DVD into your computer's optical drive first.
Launch WonderFox DVD Video Converter on your PC. Next, click Load DVD to import all the DVD titles. The program will remove the encryptions and auto-mark the main title/main movie for you.
Tips. You can also load a DVD from an ISO image or a VIDEO_TS Folder.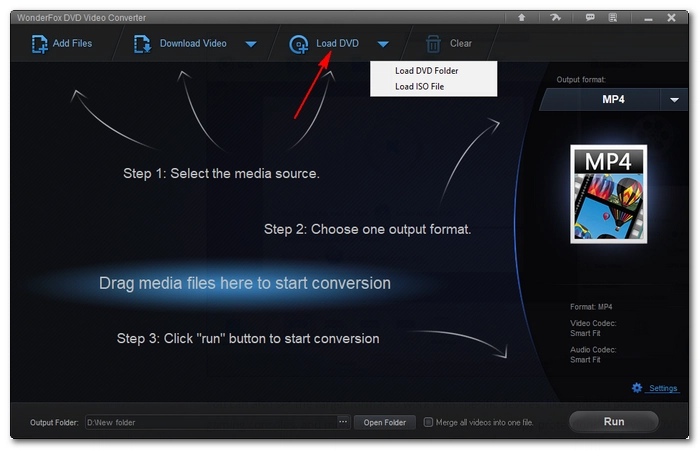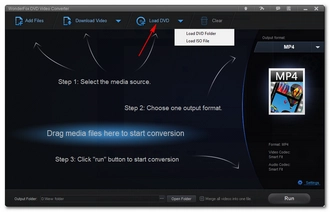 Step 2. Choose Output Format
Press the format image on the right-hand side of the program to open the output format list. Then open the Video tab and select your preferred format. You can also explore other sections, such as HD/4K, Web, Audio, Device, and 1:1 Quick Copy to discover more options.
Tips. After choosing the output format, you can continue to open Settings and adjust the parameters (encoder, bitrate, resolution, frame rate, volume, etc.) as you see fit.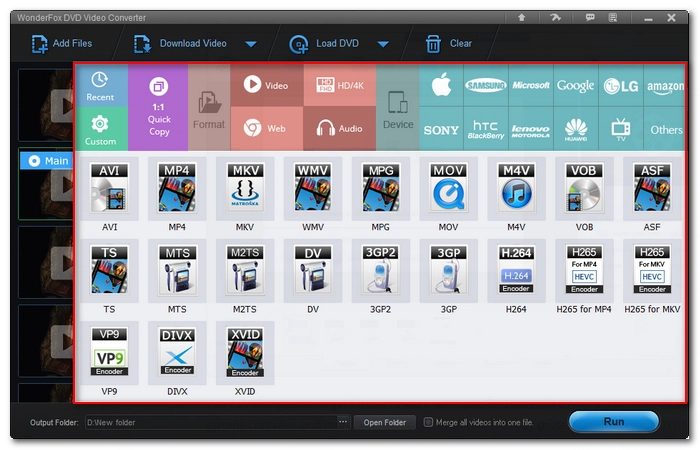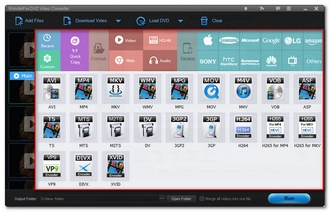 Step 3. Rip DVD at Once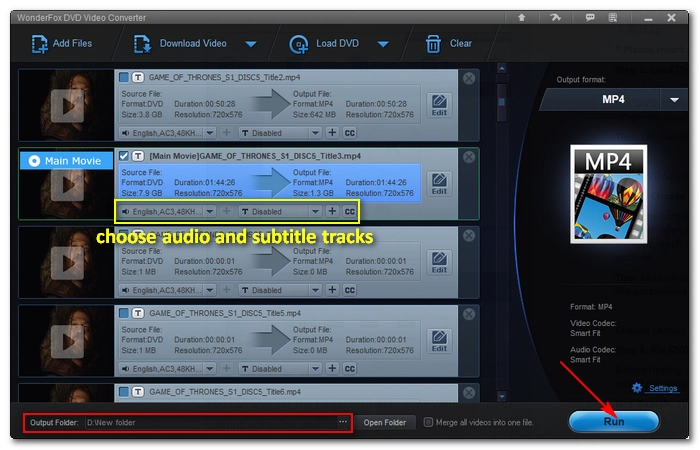 Installing libdvdcss to HandBrake can help you solve HandBrake won't rip protected DVDs. But this library is fragile and not supported by HandBrake officially. You could still run into problems like HandBrake can't rip DVD and other HandBrake not working issues. It may be that your libdvdcss not working with your current HandBrake, which can be solved by using the correct version of the library. But if the problem persists, your DVD may be encrypted by other methods and you can try the HandBrake alternative to rip DVDs error-free.
That's all we want to share. We hope this article has helped you solve your HandBrake won't rip DVD issue Thank you for reading. Have a wonderful day!
1. Does HandBrake still rip DVDs?
Yes, HandBrake still rips DVDs that are non-protected. It can also rip CSS DVDs with the installation of the 3rd-party library libdvdcss. You can check out the HandBrake Tutorial to learn more tips on how to rip a DVD with HandBrake.
2. Does HandBrake work with all DVDs?
No, HandBrake does not work with all DVDs but only the ones without copyright protection.
3. What can I use instead of HandBrake DVD rip?
There is a variety of options available besides HandBrake. WonderFox DVD Video Converter is the best HandBrake alternative to rip any DVD to any format you like. Download and install Download and install the program and follow the tutorial to learn more.
Disclaimer: WonderFox does not advocate any illegal duplication and distribution of DVDs. All information provided in this article is presented for general informational purposes and personal fair use only. Please refer to the DVD copyright laws in your country before you rip any DVDs.