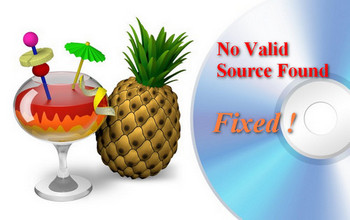 How to fix no valid source found
Handbrake is popular with huge numbers of people as a free and open-source transcoder. Since it has been developed for years, the updating versions and functions have provided great conveniences for its users. However, there still exist some problems during using this program. When you add the DVD file, Handbrake you must first scan a source error appears. You may be confused about the problem and have no idea about it.
The Causes and Solutions of no Valid Source Sound Handbrake
1.One obvious cause is inserted DVD disc has been damaged or scratched. You can play this video in DVD player to check that. If the DVD disc has been damaged, Handbrake can't read it and Handbrake no valid source found message will pop up.
2. Handbrake no valid source found issues is also caused by Handbrake. Update it to the latest version and try to rip your DVD again.

No Valid Source Sound Handbrake
3.The third reason is the most common reason. The DVD you want to rip is a copy-protected one. So Handbrake can't remove this DVD. One effective method is to install libdvdcss that can unscramble the encrypted DVD. Some DVD players like VLC apply this libdvdcss library to decrypt DVD for playing. So you can install the third-party player, VLC and then rip the commercial DVD with Handbrake, as well.
4.Maybe you have updated Handbrake and installed the VLC players, but handbrake DVD no valid source found problem still can't be fixed. It's noticeable that VLC player must be corresponding with Handbrake, 32 bit VLC for 32 bit Handbrake, and 64 bit VLC player for 64 bit Handbrake. You can download the 32-bit systems or the 64-bit systems libdvdcss and install that.
Best Handbrake Alternative to Solve Handbrake no Valid Source Found Issue
To fix Handbrake you must first scan a source problem, in most cases, you need to install the third-party player and update the related library. It takes more times but many people still can't figure the whole thing out. To find a Handbrake alternative without the need of the extra third-party player can save more spaces for your PC and more times for you.
Wondefox DVD Ripper Speedy is considered to be a free and functional Handbrake alternative. With the advanced DVD protection removal technology, WonderFox DVD Ripper Speedy can remove DVD CSS, Region Code, Multi-angle, RCE, Sony ARccOS, UOP, Disney X-Project DRM and Cinavia Protection without the problem Handbrake you must first scan a source and convert DVD to MPEG fast.
Free download and install it now.
3 Easy Steps to Rip DVD
Step 1
Launch this DVD ripper, and you will find that there are multiple-options for you adding the files. You can choose the DVD disc, ISO image or DVD folders, which depends on what type the DVD file is. Set DVD disc as an example. Clicking the DVD disc button and select your targeted file. After that, the DVD ripper can analysis the file and convert Disc to digital one quickly. It's noticeable that this program can also convert ISO image and convert Video-TS to play it on your devices.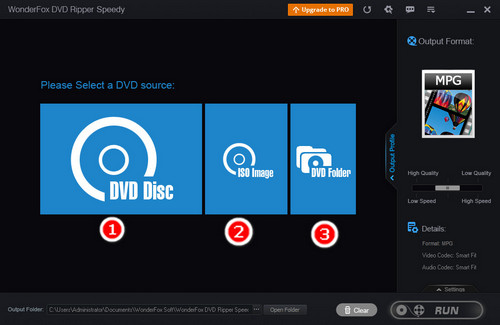 Fix Handbrake can't find source
Step 2
The smart program has found the main movie automatically, which can avoid the no title found problem as you may come across with Handbrake. You still want to rip the other titles, such as the feature, ads and so forth, just check the box on the upper right of the title.
Meanwhile, the program has provided the smart-fit settings for you, but you can reset the encoder, bitrate, and resolution for your own needs.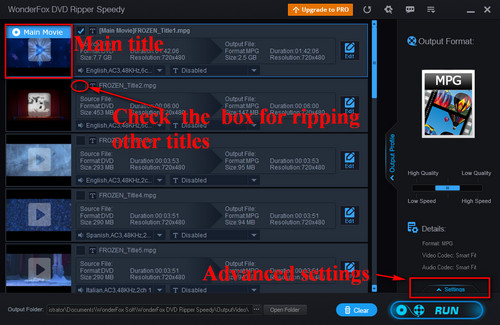 Rip the DVD
Step 3
Tap the Run button to finish DVD ripping. Now you can find the output files by clicking Open Folder.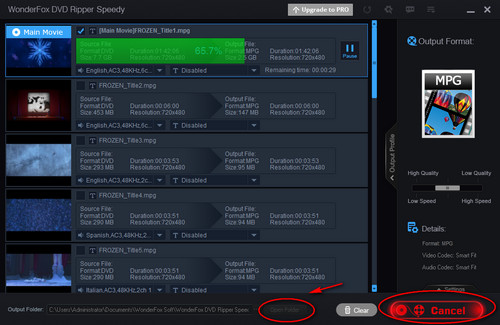 Last step to rip DVD
TIP: You can also edit your videos and add subtitles by this Wonderfox DVD Ripper Speedy. Generally, this DVD Ripper can fulfill your basic needs to back up your DVD as video absolutely.
Compared with Handbrake, Wonderfox DVD Ripping Speedy doesn't need third-party software to solve the 'no valid source found' error that Handbrake occurs. Easier operation works as more effective method.
Now, please download the Free DVD Ripper to complete your jobs.
More Special Features on WonderFox Free DVD Ripper (Speedy)
Convert DVD to MPEG video for fast back-up
Rip both home-made and copy-protected DVDs you own
Enhance the video quality
Reset the bit rate and encoder of output video for your own need.
Offer a built-in editor to add special effects
Support adding and disable subtitles by yourself