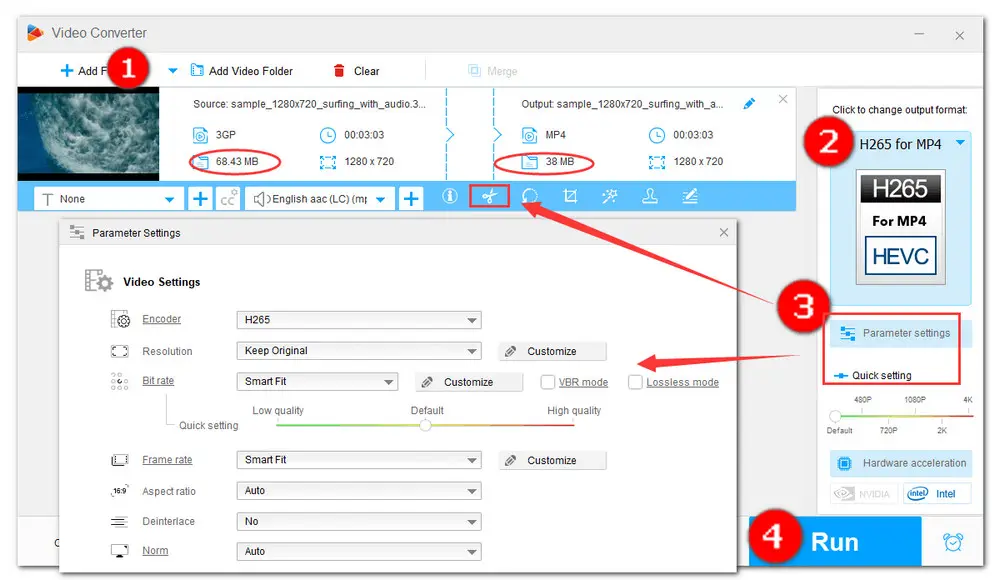 Frankly speaking, among free video resizers with no watermark, WonderFox Free HD Video Converter Factory is the best for Windows users. This full-fledged video processor supports both lossless compression and lossy compression. You can resize video no watermark without affecting the quality. Thanks to its self-explained UI, it's fairly easy to use. It provides you with multiple regular and advanced solutions to resize large videos efficiently, including cutting off unnecessary parts, converting to a more efficient codec, decreasing the frame rate, downscaling the resolution, and more.
More importantly, it can do far more than what a free video resizer generally does.
Features:
1. Support any video format;
2. Convert normal/HD video to 500+ formats and devices;
3. Extract audio from video;
5. Compress, merge, cut, crop, rotate/flip/mirror, add effects, remove/add watermark;
6. Download video from YouTube, Vimeo, and other 500+ popular video sites…
Operating System: Windows 11/10/8/7 and lower.
→ Get Free HD Video Converter Factory→ Get Free HD Video Converter Factory
Also read: How to Cut and Compress Videos in One Tool? | 6 Effective Methods to Compress Large Video Files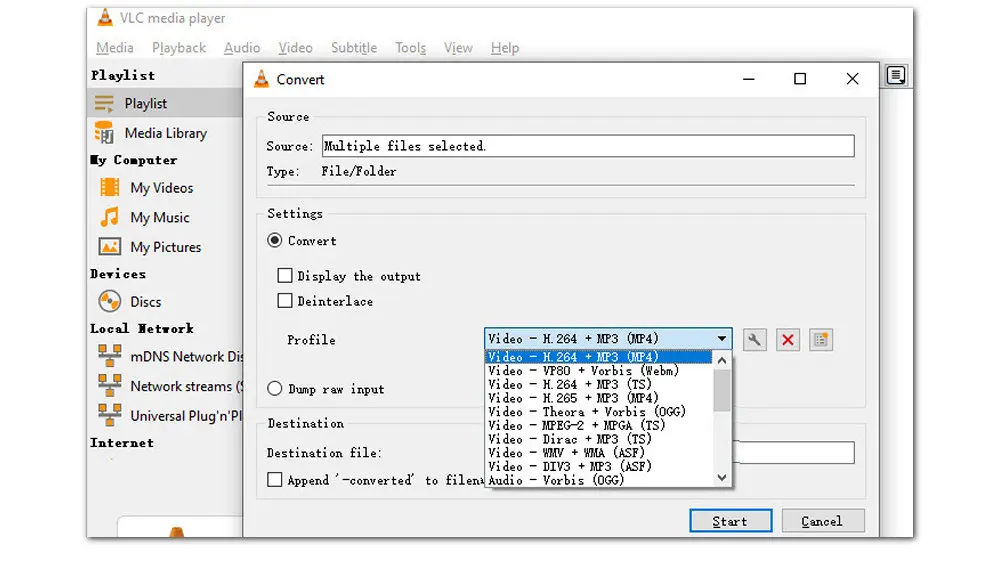 VLC player is currently serving a large community throughout the world. But most users perceive it only as a simple player. This free and open-source media player has loads of hidden features. With its ability to play almost any codec or format, it can be used to not only stream audio and videos, but also convert video and audio files, compress videos, and do some basic editing to videos. It also offers several ways to resize video without watermark and enables you to customize video settings including video codec, bit rate, resolution, and frame rate to get small-size outputs conveniently. If you have this handy and free video resizer no watermark at your disposal, you can try it.
Features:
1. Supports a wide range of input formats;
2. Low CPU usage rate;
3. Available across platforms;
4. No size limit.
Operating System: Runs on all platforms - Windows, Linux, Mac OS X, Unix, iOS, Android ...
Also read: VLC Conversion No Audio? Here's How to Fix It! | How to Use VLC as a Video Editing Tool?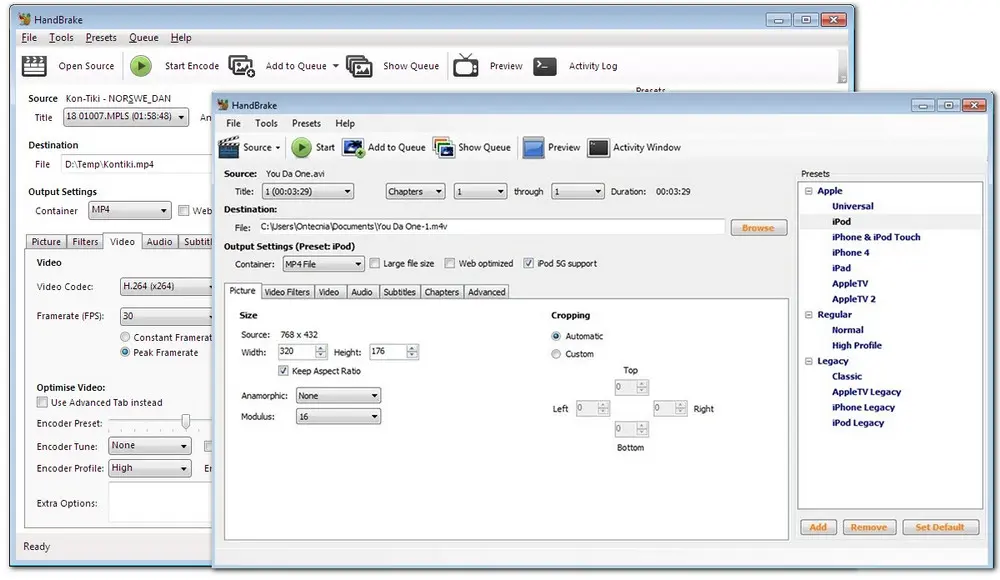 Handbrake is another free video resizer without watermark. It is available for use on all the popular Mac, Windows, and Linux platforms with no hassle. It can also function as a video converter and unprotected DVD or BluRay ripper. You can use it to process video from all popular codecs including MP4, AVI, MOV, H.264, HEVC, etc. But its supported output formats are limited to MP4(.M4V), MKV, and WebM. Additionally, this open-source software provides a stack of options and enables you to shrink large video sizes by changing codec, resolution, framerate, and bitrate. However, it's worth noting that it seems very confusing for first use and may take a while to get used to.
Features:
1. Open-source video compressor & transcoder;
2. Multi-platform support;
3. No size limit;
4. Output video to specific devices.
Operating System: Mac, Windows, and Linux
Also read: How to Use Handbrake? | How to Trim/Cut/Crop Videos with HandBrake?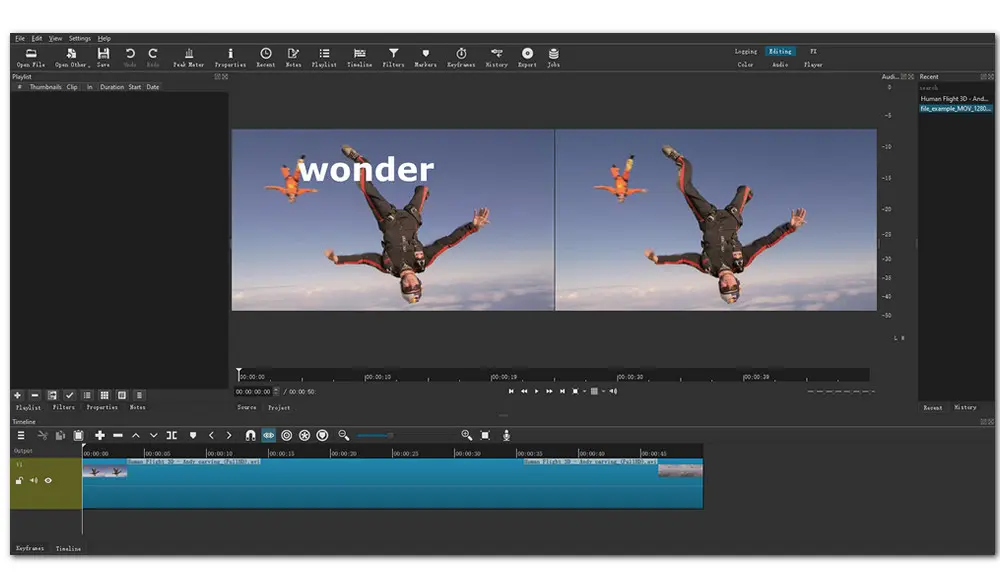 Shotcut is also a free and open-source, cross-platform video compressor without watermark. It offers an easy and fast solution to resize any videos. Although Shotcut seems less popular than other counterparts, it also offers impressive features and is a highly recommended choice for those looking for a free way to resize video no watermark. Based on FFmpeg, it supports almost any video, audio, and image file. Besides, it is easy to learn and suitable for entry-level users.
Features:
1. Codec independent so does not rely on system codecs;
2. Multi-platform support;
3. View detailed information about an audio/video file;
4. Flexible UI through dock-able panels.
Operating System: Available on Windows, Linux, and macOS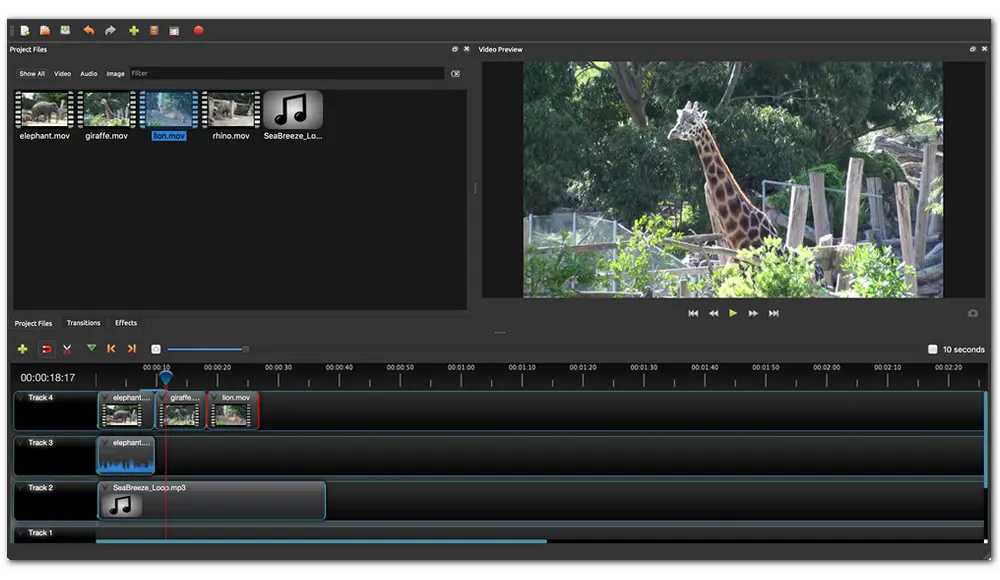 Based on the FFmpeg library, OpenShot supports nearly all videos, audios, and images. With it, you can easily manipulate any video. You can use it to trim video frame by frame without watermark, resize the video to avoid unnecessary space consumption, add filters or transitions to polish your videos, and so much more. It is professionally designed for people with some editing knowledge. Although this free video editor was designed to be much easier to handle than many other professional tools like DaVinci Resolve, HitFilm, or Lighworks, users with little editing experience may handle it with pressure.
Features:
1. 100% safe and free to use;
2. Multi-platform support;
3. Combine multiple video clips, images, and music
4. Offer presets for YouTube, Twitter, Apple TV…
Operating System: Linux, OS X, and Windows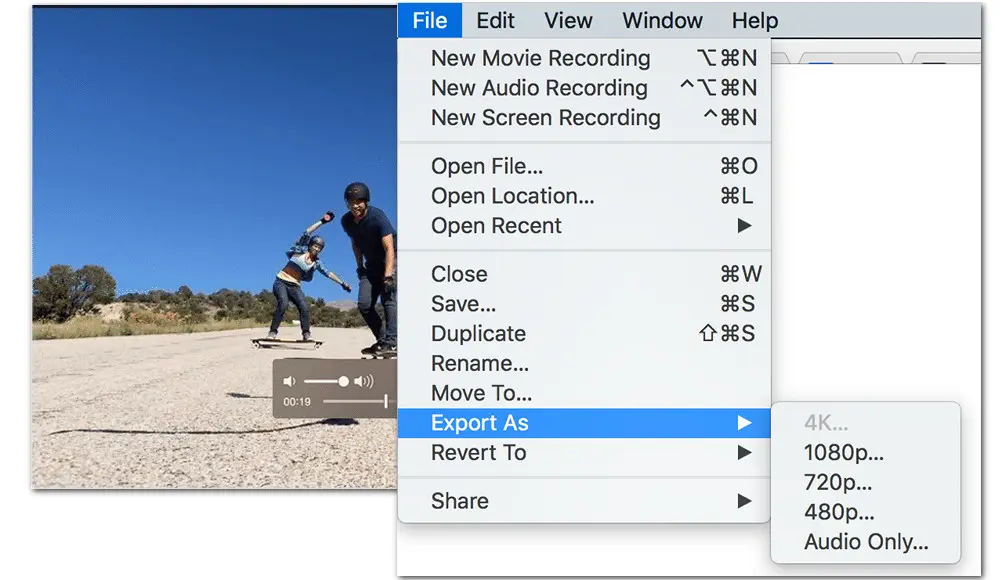 Quicktime Player is a default macOS video player. It's not like the VLC player offering rich codecs and functions to process videos, Quicktime's primary use is to play back videos. And this free video resizer without watermark only supports basic video file types: MOV, MP4, MPEG-1, MPEG-2, 3GPP2, 3GPP, DV, AVI, and AVCHD video formats. Moreover, any videos you compressed will be exported as MOV files. If you want to resize video without watermark, the only way is to export the video with a lower resolution. And it doesn't offer any other option for you to control the compression quality.
Features: Easy and free to use
Operating System: Mac, Windows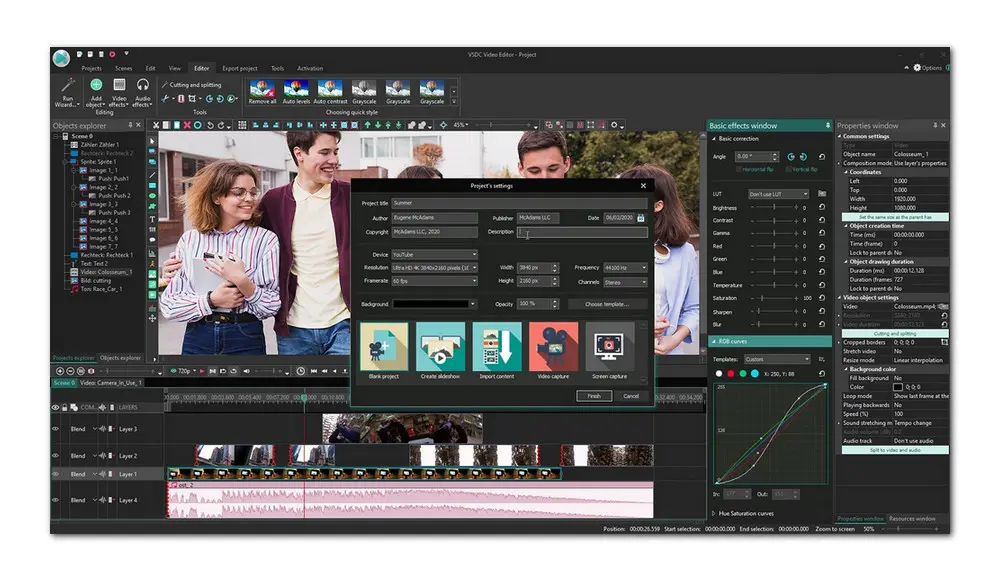 VSDC Free Video Editor is a good choice for Windows users. It's freeware with advanced editing features. All the popular video and audio formats and codecs are supported. To resize video without watermark in VSDC, you can change the resolution and framerate of the output video, or split the large video file into parts. This great video editing tool can export the result files to any popular format you desire and it also comes with sets of export profiles for various devices. Apart from serving as a free video resizer without watermark, VSDC also enables you to capture the desktop screen, apply effects and do video color correction.
Features:
1. Export to social networking sites;
2. Supports Popular Formats;
3. Support 4K and HD video.
Operating System: Windows
Of course, you can resize videos online without watermark. Compared with desktop software, these web-based video resizers have some obvious advantages. They don't require any installation and are more accessible. But when it comes to processing speed, desktop applications usually outperform them. Especially when dealing with large video files, online tools are most likely to spend a longer time uploading and downloading. Following are four of the best free online video resizers without watermark.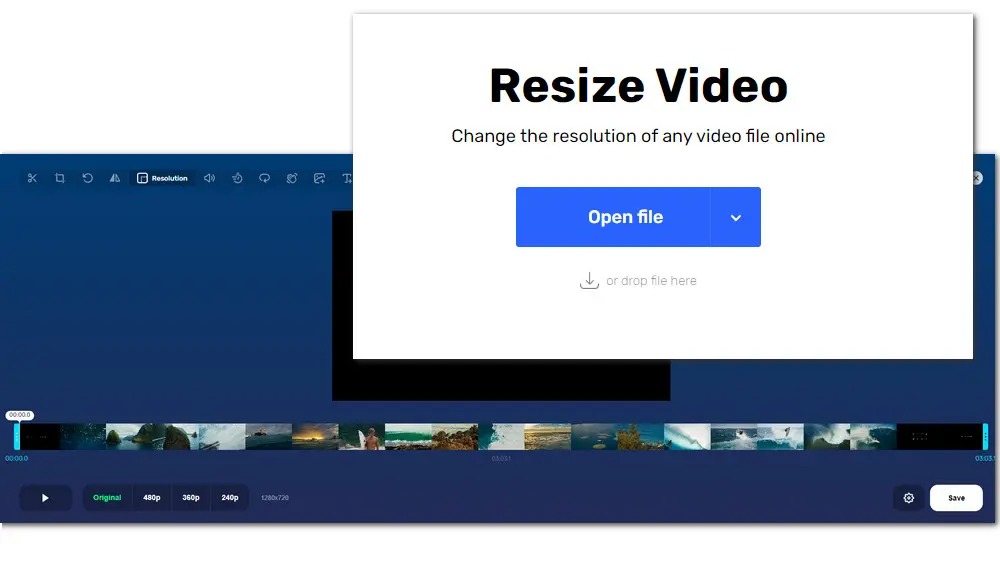 First up on this list comes Online Video Cutter. This online video resizer without watermark is clean and easy to operate without much explanation. It supports most mainstream video formats like MKV, MP4, AVI, FLV, MOV, 3GP, WMV, MV4, etc., and can process video files up to 4GB. But note that it can take up to 10 minutes for large files. Besides video resizing, you can also crop video, rotate footage, change speed, add a logo to a video, and do more with Online Video Cutter.
Features:
1. Loads of editing features;
2. No registration;
3. Intuitive interface and easy operation.
Visit here: Online Video Cutter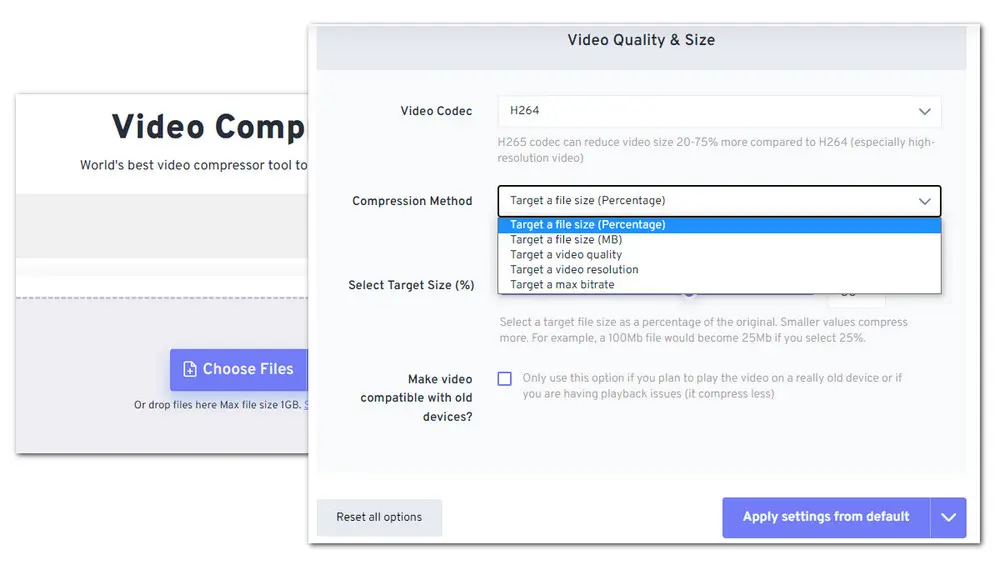 FreeConvert is simple to use. You just need to drag and drop the video into it and choose any desired option, then apply Setting buttons. To resize the video to a smaller size, Freeconvert provides 5 settings related to video compression: Target file size (percentage), Target file size (MB), Target a video quality, Target a video resolution, Target a max bitrate. Additionally, you're allowed to choose H.265 for better compression, especially at higher resolutions such as 1080p or 4K. Its supported video types include AVI, MOV, MP4, MPEG, ASF, VOB, SWF, MTS, 3GP, FLV, MKV, etc. However, it should be noted that the maximum file size is 1GB.
Features:
1. Max file size 1GB;
2. Advanced methods of video compression;
3. Easy to use.
Visit here: FreeConvert
Although Online Converter accepts the output of MP4 video only and the maximum supported video size is 200MB, it's still worth trying. Because it's super easy! Even a user with little compression knowledge can easily resize video online without watermark. If you are looking for the easiest solution to compress a video to a specific size, for example, compressing a video to 25MB, Online Converter can be your top choice. It allows compressing MP4, AVI, FLV, MOV, 3GP, MKV, WMV, and many other videos.
Features:
1. Super easy for users in all level;
2. Supports types of video format.
Visit here: Online Converter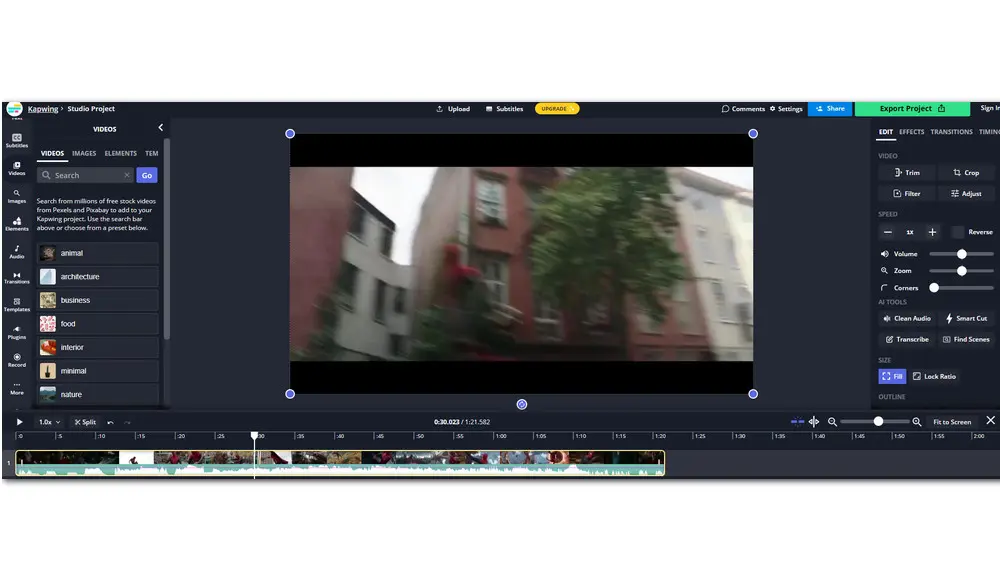 The last one on my recommendation list is Clipchamp. This free video resizer without watermark makes the whole process of video resizing simple, fast, and efficient. Whether you want to adjust the dimensions of your video to fit for different screens, rotate it to fix an upside-down video, or shorten the video length for a smaller size, Clipchamp has you covered. Also, you can lower the export resolution to further resize the video. It accepts MP4, MOV, WEBM, AVI, DIVX, FLV, 3GP, WMV, VOB, DCM, and MKV video files, as well as a wide variety of video codecs. But the output file type supports MP4 only. After exporting, you can directly share the resized files over YouTube, TikTok, or save to Google Drive, One Drive, and the like.
Features:
1. No uploads and easy to use;
2. Freely use to trim, split, merge, flip, rotate, crop…
3. Support share the exported video link with anyone.
Visit here: Clipchamp