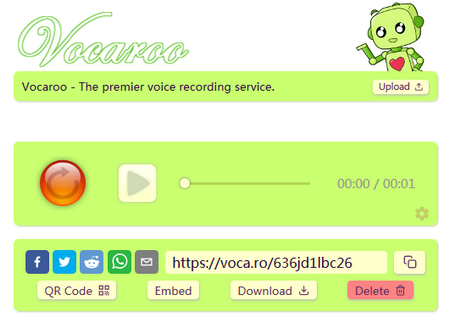 Vocaroo
1. Vocaroo
You know I cannot wait to introduce my favorite voice recording service - Vocaroo. It can be used without registration, get your microphone ready, just click on the record button on the page to record audio from system sound or microphone. If not satisfied, you can re-record and then share it via social platform and email. You can also embed the recorded audio on a website or blog, and even download it in MP3 format. In addition to this, Vocaroo also has a function, that is, you can upload your music for sharing on the Internet in the form of QR codes or links. If you want to publish something like a voice announcement, it's perfect. Everything is so simple.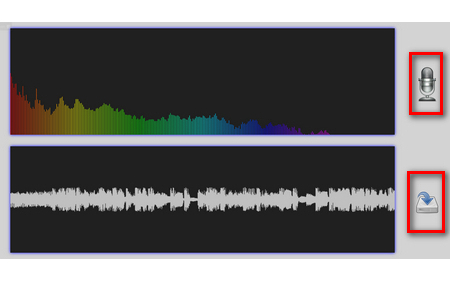 Audio Recorder
2. Audio Recorder
https://webaudiodemos.appspot.com/AudioRecorder/index.html
Well, open this site and everything is clear at a glance. It is so minimalistic than you think, even there is no a website name. Let's call it Audio Recorder for a moment. Actually, this is a GitHub project based on Matt Diamond's excellent RecorderJS that enables you to record audio and download it locally. Visit this website, simply click on the microphone icon. And there is a red-round background displaying, which mean the recording is in progress. Meanwhile, you'll see the colorful waveform of the recorded audio. Click the microphone icon again to stop the recording and press the download button to save it as a WAV file.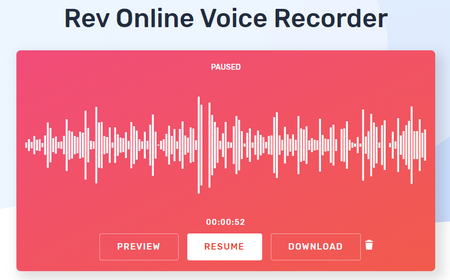 Rev Online Voice Recorder
3. Rev Online Voice Recorder
https://www.rev.com/onlinevoicerecorder
Another out-of-the-box service. This free online voice recorder uses your computer Stereo Mix or microphone to record sound/music/speaking online. Just press the red RECORD button to record voice online for free. When you click on the PAUSE button, you'll see 3 options for your next choice: PREVIEW, RESUME and DOWNLOAD. Needless to explain, you got it literally. When you hit DOWNLOAD button, the recording will be save in an MP3 file automatically. Besides, the official website offers an optional service to transcribe the recording to text. Not forced, choose on your demand.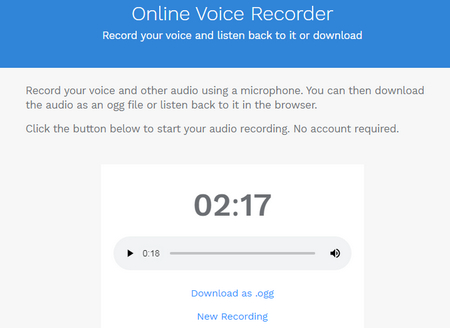 VirtualSpeech Online Voice Recorder
4. VirtualSpeech Online Voice Recorder
https://virtualspeech.com/voice-recorder
VirtualSpeech provides a convenient and simple online application to record audio online free. Lift your mic, start your speech without hidden payments, activation fees or charges for extra features. What you have to do is click on the Start Recording button. The timer will show you the recording time, and when you end the recording, it displays a mini player to preview it. If you're pleased with the result, just hit Download as .ogg to save the audio. However, OGG format is primarily a streaming format that may be not welcomed by general users. Just think about that trade off.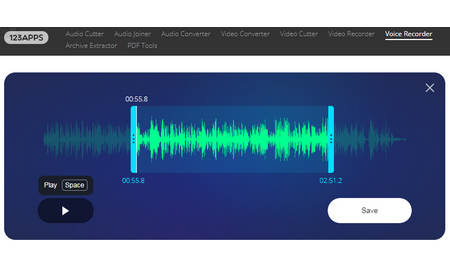 123APPS Voice Recorder
5. 123APPS Voice Recorder
https://online-voice-recorder.com/
This free online voice recorder is clean and easy-to-operate without much explanation. Click on the gear icon to select your input recording devices, afterwards, hit the red microphone to record voice online for free. Compared with other online tools, it will intelligently detect and remove the silent parts at the beginning and the end of your recording. Furthermore, it allows you to cut the recording after ending it. Lastly, hit Save button to download the recording in MP3 format. This smart tool is offered by 123APPS. There are more free web apps you may get interested: Audio Joiner/Cutter/Converter, Video Recorder/Cutter/Converter, PDF Tools, etc.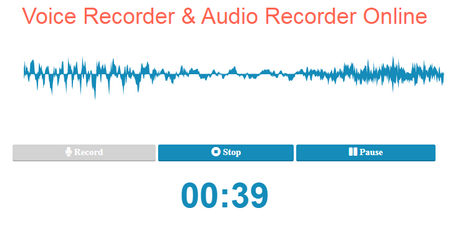 HighStarApp Voice Recorder
6. HighStarApp Voice Recorder & Audio Recorder Online
https://audiovoicerecorder.com/
It's a handy tool that also allows you to record voice online for free right on web browser. Every audio/voice/sound recording begins with just one simple click away. Likewise, after you stop the recording, it will display a mini player for audition. Then you can decide to record another one or simply press Save button to download this recording as an MP3 file. This free music recorder online is developed and maintained by HighStarApp, and you can still find other online apps like CSS Generator, Top Funny Jokes, Emoji Keyboard, Cool Font, etc.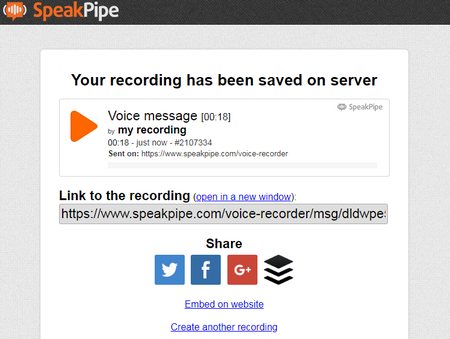 SpeakPipe Voice Recorder
7. SpeakPipe Free Online Voice Recorder
https://www.speakpipe.com/voice-recorder
For this online app, well, no need to talk too much about it. You know, when there is only one big Start recording button that shows up right in front of your eyes, I can't imagine what else can stop you from clicking on it, lol...When the recording is underway, you'll find it only support 5-min max duration. But it's enough for most cases. After done, your recording will be saved on server and you'll be provided a link to it. You can directly share it via your social media. To save this recording in MP3 locally, open the link and you'll see the download button right there.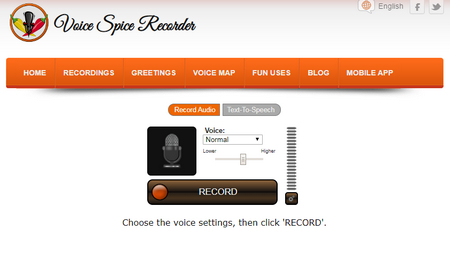 Voice Spice Recorder
8. Voice Spice Recorder
https://voicespice.com/default.aspx
The last one is a bit more interesting. Routinely, just press the RECORD button to start to record voice online for free, you're able to adjust the volume by clicking on the gear icon. When the recording is finished, you're allowed to edit title, author, comment and even add your location. It will be saved on the server, which is similar to the previous SpeakPipe Free Online Voice Recorder, to download it as an MP3 file, you have to open the playback link, and the inconspicuous download link is at the right bottom. In addition to that, you may notice that, this app also provides several options to morph your voice and a bonus feature Text-To-Speech.